Allan is a male customer who first appeared in Papa Louie: When Pizzas Attack!. 
Flipdeck Info
Hometown: Tastyville
Occupation: Hockey Player
Loves: Nutty Butter Cups
Hates: Bullies
Allan was happy living in Tastyville, but during high school, he had to move with his parents to the dingy streets of Oniontown. Being the new kid, Allan got picked on by the hardened students of Oniontown High. He always stuck up for himself, even if it meant a black eye or a chipped tooth. When Allan graduated, he moved back to Tastyville. His friends were happy to see Allan, but Oniontown had definitely changed him.
Appearance
Originally, Allan wore a green polo shirt, blue jeans, and black and grey shoes. His hair was spiked in the front and he had short eyebrows. Since his return in Taco Mia, he wears a white fringe and a green jacket, blue jeans, and shoes with green laces. Allan's hair is now styled into a pompadour and he has grown sideburns. He now sports a unibrow and a missing tooth.
Orders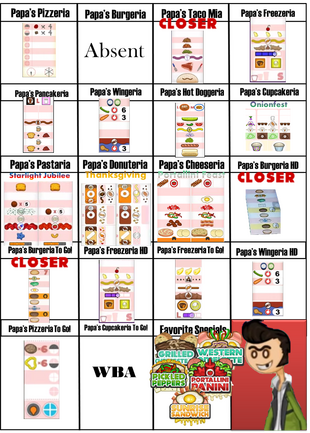 4 pepperoni (Top)
4 sausage (Bottom)
30 minutes (1/2 of meter)
Sliced into six pieces
Soft
Steak
Loco Sauce
Jalapeños
Pinto Beans
Brown Rice
Small Cup
Nutty Butter Cups
Banana Syrup
Smooth Blend
Chocolate Whipped Cream
Butterscotch Topping
3 Bananas
Cherry
Bacon Toast
Cinnamon
Bacon Toast
Cinnamon
Maple Syrup
Drink:
3 BBQ Wings
3 Carrots
6 Green Peppers
Blue Cheese Dip 
Ranch Dip
Hot Dog on a Chicago Bun
Relish
Onions
Mustard
Tomato, Sport Pepper, Tomato
Pickle
Drink and Popcorn:

Large Root Beer
Medium Candy Jack
Liner B
Vanilla Cake
Cupcake 1:

Green Frosting
Vanilla Drizzle
Sourballs (Chocolate Chips on other holidays)
Frosted Onion (Marshmallow on other holidays)

Cupcake 2:

Chocolate Frosting
Vanilla Drizzle
3 Nutty Butter Cups
Small Cup
Nutty Butter Cups
Banana Syrup
Regular Blend
Chocolate Whipped Cream
Butterscotch Topping
3 Bananas
Cherry
Regular Stellini (Macaroni in other holidays)
Rocket Ragu (Papa's Marinara Sauce in other holidays)
Parmesan Cheese
Blue Cheese (No other seasonings in other holidays)
5 Meatballs
Cheesy Bread
Large Cup
Nutty Butter Cups
Banana Syrup
Regular Blend
Chocolate Mousse
Chocolate Chips
3 Bananas
Pumpkin Ring Donut with Pumpkin Pie Filling

Cocoa Powder (Cinnamon Sugar in other holidays)
Fudge Swirl Drizzle (Banana in other holidays)
Chocolate Chips
Chocolate Ring Donut

Clear Glaze
Crushed Peanuts
Regular Long John Donut with Chocolate Mousse

Chocolate Icing
Mini Mallows
3 BBQ Wings
3 Curly Fries
6 Green Peppers
Blue Cheese Dip
Ranch Dip
6 Sausages (top)
6 Banana Peppers (bottom)
Regular bake
4 pieces
Pepperoni Bread (Sourdough Bread in other holidays, White Bread if it's not unlocked) with Provolone Cheese
Meatballs (Bacon in other holidays)
Fajita Peppers
Tomato
Fried Egg in other holidays
Regular
Fries:
Liner A
Green Emerald Cake (??? in other holidays)
Cupcake 1:

Green Frosting
Vanilla Drizzle
Sourballs
Shamrock (Cherry in other holidays)

Cupcake 2:

Chocolate Frosting
Vanilla Drizzle
Chocolate Chips
2 Nutty Butter Cups
Ranks to unlock him
Papa's Next Chefs
Unlockable toppings along with him
Trivia
Gallery
Fan Art