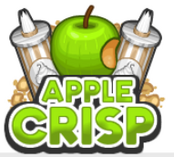 Apple Crisp is a special recipe that can be selected by players to be the "Special of the Day" in Papa's Bakeria/To Go!. Customers who order the Apple Crisp special will give the player 1.5x

. The special prizes for this recipe are the Chef Hat (PC) and the Two-Tone Henley (To Go!).
Recipe
Apple Crisp Pie is featured in Papa's Cook Book, a feature on the Flipline Studios Blog. It consists of three recipes: Pie Crust (23), Streusel (24) and Apple Crisp Pie Filling (25).
Instructions
The instructions could be found here.
1: Pie Crust Prep
In a large mixing bowl, combine the flour, shortening, white sugar, and salt. Mix it up until it is blended and crumbly.
In a small bowl, whisk the egg and water together. Pour it into the flour mixture, and blend them together.
On a clean surface, sprinkle flour, and roll out the dough into a large flat disk. Spray the pie pan with cooking spray and place dough in it. Firmly press the dough against the bottom and sides of the pan, and trim any overhanging dough from the rim of the pie pan. Using your fingers, flute the dough around the perimeter of the pan.
2: Streusel Prep
In a medium bowl, pour all the Streusel toppings together and mix by hand until it is blended and crumbly.
3: Filling Prep
Carefully wash, peel, core, and slice the apples into thin slices. Mix the sliced apples with the rest of the filling ingredients in a large bowl.
4: Build and Bake!
First, Preheat the oven to 400°F (204°C).
Pour the pie filling into the dough-lined pie pan. Cover the top of the filling with all of the Streusel mix.
Bake the pie for 40-45 minutes or until the pie crust and streusel are golden brown. Then, take the pie out of the oven and allow it to cool down.
Once it is cooled, spray whipped cream around the inside edge of the pie, slice, and enjoy!
Gallery
Community content is available under
CC-BY-SA
unless otherwise noted.