Awesome Saucers are enemies in Papa Louie 2: When Burgers Attack! They fly around shooting awesome sauce. Jumping on them won't hurt them, but any weapons can defeat them. (Boomer is harder)
To defeat an Awesome Saucer with Boomer, you must repeatedly tap the space bar (or whichever key you use to attack) in a quick manner until the Saucer finally falls out of the sky.
Flipdeck Info
Hometown: Parts Unknown
Loves: Exploring
Hates: Solar Flares

Awesome Saucers are strange, other worldly creatures who seem to have made a home in the Land of Munchmore. They spin and hover around the starry sky fueled by the limitless power of Awesome Sauce. Since their invasion, Awesome Saucers have become quite a nuisance due to their engines firing out large amounts of sauce across the landscape.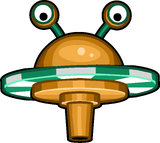 Slider Scout Spotlight
This strange scout is visiting the camp to learn more about the many unique inhabitants of this world. Awesome Saucer hovers close to the ground to better blend in with the rest of the scouts.
Gallery
Community content is available under
CC-BY-SA
unless otherwise noted.