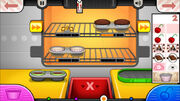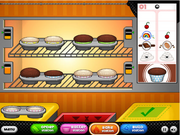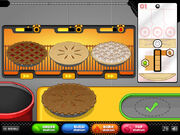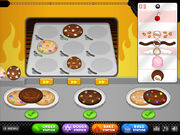 The Bake Station is a station that appears in Papa's Pizzeria, Papa's Pizzeria To Go!, Papa's Cupcakeria To Go!, Cupcakeria, Papa's Cupcakeria HD, Papa's Bakeria, Papa's Pizzeria HD, and Papa's Scooperia.
In Papa's Pizzeria/HD/To Go!, it is referred to as the Baking Station, and in there, you bake the pizzas for the customer's desired amount of time. Customers will choose to have their pizzas cooked to different points on the timer dial (in Pizzeria To Go!/HD, customers can choose to have their pizzas light, regular, or well done). When the pizza is finished baking, click on it to move it to the next station.
In Papa's Cupcakeria/To Go!/HD after filling the liners with batter, drag the cupcakes to a spot on the oven. When the cupcakes are finished baking, drag them to the finished counter with the checkmark on it. They will then be sent to the Build Station.
In Papa's Bakeria, the only step required in the Bake Station is to bake the pies. All the pies take about the same amount of time to cook, and there are no extra steps like stirring or flipping afterwards. Once the pies are done, you drag them to the check-mark tray to send them to the next station.
In Papa's Scooperia/HD/To Go!, the Bake Station once again only requires one step, that being to bake the cookies in the oven. Once a cookie is done baking, you drag it over to one of the three plates below the oven. If you're filling an order that calls for more than one cookie, the plate will expand to fit up to three cookies, as that is the most amount of cookies a customer can order in this game.
Community content is available under
CC-BY-SA
unless otherwise noted.