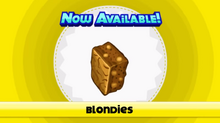 Blondies are a topping in Papa's Freezeria To Go!. It is unlocked with Sienna when the player reaches Rank 55. The "Sweet Treat" badge is earned when the player serves 30 orders with Blondies.
Customers who order this
If looking for the character, please visit this page.
Blondie Bops were the third recipe featured in Papa's Cook Book, a feature on the Flipline Studios Blog.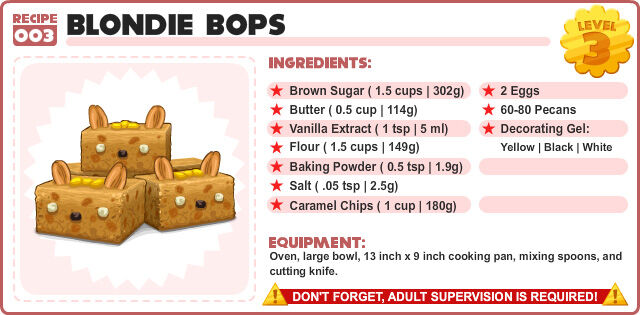 The instructions are posted here.
1: Melt the Butter
Melt down the butter on the stove or in a microwave.
2: Beat the Eggs
Crack and drop two eggs in a large bowl, and discard the shells. Beat the eggs until the yolk and whites are blended.
3: Mix in Additional Ingredients!
Add the butter, brown sugar, and vanilla extract to the large bowl and stir until thoroughly mixed with the eggs.
4: Stir in More Stuff
Stir in the Flour, baking powder, and salt to the mixture. Once everything is mixed together, stir in the Caramel Chips.
5: Into the Pan!
Grease a 13" x 9" baking pan, and evenly pour the mixture into it.
6: Bake It!
Preheat oven to 350°F (176°C). Place pan in the oven and bake for 15-20 minutes. With Blondies, you don't want to over-bake them or else they turn out more like a dry cake. You want them moist and chewy, so take them out sooner than later. Stick a toothpick in the middle and if it comes out with just a little bit of sticky batter on it, but not dripping, then it's just about done.
7: Cut and Decorate!
Take them out of the oven and remove from pan. Let them cool for 30 minutes then cut them into rectangles. Add two pecans on top for the ears. Using the decorating gel, draw a yellow bow between the pecans. On the front side, draw white eyes and a black nose with the decorating gel. Depending on the consistency of your batch, you may find it easier to flip them on their sides and use the smooth top of the Blondie to draw the face. Now you have an army of 30-40 Blondie Bops at your command!
Gallery
Community content is available under
CC-BY-SA
unless otherwise noted.