Fire Emblem Warriors: Three Hopes - The Loop
Play Sound
Boopsy & Bill are male characters who made their first appearance in Papa's Donuteria To Go!. Boopsy is the human and Bill is his puppet.
Appearance
Boopsy has gray hair and sideburns. He wears a black and gray long-sleeved shirt with black lines, black pants, and gray moccasins with black soles and orange laces. He also wears an orange neckerchief.
Bill has blond hair and freckles. He wears a cyan cowboy hat with an orange rim, a cyan shirt with white stars, yellow pants, orange shoes with cyan laces and brown soles, white gloves, and the same neckerchief as Boopsy.
Styles
Style B
Boopsy and Bill swap outfits with each other, except Boopsy does not wear the gloves and has pockets on his pants. Boopsy also has freckles just like Bill.
Style H (Halloween)
Boopsy wears a mime costume while Bill wears a costume of a possessed doll. Boopsy has black hair, a red hat, black eye shadow, brown freckles, and white face paint. He wears a red neckerchief, a horizontally striped white and gray shirt, white gloves, and red shoelaces. Bill has orange hair and wears a light blue and light green shirt with red sleeve ends under dark blue overalls with red buttons, and red shoes with brown soles and white laces.
New Year Outfit
Boopsy has a white beard. He wears a white robe under a light blue sash that has "2019" printed on it on white, and white laces. Bill wears a black top hat with a white rim on it, a brown shirt that matches his skin tone under a light blue sash that has "2020" printed on it in white, a black neckerchief, white pants, and black shoes with brown soles and white laces.
Style H (Sugarplex Film Fest)
Boopsy and Bill both wear the same outfit. They wear a black t-shirt with the same pattern as Bill's Style A shirt, but yellow in color. They also wear black pants, red neckerchiefs, grey shoes with slightly darker soles and red laces, and a small black top hat with a white band. The only difference between their outfits is that Bill does not have pockets on his pants.
Orders
Red Velvet Long John
Pumpkin Long John with Whipped Cream

Cinnamon Sugar
Blue Moon Drizzle
Creameo Bits

Red Velvet Roll with Cookie Dough Cream

Clear Glaze
Neapolitan Drizzle
Holiday (Sugarplex Film Fest)
Red Velvet Long John
Pumpkin Letterbox Donut with Whipped Cream

Golden Age Icing
Dual Licorice Drizzle
Creameo Bits

Red Velvet Roll with Root Beer Float Filling

Clear Glaze
Butterzinger Drizzle
Ciabatta with Swiss Cheese
Light Grill
Pulled Pork
Awesome Sauce
Lettuce
Olives
Ketchup
Fries:

Waffle Fries
Rosemary
Ketchup
Holiday (Halloween)
Ciabatta with Monster Muenster
Light Grill
Pulled Pork
Awesome Sauce
Spooky Slaw
Olives
Ketchup
Fries:

Waffle Fries
Cauldron Powder
Ketchup
Chocolate Chip Crust
Banana Filling
Banana Filling
Peanut Butter Fluff
Peanut Butter Fluff
Chocolate Crumb Topping
Chocolate Syrup (All Over)
Citrus Zest (Inner Ring)
9 Blueberry Pie-Tarts (Outer Ring and Center)
Holiday (Halloween)
Chocolate Chip Crust
Banana Filling
Banana Filling
Shadowberry Filling
Shadowberry Filling
Spiderweb Crust
Chocolate Syrup (All Over)
Citrus Zest (Inner Ring)
9 Candy Corns (Outer Ring and Center)
Ukoniro Soy Paper with Black Rice
Not Flipped

Tamago
Radish Sprouts
Lobster

Sayori
Ponzu
Bubble Tea:

Honeydew Tea with Pawpaw Bubbles
Holiday (Valentine's Day)
Ukoniro Soy Paper with Black Rice
Not Flipped

Tamago
Radish Sprouts
Hokkigai

Sayori
Azuki Sauce
Bubble Tea:

Honeydew Tea with Pawpaw Bubbles
Regular Bowtie
Garlic Basil
Black Pepper
3 Clams
3 Meatballs
Garlic Breadstick
Holiday (Halloween)
Regular Bowtie
Garlic Basil
Cauldron Powder
3 Clams
3 Meatballs
Garlic Breadstick
Medium Cup
1 shot of City Roast
3 shots of Cold Skim Milk
Ice Cubes
Red Velvet Syrup
Creameo Cream
Shaved Chocolate
Cannoli:

Pineapple Upside-Down Shell
Peach Cream
Citrus Zest
Holiday (Sugarplex Film Fest)
Medium Cup
1 shot of City Roast
3 shots of Cold Root Beer Float
Ice Cubes
Golden Age Syrup
Dual Licorice Whip
Butterzinger Bits
Cannoli:

Pineapple Upside-Down Shell
Peach Cream
Citrus Zest
Brioche Bun
Sticky Bourbon Sauce
Radish Sprouts
Red Cabbage Slaw
Pork Chop with Sweet Belgian Batter
Red Cabbage Slaw
Fried Egg
Large Slush

Root Beer Slush
Blue Raspberry Slush
Holiday (New Year)
Brioche Bun
Midnight Marsala
Radish Sprouts
Potato Chips
Pork Chop with Sweet Belgian Batter
Red Cabbage Slaw
Bolivian Chiles
Large Slush

Root Beer Slush
Blue Raspberry Slush
Ranks required to unlock them
Unlockables
Stickers
| Sticker Number | Name | Achievement | Sticker Earned |
| --- | --- | --- | --- |
| 57 | Shake It Up | Unlock all of the Standard Shakers | |
| 33 | Advertiser | Buy any 8 Posters from the Shop | |
| 76 | Spooktacular | Serve 20 customers during Halloween wearing any Halloween clothing | |
| Sticker Number | Name | Achievement | Sticker Earned |
| --- | --- | --- | --- |
| 15 | Festival of Colors | Unlock all Holi toppings | |
| 86 | Get the Tables! | Fill your lobby with 8 large tables | |
| 37 | Upgrade Master | Buy all of the Upgrades from the Shop | |
| Sticker Number | Name | Achievement | Sticker Earned |
| --- | --- | --- | --- |
| 63 | Neapolitony | Serve a Neapolitan Pie Special to Tony | |
| 16 | Holiday Pies | Unlock all Christmas toppings | |
| 78 | Santa's Helper | Serve 20 customers during Christmas wearing a Christmas Hat and Fur Parka | |
| Sticker Number | Name | Achievement | Sticker Earned |
| --- | --- | --- | --- |
| 60 | Momo Mallow | Serve a Momo Mango Special to Mayor Mallow | |
| 38 | New Threads | Change your worker's shirt, pants, hat, and shoes. | |
| 84 | Bubble Gum Bonanza | Have 10 different kinds of bubble gum in the lobby at once | |
| Sticker Number | Name | Achievement | Sticker Earned |
| --- | --- | --- | --- |
| 16 | Wedding Reception | Unlock all Romano Wedding toppings | |
| 86 | Get the Tables! | Fill your lobby with 8 large tables | |
| 2 | Fall Harvest | Reach Autumn | |
| Sticker Number | Name | Achievement | Sticker Earned |
| --- | --- | --- | --- |
| 70 | Boopsy & Borgia | Serve a Café Borgia Special to Boopsy & Bill | |
| 57 | Super Shells | Unlock all of the Standard Cannoli Shells | |
| 84 | Bubble Gum Bonanza | Have 10 different kinds of bubble gum in the lobby at once | |
| Sticker Number | Name | Achievement | Sticker Earned |
| --- | --- | --- | --- |
| 67 | Boopsy & Brötchen | Serve a Fischbrötchen Special to Boopsy & Bill | |
| 69 | Penny's Paprikash | Serve a Papa's Paprikash Special to Penny | |
| 68 | Xolo Sando | Serve a Katsu Sando Special to Xolo | |
Earn all three stickers in any of the above games to unlock this outfit: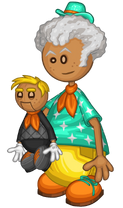 Trivia
Order Tickets
Gallery
Prepared Orders
Perfect Orders
Promotional Images
Holiday Pictures
Others
Fan Art