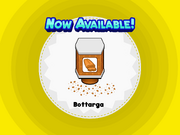 Bottarga is a holiday-exclusive shaker available during Neptune's Feast in Papa's Pastaria To Go!. It is unlocked with Koilee when the player reaches Rank 22.
Customers who order this
Trivia
Bottarga is a delicacy of salted, cured fish roe, typically of the grey mullet or the bluefin tuna (bottarga di tonno).