C.J. Friskins is a male customer who made his first appearance in Papa's Pastaria To Go!.
Appearance
C.J. Friskins has fair skin. He wears a black hat that covers his eyes with a orange fur ring on it, and two pink ears surrounded by orange fur. He also wears a white shirt with orange spots, stitches, and a black collar with pink buttons, black pants held by a orange fur belt with a white circle buckle that has a pink paw printed on it, a orange fur tail, and black shoes with white accent colors, pink laces, and brown soles.
Styles
Style B
He wears a white hat with pink stitches, a black fur ring, and pink ears surrounded by black fur. He also wears a black shirt with dark gray spots and a white collar, white pants held by a black belt, and a black fur tail with a gray tip.
Style H
During Lunar New Year, his hat's fur is gold and its ears are red. He wears a red shirt with a black collar and stitches and golden buttons, a golden fur belt with a red paw, a golden tail, and golden fur shoes with red laces and black soles.
Orders
Al Dente Gnocchi
Beefy Bolognese
Black Pepper
7 Clams
6 Prosciuttos
Crescent Roll
Holiday (Lunar New Year)
Al Dente Longevity Noodles
XO Sauce
Black Pepper
7 Clams
6 Prosciuttos
Crescent Roll
Ranks required to unlock him
Unlockables
Stickers
| Sticker Number | Name | Achievement | Sticker Earned |
| --- | --- | --- | --- |
| 74 | Clairamari | Add Fried Calamari to Clair's order | |
| 82 | Holiday Outfit | Wear a shirt, belt, jacket, pants, hat, and shoes to match the current holiday | |
| 7 | Patriotic | Unlock all Starlight Jubilee toppings | |
Earn all three stickers in either game to earn this outfit: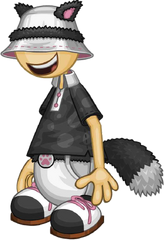 Order Tickets
Gallery
Perfect Orders
Promotional Images
Others
Fan Art
Community content is available under
CC-BY-SA
unless otherwise noted.