GTA: The Criminal Enterprises - The Loop
Play Sound
C.J. Friskins is a male customer who made his first appearance in Papa's Pastaria To Go!.
Appearance
C.J. Friskins has fair skin. He wears a black hat that covers his eyes with a orange fur ring on it, and two pink ears surrounded by orange fur. He also wears a white shirt with orange spots, stitches, and a black collar with pink buttons, black pants held by a orange fur belt with a white circle buckle that has a pink paw printed on it, a orange fur tail, and black shoes with white accent colors, pink laces, and brown soles.
Styles
Style B
He wears a white hat with pink stitches, a black fur ring, and pink ears surrounded by black fur. He also wears a black shirt with dark gray spots and a white collar, white pants held by a black belt, and a black fur tail with a gray tip.
Style H
During Lunar New Year, his hat's fur is gold and its ears are red. He wears a red shirt with a black collar and stitches and golden buttons, a golden fur belt with a red paw, a golden tail, and golden fur shoes with red laces and black soles.
Orders
Al Dente Gnocchi
Beefy Bolognese
Black Pepper
7 Clams
6 Prosciuttos
Crescent Roll
Holiday (Lunar New Year)
Al Dente Longevity Noodles
XO Sauce
Black Pepper
7 Clams
6 Prosciuttos
Crescent Roll
Medium Cup
3 shots of French Roast
1 shot of Cold Soy Milk
Ice Cubes
Orange Mocha Syrup
Citrus Zest
Cannoli:

Chocolate Cannoli Shell
Creameo Cream
Ground Nutmeg
Holiday (Christmas)
Medium Cup
3 shots of French Roast
1 shot of Cold Eggnog
Ice Cubes
Orange Mocha Syrup
Citrus Zest
Cannoli:

Chocolate Cannoli Shell
Creameo Cream
Ground Nutmeg
Croissant
Schnitzel with Spicy Cajun Batter
Sticky Bourbon Sauce
Banana Peppers
Creamy Cole Slaw
Small Slush

Watermelon Slush
Sour Apple Slush
Holiday (Comet Con)
Croissant
Schnitzel with Spicy Cajun Batter
Astro Elixir
Banana Peppers
Creamy Cole Slaw
Small Slush

Galaxy Grape Slush
Sour Apple Slush
Ranks required to unlock him
Unlockables
Stickers
| Sticker Number | Name | Achievement | Sticker Earned |
| --- | --- | --- | --- |
| 74 | Clairamari | Add Fried Calamari to Clair's order | |
| 82 | Holiday Outfit | Wear a shirt, belt, jacket, pants, hat, and shoes to match the current holiday | |
| 7 | Patriotic | Unlock all Starlight Jubilee toppings | |
| Sticker Number | Name | Achievement | Sticker Earned |
| --- | --- | --- | --- |
| 54 | Best Barista | Unlock all of the Standard Espressos and Dairy | |
| 47 | Special Collector | Earn 5 Special Recipes from customers | |
| 25 | Brewing Expert | Get a 100% Brewing Score on 20 orders | |
| Sticker Number | Name | Achievement | Sticker Earned |
| --- | --- | --- | --- |
| 48 | Complete Cookbook | Earn 40 Special Recipes from customers | |
| 35 | Updated Wardrobe | Buy any 8 Clothing items from the Shop | |
| 66 | Chester Chivito | Serve a Cheesy Chivito Special to Chester | |
Earn all three stickers in any of the above games to unlock this outfit: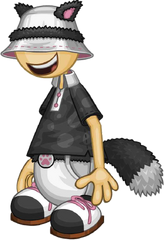 Order Tickets
Gallery
Prepared Orders
Perfect Orders
Promotional Images
Others
Fan Art