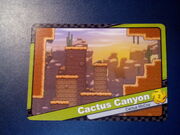 Cactus Canyon is the first area in the flash game Cactus McCoy and the Curse of Thorns.
Challenges
Unwanted - Take down all 10 "wanted" posters.
Fast Learner - Beat the level in 1:40.
Brawler - Kill all of the enemigos in the area.
Bramble Breaker - Remove all of the bramble bushes in the area. (8)
Marshall McCoy - Kill 5 enemigos using Sheriff badges.