GTA: The Criminal Enterprises - The Loop
Play Sound
For more information on the game and its characters, go to the Cactus McCoy wiki.
This page is about the game. You may be looking for the character.
Cactus McCoy and the Curse of the Thorns is a platformer game and the first game in the Cactus McCoy series of platformer games. It was first released on Not Doppler on March 10, 2011.
Description
When a routine treasure hunt goes awry, McCoy is transformed into a walking cactus by the ancient Curse of Thorns. McCoy's mission is to return the Thorned Emerald to its true home. If he fails, the curse will continue until he is a lifeless, stone cactus.
This latest game throws you into a Wild West world filled with ruthless outlaws, mysterious curses, and more treasures than you can swing a stick at. Run, jump, and punch your way through an army of Enemigos sent by the monstrous Hex Hatfield. Throughout 12 expansive and dangerous areas, you will find and master a barrage of weapons from razor-sharp machetes to giant bazookas. As you travel, you will uncover missing map pieces that will guide you to the source of the curse. Along the way, you can hunt for treasure, compete in time trials, take on unique challenges, or unlock over 80 badges. Master the art of "Enemigo Juggling" to steal weapons and money from the villainous outlaws, and use those spoils to upgrade your many different fighting stats.[1]
Previews
Intro
Ending
Levels
Music
Unlike most Flipline games, which only use original music, Cactus McCoy and the Curse of Thorns used music created by other artists. Several of the artists who created music used in this game were later credited for creating the music used in the sequel.
Title screen music: "Showdown" by Jeremy Sherman (underscore version)
Music used during the intro and ending scenes: "Pass the Spaghetti" by Patrick Smith
Level music: "Handful of Coins" by Julian Beeston (Uncredited?)
Other composers named includes Dave Cowen, Dan Foster and Wayne Westman.
Awards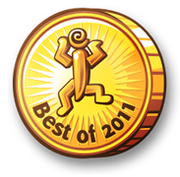 Cactus McCoy and the Curse of Thorns was nominated for "Best of 2011" awards by Jay-is-games. It later took first place in the Action-Platform category. [2]
Trivia
The names Hatfield and McCoy refer to the Hatfield and McCoy family feud that took place in the United States in the mid-1800s.
The first post on the Flipline Blog was the trailer for this game.
Matt and Tony were inspired to create this game after creating The Expendables 8-bit.[3]
The game's Southwest theme was inspired by seeing a Spanish-speaking website use the term "Enemigo" in its description of Papa Louie: When Pizzas Attack!.[3]
It took over three months to develop this game.[4]
The underscore of "Showdown" was also used in the Remnants of Skystone soundtrack.
Gallery
References