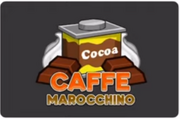 Caffe Marocchino is a special recipe that can be selected by players to be the "Special of the Day" in Papa's Mocharia To Go!. Customers who order the Caffe Marocchino special will give the player +1

. The special prize for this recipe is Western Shirt.
Recipe
Gallery
Trivia
The sticker "Mayor Marocchino" is earned by serving a Caffe Marocchino special to Mayor Mallow.