Carlo Romano is a male customer who made his first appearance in Papa's Pizzeria. He is the male worker in Papa's Scooperia.
Flipdeck Info
Hometown: Portallini
Occupation: Mandolin Player
Loves: Italian Sausage
Hates: Coffee
Carlo grew up in the town of Portallini with his older sister Bruna and the rest of the Romano family. Even at a young age, Carlo was a natural at playing the Mandolin. Although he can now play a variety of stringed instruments, he still prefers the soft tremolo of an old Mandolin. Carlo is always eager to help aspiring musicians and even taught Marty his first chords.
Appearances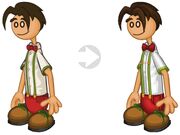 Carlo has fair skin and dark brown hair with long front bangs. He wears red pants with olive green suspenders and pale yellow hooks and buttons, white t-shirt with white buttons and green trim, a crimson red bowtie, and brown shoes with green laces.
Clean-Up
Carlo's clothing and hair got redesigned.
Styles
Style B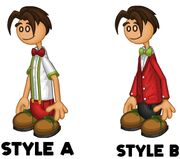 Carlo wears a bright red suit with white buttons over his white shirt. He also wears an olive green bowtie and a pair of black pants.
Orders
4 Sausages (Right)
6 Mushrooms (Left)
4 Peppers (Bottom Right)
30 minutes (1/2 a meter)
8 Slices
Bottom Bun
Medium Patty
Cheese
Bottom Bun
Medium Patty
Cheese
Lettuce
Onion
Top Bun
Pita Bread with Steak
Pinto Beans
Guacamole
Brown Rice
Sour Cream
Medium Cup
Creameo Bits
Strawberry Syrup
Chunky Blend
Whipped Cream
Chocolate Topping
Sprinkles
Tropical Charms
Creameo, Cherry
Pecan Pancake
2 Butters
Pecan Pancake
2 Butters
Pecan Pancake
Cinnamon
Raspberries
Drink:

Large Cranberry Juice with Ice
Bottom Bun
Well-Done Patty
Lettuce
Bottom Bun
Well-Done Patty
Pepperjack Cheese
Pickle
Mustard
Top Bun
4 Parmesan Shrimps (all)
4 Green Peppers (left)
2 Celeries (left)
6 Red Peppers (right)
Ranch Dip
Zesty Pesto Dip
Italian Sausage on a Pumpernickel Bun
Fajita Veggies
Onions
Marinara Sauce
3 Tomato Wedges
Drink and Popcorn:

Large Dr. Cherry
Small Cotton Puffs
Liner A
Strawberry Cake
Cupcake 1:

Vanilla Frosting
Strawberry Drizzle
Shaved Coconut
Cherry

Cupcake 2:

Pink Frosting
Strawberry Drizzle
Shaved Coconut
Cherry
Holiday (Christmas)
Liner D
Strawberry Cake
Cupcake 1:

Vanilla Frosting
Strawberry Drizzle
Crushed Candy Canes
Shaved Coconut
Tree Cookie, Cherry, Tree Cookie

Cupcake 2:

Pink Frosting
Strawberry Drizzle
Crushed Candy Canes
Shaved Coconut
3 Candy Presents
Medium Cup
Creameo Bits
Strawberry Syrup
Chunky Blend
Whipped Cream
Chocolate Topping
Coconut Shavings
Tropical Charms
Creameo, Hazelnut Swizzle
Regular Penne
Beefy Bolognese
Grated Mozzarella
4 Sausages
5 Onions
Cheesy Bread
Holiday (New Year)
Regular Penne
Midnight Marsala
Grated Mozzarella
4 Sausages
5 Onions
Cheesy Bread
Small Cup
Cherry Cordials
Strawberry Syrup
Smooth Blend
Whipped Cream
Chocolate Topping
Hazelnut Swizzle, Creameo, Hazelnut Swizzle
Red Velvet Long John with Boston Cream

Strawberry Icing
Crushed Peanuts

Chocolate French Cruller

Cinnamon Sugar
Creameo Bits

Regular Ring Donut with Boston Cream

Chocolate Icing
Chocolate Drizzle
Creameo Bits
Holiday (New Year)
Red Velvet Long John with Boston Cream

Strawberry Icing
Crushed Peanuts

Chocolate French Cruller

Midnight Powder
Creameo Bits

Regular Infinity Loop with Boston Cream

Chocolate Icing
Creameo Drizzle
Countdown Crunch
4 Parmesan Shrimp
4 Green Peppers (left)
2 Celeries (left)
6 Red Peppers (right)
Ranch Dip
Zesty Pesto Dip
4 Ground Beef (left)
8 Green Peppers (all)
4 Capicola (right)
3 Mushrooms (bottom left)
Well-Done Bake
6 Slices
Rosemary Foccacia with Aged Gouda
Regular Grill
Sliced Salami
Sliced Ham
Tomato
Ranch
Fries:

Waffle Fries
Cheddar Topping
Ranch
Holiday (Portallini Feast)
Rosemary Foccacia with Ricotta Cheese
Regular Grill
Sliced Salami
Sliced Ham
Tomato
Ranch
Fries:

Waffle Fries
Cheddar Topping
Ranch
Liner B
Strawberry Cake
Cupcake 1:

White Frosting
Strawberry Drizzle
Shaved Coconut
Cherry

Cupcake 2:

Pink Frosting
Strawberry Drizzle
Shaved Coconut
Cherry
Holiday (Valentine's Day)
Liner B
Raspberry White Chocolate Cake 
Cupcake 1:

White Frosting
Strawberry Drizzle
X and O Sprinkles
Chocolate Strawberry
Cherry

Cupcake 2:

Pink Frosting
Watermelon Drizzle
Shaved Coconut
Cherry
Liner B
Strawberry Cake
Cupcake 1:

White Frosting
Strawberry Drizzle
Shaved Coconut
Cherry

Cupcake 2:

Pink Frosting
Strawberry Drizzle
Shaved Coconut
Cherry
Holiday (Valentine's Day)
Liner B
Raspberry White Chocolate Cake
Cupcake 1:

White Frosting
Strawberry Drizzle
X and O Sprinkles
Chocolate Strawberry, Cherry, Chocolate Strawberry

Cupcake 2:

Pink Frosting
Watermelon Drizzle
Shaved Coconut
Cherry
Creameo Crust
Cherry Filling
Fudge Filling
Fudge Filling
Fudge Filling
Chocolate Mousse (Outer Ring)
Shaved Chocolate (Outer Ring)
12 Raspberries (Outer Ring)
Holiday (Valentine's Day)
Creameo Crust
Cherry Filling
Fudge Filling
Fudge Filling
Fudge Filling
Heart Crust
Chocolate Mousse (Outer Ring)
Shaved Chocolate (Outer Ring)
12 Raspberries (Outer Ring)
Pita Bread with Steak
Tomatoes
Guacamole
Brown Rice
Sour Cream
Chips:

Pepperjack Rounds
Guacamole
Holiday (Portallini Feast)
Garlic and Olive Oil Piada with Steak
Feta Cheese
Tomatoes
Guacamole
Brown Rice
Tzatziki Sauce
Chips:

Pepperjack Rounds
Guacamole
Nori with White Rice
Flipped
Sayori
Tonkatsu Sauce
Bubble Tea:

Strawberry Tea with Huckleberry Bubbles
Holiday (Valentine's Day)
Akai Soy Paper with White Rice
Flipped

Shrimp Tempura
Hokkigai
Strawberry Slices

Sayori
Pomegranate
Tonkatsu Sauce
Bubble Tea:

Raspberry Tea with Huckleberry Bubbles
Pita Bread with Steak
Tomatoes
Guacamole
Brown Rice
Sour Cream
Chips:

Pepperjack Rounds
Guacamole
Holiday (Valentine's Day)
Sundried Tomato Soft Taco with Steak
Tomatoes
Guacamole
Red Rice
Nogada Sauce
Chips:

Pepperjack Rounds
Guacamole
3 Pecan Pancakes
Cinnamon
4 Butters
Raspberries
Drink:

Large Orange Juice with Ice
Holiday (Valentine's Day)
3 Pecan Pancakes
Cinnamon
4 Candy Hearts
Raspberries
Drink:

Large Cranberry Juice with Ice
Traditional Crust
Creamy Garlic Sauce with Provolone Cheese
4 Capicolas (right)
3 Mushrooms (bottom left)
8 Green Peppers
4 Ground Beefs (left)
Well-Done Bake
6 Slices
Holiday (Christmas) 
Traditional Crust
Creamy Garlic Sauce with Provolone Cheese
4 Geese (right)
3 Mushrooms (bottom left)
8 Green Peppers
4 Ground Beefs (left)
Well-Done Bake
6 Slices
Italian Sausage on a Pretzel Bun
Fajita Veggies
Onions
Marinara Sauce
3 Tomatoes
Drink and Popcorn:

Large Dr. Cherry
Medium Cinnamon Swirl
Holiday (Valentine's Day)
Italian Sausage on a Beetbread Bun
Fajita Veggies
Onions
Sundried Tomatoes
3 Tomatoes
Drink and Popcorn:

Medium Razzle Dazzle
Medium Cherry Cordial Corn
6 Alabama BBQ Shrimps (Right)
4 Red Peppers (Left)
4 Green Peppers (Left)
Guacamole
Holiday (Mardi Gras)
6 Alabama BBQ Shrimps (Right)
4 Crawdads (Left)
4 Green Peppers (Left)
Guacamole
Ranks required to unlock him
Unlockables
Papa's Next Chefs
Stickers
| Sticker Number | Name | Achievement | Sticker Earned |
| --- | --- | --- | --- |
| 86 | Cookie Clickin' | Strike out in Mitch's Mess by clicking 3 different cookies | |
| 20 | Bronze Beginning | Earn 5 Bronze Customer Awards | |
| 38 | New Threads | Change your worker's shirt, pants, jacket, and shoes. | |
| Sticker Number | Name | Achievement | Sticker Earned |
| --- | --- | --- | --- |
| 63 | Carlo Caliente | Serve a Queso Caliente Special to Carlo Romano | |
| 39 | Romano Family | Serve everone in the Romano Family Quartet | |
| 29 | Award Winning Tacos | Get 5 Blue Ribbons from Jojo the Food Critic | |
| Sticker Number | Name | Achievement | Sticker Earned |
| --- | --- | --- | --- |
| 49 | Successful Specials | Earn 3 Special Stars when serving Today's Special | |
| 39 | Romano Family | Serve everone in the Romano Family Quartet | |
| 47 | Recipe Collection | Earn 15 Special Recipes from customers | |
| Sticker Number | Name | Achievement | Sticker Earned |
| --- | --- | --- | --- |
| 13 | Playing Cupid | Unlock all Valentine's Day toppings | |
| 39 | Romano Family | Serve everone in the Romano Family Quartet | |
| 4 | Spring Has Sprung | Reach Spring | |
| Sticker Number | Name | Achievement | Sticker Earned |
| --- | --- | --- | --- |
| 67 | Lumberjack Johnny | Serve a Lumberjack Toast Special to Johnny | |
| 86 | Stubborn Plumber | Try to click 20 red pipes in Rico's Chiliworks | |
| 90 | Special Delivery | Serve 50 delivery orders to customers | |
| Sticker Number | Name | Achievement | Sticker Earned |
| --- | --- | --- | --- |
| 55 | Big Dipper | Unlock all of the Standard Dips | |
| 15 | Lucky Chef | Unlock all Lucky Lucky Matsuri toppings | |
| 34 | Interior Decorator | Buy 8 Furniture items from the Shop | |
Earn all three stickers in either game to get this outfit:
Trivia
Order Tickets
Gallery
Fan Art