Raise a Floppa - The Loop
Play Sound
This article is about the character who appears in the Papa Louie time-management games. If you are looking for the character who appeared in Remnants of Skystone, click here.
Cecilia is a female customer who made her first appearance in Papa's Pizzeria. She is the female worker at Papa's Bakeria.
Flipdeck Info
Hometown: Tastyville
Loves: Cranberries
Hates: Losing
Occupation: Dance Instructor

Cecilia is a long time fan of Papa Louie's many restaurants. Most people around town recognize Cecilia as the girl who came in 3rd on the first season of Ballroom Bash. In the last few years since her disappointing loss, Cecilia has shied away from ballroom dancing. Her last spark of hope was a job opportunity at Whiskview Dance Studio, which fell through due to it's unexpected closure. Cecilia quickly took a job at Papa's Bakeria to pay the bills. Thankfully, after a year of hard work making pies, Papa Louie opened up Cecilia's Dance Studio so she could pursue her dreams.
Appearance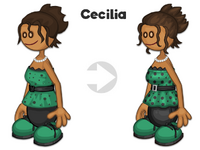 Cecilia has light brown skin, and dark brown hair tied in a bun with a few strands being curled up. She wears a forest green peplum top with black cuffed trims and polka dots, a black belt, black pants, and pale aqua green sneakers with black laces. Around her neck, she wears a white pearl necklace.
Clean Up
Her hair is now more organized and lighter. Her outfit is also more detailed and her belt buckle is silver instead of black.
Styles
Style B
Cecilia wears a ruby red and black plaid peplum top, black pants, and a pair of white sneakers having the same design as her top with black soles and laces.
Bakeria Uniform
She wears a white plaid shirt with maroon sleeve endings under a maroon, two-toned apron held by a black belt, a black visor with a maroon, two-toned top, and her Style B shoes but less red.
Easter Outfit
She wears a white peplum top with lime green polka-dots and lavender cuffed trims held by a lavender belt, lavender pants, bunny ears on her head, and white shoes with black soles and lime green laces.
Orders
6 Mushrooms (bottom and top right)
3 Peppers (bottom and top left)
3 Onions (top and bottom right)
15 minutes (1/4 of meter)
8 Slices
Bottom Bun
Tomato
Tomato
Rare Patty
Mustard
Onion
Top Bun
Soft Taco with Steak
Brown Rice
Cheese
Onions
Sour Cream
Small Cup
Yum n' Ms
Mint Syrup
Smooth Blend
Whipped Cream
Chocolate Chips
3 Cherries
2 French Toasts
Cinnamon
2 Butters
Honey
Drink:

Large Cranberry Juice with Ice
4 Spicy Garlic Chicken Wings (right)
8 Cheese Cubes (all)
4 Carrots (left)
Ranch Dip
Veggie Dog on a Regular Bun
Sauerkraut
Fajita Veggies
3 Tomato Wedges
Drink and Popcorn:

Large Lemon Mist
Medium Buttered Popcorn
Liner D
Lemon Cake
Cupcake 1:

Green Frosting
Chocolate Chips
3 Cherries

Cupcake 2:

Green Frosting
Vanilla Drizzle
Cloudberry, Cherry, Cloudberry
Holiday (OnionFest)
Liner D
Lemon Cake
Cupcake 1:

Green Frosting
Chocolate Chips
3 Cherries

Cupcake 2:

Green Frosting
Purple Burple Drizzle
3 Frosted Onions
Small Cup
Yum n' Ms
Mint Syrup
Smooth Blend
Whipped Cream
Chocolate Chips
Shaved Mints
Cherry, Cherry, Hazelnut Swizzle
Regular Fettuccine
Three Cheese Sauce
Italian Seasoning
3 Onions
3 Tomatoes
Poppyseed Roll
Holiday (New Year)
Regular Rainbow Gramigna
Three Cheese Sauce
Italian Seasoning
7 Cheese Cubes
3 Onions
3 Tomatoes
Poppyseed Roll
Small Cup
Yum n' Ms
Powsicle Syrup
Regular Blend
Whipped Cream
Strawberry Topping
Pomegranate
Strawberry Wafer, Waffle Cone Wedge, Strawberry Wafer
Regular Ring Donut

Chocolate Icing
Strawberry Drizzle
Crushed Peanuts

Pumpkin Round Donut with Boston Cream

Powdered Sugar
Chocolate Chips

Regular French Cruller with Strawberry Jelly

Strawberry Icing
Cosmic Coconut
Holiday (Thanksgiving)
Regular Ring Donut with Pumpkin Pie Filling

Vanilla Icing
Autumn Leaves Sprinkles

Pumpkin Acorn Donut with Boston Cream

Powdered Sugar
Candy Corn Drizzle

Regular French Cruller with Strawberry Jelly

Strawberry Icing
Cosmic Coconut
4 Spicy Garlic Tofu Skewers (right)
8 Cheese Cubes (all)
4 Carrots (left)
Ranch Dip
8 Philly Steak (all)
8 Red Peppers (all)
8 Mushrooms (all)
Regular Bake
Square Cut
Wheat Bread with American Cheese
Regular Grill
Philly Steak
Fajita Peppers
Philly Steak
Mushrooms
Sauerkraut
Fries:
Holiday (Christmas)
Wheat Bread with Ginger Spice Cheese
Regular Grill
Philly Steak
Fajita Peppers
Philly Steak
Mushrooms
Cranberry Chutney
Fries:
Liner D
Lemon Cake
Cupcake 1:

Green Frosting
Vanilla Drizzle
Chocolate Chips
Cloudberry
Cherry

Cupcake 2:

Forest Green Frosting
Purple Burple Drizzle
Shaved Coconut
Cherry
Cloudberry
Holiday (Christmas)
Liner D
Lemon Cake
Cupcake 1:

Green Frosting
Santa Cookie Drizzle
Chocolate Chips
Gingerberead Man
Tree Cookie

Cupcake 2:

Forest Green Frosting
Purple Burple Drizzle
Shaved Coconut
Tree Cookie
Candy Present
Liner D
Lemon Cake
Cupcake 1:

Green Frosting
Shaved Coconut
Rainbow Sprinkles
Cloudberry, Cherry, Cloudberry

Cupcake 2:

Green Frosting
Vanilla Drizzle
Rainbow Sprinkles
Cherry
Holiday (Cherry Blossom Festival)
Liner D
Lemon Cake
Cupcake 1:

Green Frosting
Shaved Coconut
Konpeito
Wasanbon Blossom, Cherry, Wasanbon Blossom

Cupcake 2:

Green Frosting
Matcha Drizzle
Konpeito
3 Uiros
Soft Taco with Steak
Verde Sauce
Brown Rice
Peppers
Onions

Fiesta Chips
Roasted Chili-Corn Salsa
Holiday (Christmas)
Soft Taco with Steak
Chimichurri
Brown Rice
Peppers
Cranberry Salsa

Fiesta Chips
Roasted Chili-Corn Salsa
Nori with Brown Rice
Flipped
Bonito Flakes
Bubble Tea:

Chocolate Tea with Cherry Bubbles
Holiday (BavariaFest)
Nori with Brown Rice
Flipped
Sauerkraut
Bubble Tea:

Black Forest Tea with Cherry Bubbles
2 French Toasts
Cinnamon
Honey
Drink:
Holiday (Christmas)
2 French Toasts
Cinnamon
Holiday Yum n' Ms
Drink:
Thick Crust
Olive Oil with Provolone Cheese
8 Broccolis (All)
8 Philly Steaks (All)
8 Red Peppers (All)
Regular Bake
Square Cut
Holiday (Summer Luau)
Thick Crust
Olive Oil with Provolone Cheese
8 Papayas (All)
8 Philly Steaks (All)
8 Red Peppers (All)
Regular Bake
Square Cut
Veggie Dog on a Regular Bun
Sauerkraut
Fajita Veggies
3 Tomatoes
Drink and Popcorn:

Large Lemon Mist
Medium Buttered Popcorn
Holiday (Christmas)
Veggie Dog on a Fruitcake Bun
Sauerkraut
Cranberry Chutney
3 Tomatoes
Drink and Popcorn:

Large Lemon Mist
Medium Frostcap Crunch
Traditional Cookie with Pomegranate
Lemon Crinkle Cookie with Yum 'N 'Ms
Traditional Cookie with Pomegranate
Whipped Cream
Rainbow Sprinkles
Waffle Cone, Blueberry Swizzle, Waffle Cone
Holiday (OnionFest)
Traditional Cookie with Pomegranate
Lemon Crinkle Cookie with Yum 'N 'Ms

Onion Overdrive Ice Cream

Traditional Cookie with Pomegranate
Whipped Cream
Rainbow Sprinkles
Waffle Cone, Blueberry Swizzle, Waffle Cone
Traditional Cookie with Pomegranate
Lemon Crinkle Cookie with Yum n' M's
Traditional Cookie with Pomegranate
Whipped Cream
Rainbow Sprinkles
Waffle Cone, Blueberry Swizzle, Waffle Cone
Holiday (Cinco de Mayo)
Traditional Cookie with Pomegranate
Lemon Crinkle Cookie with Yum 'N 'Ms
Traditional Cookie with Pomegranate
Whipped Cream
Rainbow Sprinkles
Waffle Cone, Blueberry Swizzle, Waffle Cone
2 French Toasts
Cinnamon
Honey
Drink:
Holiday (Cherry Blossom Festival)
2 French Toasts
Cinnamon
Kuromitsu Drizzle
Oiri
3 Wasanbon Blossoms
Drink:
6 Spicy Garlic Tofu Skewers (All)
6 Peri Peri Tofu Skewers (Left)
3 Tikka Masala Chicken Wings (Right)
Ranch Dip
Holiday (Mardi Gras)
6 Vieux Carré Tofu Skewers (All)
6 Peri Peri Tofu Skewers (Left)
3 Tikka Masala Chicken Wings (Right)
Creole Crab Dip
Regular French Cruller with Strawberry Jelly

Powdered Sugar
Chocolate Chips

Pumpkin Round Donut with Boston Cream

Strawberry Icing
Vanilla Drizzle
Cosmic Coconut

Regular Ring Donut with Strawberry Jelly

Chocolate Icing
Strawberry Drizzle
Holiday (Thanksgiving)
Regular French Cruller with Strawberry Jelly

Powdered Sugar
Chocolate Chips

Pumpkin Acorn Donut with Boston Cream

Cocoa Powder
Fudge Swirl Drizzle
Cosmic Coconut

Regular Ring Donut with Strawberry Jelly

Chocolate Icing
Candy Corn Drizzle
Wheat Bread with American Cheese
Regular Grill
Philly Steak
Fajita Peppers
Philly Steak
Mushrooms
Sauerkraut
Fries:
Holiday (Christmas)
Wheat Bread with Ginger Spice Cheese
Regular Grill
Philly Steak
Fajita Peppers
Philly Steak
Mushrooms
Cranberry Chutney
Fries:

Curly Fries
Cranberry Chutney
Yule Spice
Nori with Brown Rice
Flipped
Bonito Flakes
Bubble Tea:

Chocolate Tea with Cherry Bubbles
Holiday (Christmas)
Nori with Brown Rice
Flipped
Bonito Flakes
Cranberry Sauce
Bubble Tea:

Chocolate Tea with Cherry Bubbles
Regular Fettuccine
Three Cheese Sauce
Italian Seasoning
3 Onions
3 Tomatoes
Poppyseed Roll
Holiday (Lunar New Year)
Regular Longevity Noodles
Three Cheese Sauce
Italian Seasoning
7 Potstickers
3 Onions
3 Tomatoes
Poppyseed Roll
Small Cup
1 shot of City Roast
3 shots of Hot Skim Milk

Matcha Powder
Honey Syrup

Lemon Chiffon
Toasted Coconut
Cannoli:

Pizzelle Shell
Lemon Chiffon
Cinnamon Sugar
Holiday (Grōōvstock)
Small Cup
1 shot of City Roast
3 shots of Hot Skim Milk

Matcha Powder
Honey Syrup

Lemon Chiffon
Crimson and Clove
Cannoli:

Pizzelle Shell
Lemon Chiffon
Crimson and Clove
Bagel
Watercress
Veggie Patty with Panko Breading
Peri Peri Sauce
Tomato
Grilled Portobello Cap
Medium Slush

Lemonade Slush
Black Cherry Slush
Holiday (Christmas)
Jack Frost Bun
Arugula Wreaths
Veggie Patty with Panko Breading
Krampus Sauce
Canned Cranberry
Grilled Portobello Cap
Medium Slush

Lemonade Slush
Black Cherry Slush
Ranks required to unlock her
Unlockables
Stickers
| Sticker Number | Name | Achievement | Sticker Earned |
| --- | --- | --- | --- |
| 81 | Bubble Gum Bonanza | Have 10 different kinds of bubble gum in the lobby at once | |
| 26 | Build Expert | Get a 100% Build Score on 20 orders | |
| 45 | Rare Reward | Win a Rare Bonus Prize in a Mini-Game by earning a Star Medal | |
| Sticker Number | Name | Achievement | Sticker Earned |
| --- | --- | --- | --- |
| 72 | Miso Sasha Shiso | Use Shiso Rice and Ginger Miso Sauce on Sasha's sushi | |
| 10 | Rise and Shine | Unlock all Maple Mornings toppings | |
| 69 | Go Green | Add Furikake and Wasabi Mayo to Professor Fitz's sushi | |
| Sticker Number | Name | Achievement | Sticker Earned |
| --- | --- | --- | --- |
| 52 | Cookbook Mastery | Master 20 Special Recipes by earning 5 Stars on each | |
| 78 | Santa's Helper | Serve 20 customers during Christmas wearing a Christmas Hat and Fur Parka | |
| 54 | Syrup Sampler | Unlock all of the Standard Syrups | |
| Sticker Number | Name | Achievement | Sticker Earned |
| --- | --- | --- | --- |
| 7 | Happy New Year | Unlock all New Year toppings | |
| 4 | Fall Harvest | Reach Autumn | |
| 59 | Wildfire Rhonda | Serve a Wildfire Special to Rhonda | |
| Sticker Number | Name | Achievement | Sticker Earned |
| --- | --- | --- | --- |
| 55 | Sauce Sampler | Unlock all of the Standard Sauces | |
| 14 | Playing Cupid | Unlock all Valentine's Day toppings | |
| 38 | New Threads | Change your worker's shirt, pants, hat, and shoes | |
| Sticker Number | Name | Achievement | Sticker Earned |
| --- | --- | --- | --- |
| 51 | Super Special | Master 10 Special Recipes by earning 5 Stars on each | |
| 72 | Double Chocolate Chuck | Add Shaved Chocolate and Chocolate Syrup to Chuck's sundae | |
| 81 | Color Coordinated | Dress your chef and server in the exact same outfit but with different colors | |
| Sticker Number | Name | Achievement | Sticker Earned |
| --- | --- | --- | --- |
| 52 | Super Special | Master 10 Special Recipes by earning 5 Stars on each | |
| 73 | Double Chocolate Chuck | Add Shaved Chocolate and Chocolate Syrup to Chuck's sundae | |
| 82 | Color Coordinated | Dress your chef and server in the exact same outfit but with different colors | |
| Sticker Number | Name | Achievement | Sticker Earned |
| --- | --- | --- | --- |
| 16 | Desayuno de Mayo | Unlock all Cinco de Mayo toppings | |
| 84 | Get the Tables! | Fill your lobby with 8 large tables | |
| 30 | Month's Pay | Receive your wages on four Pay Days | |
| Sticker Number | Name | Achievement | Sticker Earned |
| --- | --- | --- | --- |
| 48 | Complete Cookbook | Earn 40 Special Recipes from customers | |
| 73 | Alabama Janana | Add Alabama BBQ Sauce to Janana's order | |
| 47 | Recipe Collection | Earn 15 Special Recipes from customers | |
| Sticker Number | Name | Achievement | Sticker Earned |
| --- | --- | --- | --- |
| 54 | Shape Selection | Unlock all of the Standard Donut Shapes | |
| 20 | Bronze Beginning | Earn 5 Bronze Customer Awards | |
| 17 | Make 'Em Wait | Serve the first customer last | |
| Sticker Number | Name | Achievement | Sticker Earned |
| --- | --- | --- | --- |
| 14 | Playing Cupid | Unlock all Valentine's Day toppings | |
| 3 | Winter Wonderland | Reach Winter | |
| 78 | Santa's Helper | Serve 20 customers during Christmas wearing a Christmas Hat and Fur Parka | |
| Sticker Number | Name | Achievement | Sticker Earned |
| --- | --- | --- | --- |
| 16 | Lots of Luck | Unlcok all Lucky Lucky Matsuri toppings | |
| 70 | Timmpura | Add Shrimp Tempura and Tempura Crunch to Timm's sushi | |
| 52 | Cookbook Mastery | Master 20 Special Recipes by earning 5 Stars on each | |
| Sticker Number | Name | Achievement | Sticker Earned |
| --- | --- | --- | --- |
| 55 | Top Topper | Unlock all of the Standard Toppings | |
| 25 | Cooking Expert | Get a 100% Cooking Score on 20 orders | |
| 82 | Holiday Outfit | Wear a shirt, belt, jacket, pants, hat, and shoes to match the current holiday | |
| Sticker Number | Name | Achievement | Sticker Earned |
| --- | --- | --- | --- |
| 59 | Drink Decorator | Unlock all of the Standard Shakers | |
| 38 | New Threads | Change your worker's shirt, pants, hat, belt, jacket, and shoes | |
| 43 | Costumed Closers | Serve all of the Costumed Closers during Halloween | |
| Sticker Number | Name | Achievement | Sticker Earned |
| --- | --- | --- | --- |
| 77 | Santa's Helper | Serve 20 customers during Christmas wearing a Christmas Hat and Fur Parka | |
| 45 | Rare Reward | Win a Rare Bonus Prize in a Mini-Game by earning a Star Medal | |
| 28 | Perfect! | Get a Perfect Score on 30 orders | |
Earn all three stickers in any of the above games to unlock this outfit:
Papa's Next Chefs
Trivia
Order Tickets
Gallery
Prepared Orders
Perfect Orders
Holiday Pictures
Promotional Images
Others
Fan Art