GTA: The Criminal Enterprises - The Loop
Play Sound
Christmas is a holiday celebrated in all of Papa Louie's restaurant time-management games (Papa's Cupcakeria onwards). When a player reaches this holiday in any of the games below, Santa makes his first appearance as well:
Achievements such as "Holiday Cakes," "Holiday Meal," "Holiday Donuts," "Holiday Sandwiches," "Holiday Pies," "Holiday Tacos," "Holiday Sushi," "Holiday Hotcakes," "Holiday Slices," "Holiday Hot Dogs," "Holiday Sundaes," "Holiday Wings", or "Holiday Cheer" are earned when all of the Christmas exclusive ingredients are unlocked.
Customers bring in candy canes to celebrate the holiday.
Customers who favor this holiday
Christmas Cupcake Liners

Candy Cane Stripes
Pine Trees
Present's Tie
Red and Green Dots over a White Background
Christmas-Exclusive Ingredients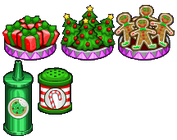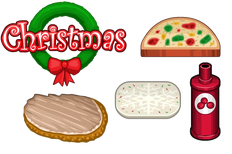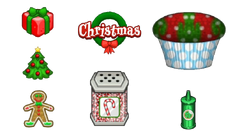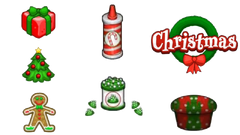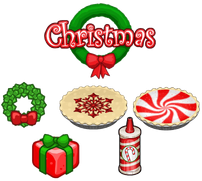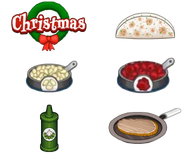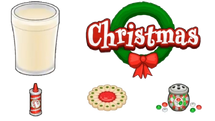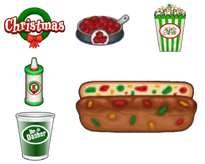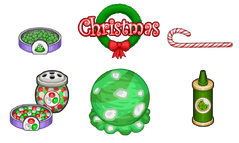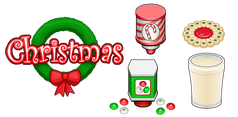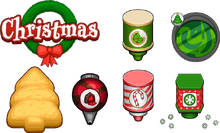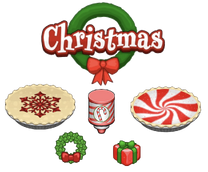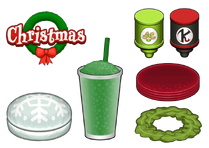 Trivia
In many countries, people celebrate Christmas with roasted goose.
The theme icon for this is .
This is one of three holidays to appear in every Gameria that features holidays, the others being Summer Luau and Thanksgiving.
Starting in Papa's Pastaria, Santa starts at a Silver Customer Award and only visits during Christmas.

Santa also appears every day during Christmas as the third customer of the day during the holiday.
Players can use customer coupons on Santa to make him appear outside of Christmas.
Gallery
Holiday Pictures
Locations during Christmas
v • e

Holidays

Valentine's Day • St. Paddy's Day • Easter • OnionFest • Summer Luau • Starlight Jubilee • Baseball Season • Pirate Bash • Halloween • Thanksgiving • Christmas • New Year
Chilifest • Summer Luau • Starlight Jubilee • Neptune's Feast • Gondola 500 • Halloween • Thanksgiving • Christmas • New Year • Valentine's Day • St. Paddy's Day • Romano Wedding
Maple Mornings • Halloween • Thanksgiving • Christmas • New Year • Valentine's Day • St. Paddy's Day • Easter • Big Top Carnival • Summer Luau • Starlight Jubilee • Sky Ninja Returns
Cinco de Mayo • Summer Luau • Starlight BBQ • Portallini Feast • Maple Mornings • Halloween • Thanksgiving • Christmas • New Year • Valentine's Day • St. Paddy's Day • Easter
Valentine's Day • St. Paddy's Day • Easter • Cinco de Mayo • Summer Luau • Starlight Jubilee • Big Top Carnival • Comet Con • Halloween • Thanksgiving • Christmas • New Year
Valentine's Day • St. Paddy's Day • Easter • Cherry Blossom Festival • Summer Luau • Starlight Jubilee • Sugarplex Film Fest • Maple Mornings • Halloween • Thanksgiving • Christmas • New Year
New Year • Valentine's Day • St. Paddy's Day • Easter • Cherry Blossom Festival • Summer Luau • Starlight Jubilee • Comet Con • Grōōvstock • Halloween • Thanksgiving • Christmas
Starlight BBQ • Portallini Feast • Maple Mornings • Halloween • Thanksgiving • Christmas • New Year • Valentine's Day • St. Paddy's Day • Easter • Cherry Blossom Festival • Summer Luau
Cherry Blossom Festival • Cinco de Mayo • Summer Luau • Starlight BBQ • BavariaFest • Maple Mornings • Halloween • Thanksgiving • Christmas • New Year • Valentine's Day • Lucky Lucky Matsuri
Starlight BBQ • BavariaFest • Maple Mornings • Halloween • Thanksgiving • Christmas • New Year • Valentine's Day • St. Paddy's Day • Easter • Big Top Carnival • Summer Luau
Summer Luau • Starlight Jubilee • Sugarplex Film Fest • Grōōvstock • Halloween • Thanksgiving • Christmas • New Year • Valentine's Day • St. Paddy's Day • Easter • Cinco de Mayo
Thanksgiving • Christmas • New Year • Valentine's Day • Lucky Lucky Matsuri • Easter • Cinco de Mayo • Summer Luau • Starlight BBQ • BavariaFest • Maple Mornings • Halloween
Cherry Blossom Festival • Summer Luau • Starlight BBQ • Comet Con • Sugarplex Film Fest • Halloween • Thanksgiving • Christmas • New Year • Valentine's Day • St. Paddy's Day • Easter
Cinco de Mayo • Summer Luau • Starlight BBQ • Grōōvstock • Maple Mornings • Halloween • Thanksgiving • Christmas • New Year • Valentine's Day • St. Paddy's Day • Easter
Holi • Cherry Blossom Festival • OnionFest • Summer Luau • Starlight Jubilee • Baseball Season • Big Top Carnival • Halloween • Thanksgiving • Christmas • New Year • Valentine's Day
Holi • Cherry Blossom Festival • OnionFest • Summer Luau • Starlight Jubilee • Baseball Season • Big Top Carnival • Halloween • Thanksgiving • Christmas • New Year • Valentine's Day
Holi • Easter • Cinco de Mayo • Summer Luau • Starlight Jubilee • Baseball Season • Big Top Carnival • Halloween • Thanksgiving • Christmas • New Year • Valentine's Day
Summer Luau • Starlight Jubilee • BavariaFest • Pirate Bash • Halloween • Thanksgiving • Christmas • New Year • Valentine's Day • St. Paddy's Day • Cherry Blossom Festival • Cinco de Mayo
OnionFest • Summer Luau • Starlight BBQ • BavariaFest • Maple Mornings • Halloween • Thanksgiving • Christmas • New Year • Mardi Gras • Lucky Lucky Matsuri • Big Top Carnival
Maple Mornings • Halloween • Thanksgiving • Christmas • New Year • Mardi Gras • St. Paddy's Day • Easter • Sugarplex Film Fest • Summer Luau • Starlight Jubilee • Sky Ninja Returns
Cinco de Mayo • Summer Luau • Starlight BBQ • Portallini Feast • Pirate Bash • Halloween • Thanksgiving • Christmas • New Year • Valentine's Day • Holi • Easter
New Year • Valentine's Day • St. Paddy's Day • Easter • Big Top Carnival • Summer Luau • Starlight Jubilee • Sugarplex Film Fest • Grōōvstock • Halloween • Thanksgiving • Christmas
Cherry Blossom Festival • Cinco de Mayo • Summer Luau • Starlight BBQ • Portallini Feast • Comet Con • Halloween • Thanksgiving • Christmas • New Year • Valentine's Day • Lucky Lucky Matsuri
Chilifest • Summer Luau • Starlight Jubilee • Neptune's Feast • Gondola 500 • Halloween • Thanksgiving • Christmas • Lunar New Year • Mardi Gras • St. Paddy's Day • Romano Wedding
Halloween • Thanksgiving • Christmas • New Year • Valentine's Day • St. Paddy's Day • Cherry Blossom Festival • Cinco de Mayo • Summer Luau • Starlight Jubilee • Grōōvstock • Sugarplex Film Fest
Starlight BBQ • BavariaFest • Maple Mornings • Day of the Dead • Thanksgiving • Christmas • New Year • Valentine's Day • Lucky Lucky Matsuri • Easter • Comet Con • Summer Luau