GTA: The Criminal Enterprises - The Loop
Play Sound

Chuck is a male customer who made his first appearance in Papa Louie: When Pizzas Attack!. He is the male worker at Papa's Wingeria.
Flipdeck Info
Hometown: Tastyville
Loves: Pineapple
Hates: Cleaning the Fryer
Occupation: Model/Chef
Chuck is a highly charismatic server at Papa's Wingeria. Before he won a job serving wings, he was a small-time model from Tastyville. Chuck mainly did photo-shoots for stock photos and clothing stores. Many recognize him as the face of the Surf Shack's summer catalogues. At first, Chuck was bummed about his new cooking job. However, once the tips started rolling in, he quickly changed his tune.
Appearance
Chuck has tanned skin and spiky hair with brown, blond and darker highlights. He wears an orange tropical shirt with brown buttons and light orange, dark orange, and cream-colored floral accents, a puka shell necklace and bracelets, silver earrings, dark sunglasses raised to his forehead, blue pants held by a brown belt, and brown sneakers with yellow laces.
Clean-Up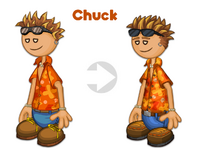 His clothing got remodeled. He also now has thin eyebrows and sideburns and his shoes are now changed to stitched moccasins.
Styles

Style B
He wears a cream-colored tropical shirt with floral accents that are various shades of green, brown pants held by a red belt, a pair of off-white stitched moccasins with light orange laces, dark orange stitches, and brown soles. He puts his sunglasses over his eyes.
Wingeria Uniform
He wears a black and red striped shirt with gray buttons, black pants held by a brown belt, and brown sneakers with yellow laces and brown soles.
Style H
In Papa's Pastaria To Go!, he wears a yellow shirt with teal, indigo, and blue-green floral accents, blue pants held by a white belt with a gray buckle, his Style A shoes, his Style B glasses, and a blue visor with a yellow outlining and rim holding it.
OnionFest Crown Classic Outfit
Chuck wears a purple tropical shirt with gold buttons and dark green, light green, and black floral accents, green pants held by a black belt with a gold buckle, a white cape, and black moccasins with purple laces, green stitches, and gold soles. He also wears a gold crown with lime green jewels, a gold necklace, gold earrings, a purple hat with green leaves sprouting from it, and gold bracelets for accessories.
Orders
8 Pepperoni (all)
4 Sausages (bottom)
15 minutes (1/4 of meter)
6 Slices
Bottom Bun
BBQ Sauce
Medium Patty
Cheese
Onion
Tomato
BBQ Sauce
Top Bun
Soft Taco with Pork
Lettuce
Cheese
Black Beans
Onions
Mild Sauce
Large Cup
Pineapple
Banana Syrup
Chunky Blend
Whipped Cream
Strawberry Topping
Banana, Cherry, Banana
Cherry
Bottom Bun
BBQ Sauce
Medium Patty
Pepperjack Cheese
Bacon
BBQ Sauce
Onion Ring
Top Bun
4 Buffalo Chicken Wings (all)
8 BBQ Chicken Strips (all)
4 Carrots (all)
Blue Cheese Dip
Hot Dog on a Chicago Bun
Papa's Ballpark Mustard
Relish
Pineapple Relish
3 Sport Peppers
Drink and Popcorn:

Large Tangerine Pop
Medium Cheddar Corn
Liner C
Strawberry Cake
Pink Frosting
Cupcake 1:

Strawberry Drizzle
Shaved Coconut
Cloudberry, Cherry, Cloudberry

Cupcake 2:

Vanilla Drizzle
Shaved Coconut
Cloudberry, Cherry, Cloudberry
Holiday (Summer Luau)
Liner C
Strawberry Cake
Pink Frosting
Cupcake 1:

Strawberry Drizzle
Shaved Coconut
Cloudberry, Gummy Pineapple, Cloudberry

Cupcake 2:

Vanilla Drizzle
Shaved Coconut
Cloudberry, Gummy Pineapple, Cloudberry
Large Cup
Pineapple
Banana Syrup
Chunky Blend
Whipped Cream
Strawberry Topping
Banana, Cherry, Banana
Cloudberry
Al Dente Macaroni
Creamy Alfredo Sauce
Parmesan Cheese
Crushida Pepper
6 Chicken
Cheesy Bread
Holiday (Summer Luau)
Al Dente Shells
Pineapple Pancetta
Parmesan Cheese
Crushida Pepper
6 Chicken
Cheesy Bread
Large Cup
Pineapple
Banana Syrup
Chunky Blend
Lemon Chiffon
Strawberry Topping
Banana, Cherry, Banana
3 Cloudberries
Blueberry French Cruller with Blueberry Custard

Sky Blue Icing
Banana Drizzle

Regular Ring Donut

Orange Icing
Banana Drizzle

Regular Roll with Strawberry Jelly

Strawberry Icing
Banana Drizzle
Cosmic Coconut
Holiday (Summer Luau)
Blueberry Seashell Donut with Maui Meringue

Yellow Icing
Luau Punch Drizzle

Regular Ring Donut

Orange Icing
Banana Drizzle

Regular Roll with Strawberry Jelly

Strawberry Icing
Banana Drizzle
Cosmic Coconut
8 Pineapple (top)
6 Chicken (bottom)
4 Onions (bottom)
Regular Bake
8 Slices
White Bread with Aged Gouda
Regular Grill
BBQ Sauce
Grilled Chicken
BBQ Sauce
Bacon
Fries:

Crinkle Cut Fries
BBQ Sauce
Bacobites
Holiday (Summer Luau)
Hawaiian Roll with Aged Gouda
Regular Grill
BBQ Sauce
Grilled Chicken
BBQ Sauce
Bacon
Pineapple
Fries:

Crinkle Cut Fries
BBQ Sauce
Bacobites
Liner C
Strawberry Cake
Cupcake 1:

Pink Frosting
Strawberry Drizzle
Shaved Coconut
Cloudberry
Cherry

Cupcake 2:

Pink Frosting
Vanilla Drizzle
Shaved Coconut
2 Cloudberries
Holiday (Summer Luau)
Liner C
Strawberry Cake
Cupcake 1:

Pink Frosting
Strawberry Drizzle
Shaved Coconut
Cloudberry
Gummy Pineapple

Cupcake 2:

Pink Frosting
Vanilla Drizzle
Shaved Coconut
Lemon Wedge
Cloudberry
Liner B
Strawberry Cake
Cupcake 1:

Pink Frosting
Strawberry Drizzle
Shaved Coconut
Cloudberry, Cherry, Cloudberry

Cupcake 2:

Pink Frosting
Vanilla Drizzle
Shaved Coconut
Cherry, Cloudberry, Cherry
Holiday (Summer Luau)
Liner B
Strawberry Cake
Cupcake 1:

Pink Frosting
Strawberry Drizzle
Shaved Coconut
Cloudberry, Gummy Pineapple, Cloudberry

Cupcake 2:

Pink Frosting
Vanilla Drizzle
Shaved Coconut
Banana, Gummy Pineapple, Banana
Traditional Crust
Cherry Filling
Pineapple Filling
Pineapple Filling
Pineapple Filling
Vented Crust
White Chocolate Syrup (All Over)
8 Banana Slices (Inner Ring)
8 Cherries (Outer Ring)
Holiday (Summer Luau)
Traditional Crust
Cherry Filling
Pineapple Filling
Pineapple Filling
Pineapple Filling
Vented Crust
Luau Punch Drizzle (All Over)
8 Madeleines (Inner Ring)
8 Cherries (Outer Ring)
Soft Taco with Pork
Lettuce
Cheese
Black Beans
Onions
Ancho Chile Sauce
Chips:

Pepperjack Rounds
Roasted Chili-Corn Salsa
Holiday (Summer Luau)
Soft Taco with Pork
Pineapple Salsa
Lettuce
Cheese
Onions
Mango Chili Sauce
Chips:

Pepperjack Rounds
Roasted Chili-Corn Salsa
Ukoniro Soy Paper with White Rice
Flipped

Salmon
Cream Cheese
Carrots

Mango Slices
Bubble Tea:

Piña Colada Tea with Mango Bubbles
Holiday (Summer Luau)
Ukoniro Soy Paper with White Rice
Flipped

Pineapple
Cream Cheese
Carrots

Mango Slices
Bubble Tea:

Piña Colada Tea with Mango Bubbles
Bacon Waffle
6 Bananas
Strawberry Syrup
Drink:

Large Orange Juice with Ice
Holiday (Summer Luau)
Bacon Waffle
3 Pineapple Slices
3 Bananas
Toasted Coconut
Drink:

Large Luau Punch with Ice
Thick Crust
BBQ Sauce with Grated Parmesan Cheese
8 Pineapple (top)
6 Chicken (top)
4 Onions (bottom)
Regular Bake
8 Slices
Holiday (Summer Luau)
Coconut Crust
BBQ Sauce with Grated Parmesan Cheese
8 Pineapple (top)
6 Chicken (top)
4 Onions (bottom)
Regular Bake
8 Slices
Hot Dog on a Chicago Bun
Papa's Ballpark Mustard
Relish
Pineapple Relish
3 Sport Peppers
Drink and Popcorn

Large Tangerine Pop
Medium Candy Jack
Holiday (Summer Luau)
Hot Dog on a Hawaiian Bun
Papa's Ballpark Mustard
Relish
Pineapple Relish
3 Sport Peppers
Drink and Popcorn:

Large Poppin' Coolada
Medium Candy Jack
Lemon Crinkle Cookie with Coconut
Traditional Cookie with Coconut
Lemon Crinkle Cookie with Coconut
Strawberry Syrup
Banana
Sugarplum, Cherry, Sugarplum
Holiday (Summer Luau)
Lemon Crinkle Cookie with Coconut
Traditional Cookie with Splashberry Derps
Lemon Crinkle Cookie with Coconut
Luau Punch Syrup
Banana
Sugarplum, Cherry, Sugarplum
Regular Ring Donut

Strawberry Icing
Banana Drizzle

Blueberry Roll with Blueberry Custard

Apricot Icing
Banana Drizzle
Cosmic Coconut

Regular French Cruller

Blue Nimbus Icing
Cosmic Coconut
Holiday (Summer Luau)
Regular Ring Donut

Strawberry Icing
Luau Punch Drizzle

Blueberry Seashell Donut with Maui Meringue

Apricot Icing
Mango Drizzle
Tropical Charms

Regular French Cruller

Sunshine Icing
Cosmic Coconut
Large Cup
3 shots of City Roast
3 shots of Hot Skim Milk
Strawberry Cream
Sugarplum Syrup
Toasted Coconut
Cannoli:

Pineapple Upside-Down Shell
Lemon Chiffon
Toasted Coconut
Holiday (Summer Luau)
Large Cup
3 shots of City Roast
3 shots of Hot Piña Colada Milk
Strawberry Cream
Luau Punch Syrup
Tropical Charms
Cannoli:

Pineapple Upside-Down Shell
Maui Meringue
Tropical Charms
Bagel
Bacon
Pineapple Ring
Chicken Breast with Sweet Belgian Batter
BBQ Sauce
Bacon
Pineapple Ring
Large Slush

Pineapple Slush
Tangerine Slush
Holiday (Summer Luau)
Hawaiian Bun
Kalua Ham
Pineapple Ring
Chicken Breast with Sweet Belgian Batter
BBQ Sauce
Bacon
Grilled Plantains
Large Slush

Pineapple Slush
Tangerine Slush
Ranks required to unlock him
Unlockables
Stickers
| Number | Name | Achievement | Sticker Earned |
| --- | --- | --- | --- |
| 76 | Daredevil | Serve Boomer while wearing a Stunt Helmet and a Cape | |
| 80 | Christmas in July | Use only Christmas decorations (3 or more items) in your lobby during July | |
| 67 | Boomin' Banana | Serve a Banana Cream Pie Special to Boomer | |
| Number | Name | Achievement | Sticker Earned |
| --- | --- | --- | --- |
| 52 | Cookbook Mastery | Master 20 Special Recipes by reaching 5 Stars on each | |
| 70 | Ancho Romano | Add Ancho Chile Sauce to Bruna Romano's taco | |
| 50 | Recipe Master | Master a Special Recipe by earning 5 Special Stars | |
| Number | Name | Achievement | Sticker Earned |
| --- | --- | --- | --- |
| 38 | New Threads | Change your worker's shirt, pants, jacket, and shoes | |
| 89 | Friendly Fill-Up | When dining in, fill the customer's sushi with their friend's favourite fillings instead | |
| 20 | Bronze Beginning | Earn 5 Bronze Customer Awards | |
| Number | Name | Achievement | Sticker Earned |
| --- | --- | --- | --- |
| 71 | Chocolate Chuck | Add Chocolate Chips on top of Chuck's order | |
| 20 | Bronze Beginning | Earn 5 Bronze Customer Awards | |
| 61 | Hank of Dawn | Serve a Stack of Dawn Special to Hank | |
| Number | Name | Achievement | Sticker Earned |
| --- | --- | --- | --- |
| 39 | Romano Family | Serve everyone in the Romano Family Quartet | |
| 58 | Extra Cheese | Unlock all of the Extra Cheese toppings | |
| 68 | Mayor Meatball | Add Meatballs to Mayor Mallow's order | |
| Number | Name | Achievement | Sticker Earned |
| --- | --- | --- | --- |
| 74 | Choco Chuck | Replace Chuck's Popcorn with Chocolate Popcorn | |
| 46 | Special Collector | Earn 5 Special Recipes from customers | |
| 1 | Summer Vacation | Reach Summer | |
| Number | Name | Achievement | Sticker Earned |
| --- | --- | --- | --- |
| 72 | Double Chocolate Chuck | Add Shaved Chocolate and Chocolate Syrup to Chuck's sundae | |
| 45 | Rare Reward | Win a Rare Bonus Prize in a Mini-Game by earning a Star Medal | |
| 77 | Holiday Spirit | Serve 100 customers while wearing clothing that matches the season | |
| Sticker Number | Name | Achievement | Sticker Earned |
| --- | --- | --- | --- |
| 73 | Double Chocolate Chuck | Add Shaved Chocolate and Chocolate Syrup to Chuck's sundae | |
| 46 | Rare Reward | Win a Rare Bonus Prize in a Mini-Game by earning a Star Medal | |
| 78 | Holiday Spirit | Serve 100 customers while wearing clothing that matches the season | |
| Number | Name | Achievement | Sticker Earned |
| --- | --- | --- | --- |
| 71 | Chocolate Chuck | Add Chocolate Chips on top of Chuck's order | |
| 4 | Spring Has Sprung | Reach Spring | |
| 50 | Recipe Master | Master a Special Recipe by earning 5 Special Stars | |
| Sticker Number | Name | Achievement | Sticker Earned |
| --- | --- | --- | --- |
| 72 | Choco Chuck | Add Chocolate Icing and Chocolate Chips to Chuck's order | |
| 40 | Scarlett and the Shakers | Serve everyone in Scarlett and the Shakers | |
| 31 | Piggy Bank | Don't spend any money in the Shop for 7 days | |
| Sticker Number | Name | Achievement | Sticker Earned |
| --- | --- | --- | --- |
| 63 | The PumperChuck | Serve The Pumperjack Special to Chuck | |
| 79 | Daredevil | Serve Boomer while wearing a Stunt Helmet and Cape | |
| 49 | Successful Specials | Earn 3 Special Stars when serving Today's Special | |
| Sticker Number | Name | Achievement | Sticker Earned |
| --- | --- | --- | --- |
| 16 | Holiday Pies | Unlock all Christmas toppings | |
| 86 | Get the Tables! | Fill your lobby with 8 large tables | |
| 45 | Rare Reward | Win a Rare Bonus Prize in a Mini-Game by earning a Star Medal | |
| Sticker Number | Name | Achievement | Sticker Earned |
| --- | --- | --- | --- |
| 36 | New Coat of Paint | Buy any 4 Flooring or Wallpaper from the shop | |
| 49 | Successful Specials | Earn 3 Special Stars when serving Today's Special | |
| 17 | Make 'Em Wait | Serve the first customer last | |
| Sticker Number | Name | Achievement | Sticker Earned |
| --- | --- | --- | --- |
| 39 | Romano Family | Serve everyone in the Romano Family Quartet | |
| 1 | Summer Vacation | Reach Summer | |
| 35 | Updated Wardrobe | Buy any 8 Clothing items from the Shop | |
| Sticker Number | Name | Achievement | Sticker Earned |
| --- | --- | --- | --- |
| 80 | Wrong Restaurant | Serve Roy while wearing a Pizzeria Polo and Pizzeria Cap | |
| 33 | Advertiser | Buy any 8 Posters from the Shop | |
| 63 | Teaberry Taylor | Serve a Teaberry Brûlée Special to Taylor | |
| Sticker Number | Name | Achievement | Sticker Earned |
| --- | --- | --- | --- |
| 55 | Sandwich Stacker | Unlock all of the Standard Toppings | |
| 7 | Rise and Shine | Unlock all Maple Mornings toppings | |
| 25 | Frying Expert | Get a 100% Cooking Score on 20 orders | |
Earn all three stickers in any of the above games to unlock this outfit: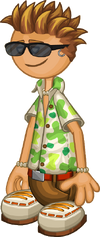 Papa's Next Chefs
| Rescued at | Needs | Special Skill | Weapon | Styles |
| --- | --- | --- | --- | --- |
| Level 1: Blue Moon Bay | None | None | Pineapple Pistol (Shot) | |
OnionFest Crown Classic
Trivia
Order Tickets
Gallery
Prepared Orders
Perfect Orders
Promotional Images
Holiday Pictures
Others
Fan Art