Roblox: DeepWoken - The Loop
Play Sound
Cinco de Mayo
Preceding Holiday
Easter (all except Sushiria/To Go!, Pancakeria To Go!, Mocharia To Go!)
Cherry Blossom Festival (Sushiria/To Go!, Pancakeria To Go!, Mocharia To Go!)
Following Holiday
Summer Luau
Unlocked with
Maggie

Cinco de Mayo is a holiday celebrated in many of Papa Louie's restaurant time-management games. When the player reaches this holiday in any of the games below, Maggie makes her first appearance as well:
Achievements such as "Food Fiesta," "Cinco Celebration," or "Desayuno de Mayo" are earned when all of the Cinco de Mayo exclusive ingredients are unlocked.
Customers bring in maracas to the restaurant to celebrate the holiday.
From the Flipline Studios Blog
Hey Everyone!!
Happy Cinco De Mayo!
We thought it would be fitting for this week to show off a new holiday that will be celebrated in Toastwood, Cinco De Mayo!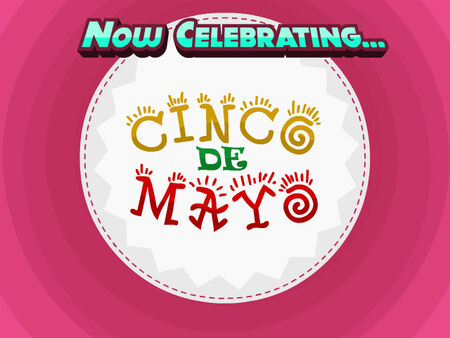 One of the cool things about this holiday is that you will be essentially making Quesadillas once you unlock the seasonal topping, Tortillas!
That is just one of four seasonal ingredients for Cinco De Mayo! The game itself will have a whopping 113 ingredients to make some of the wildest Grilled Cheese sandwiches that you have ever seen!
Stay tuned for more sneak peeks of Papa's Cheeseria! [1]
Customers who favor this holiday
Cinco de Mayo Cupcake Liners
Red and Green Swirls
Green with White Triangles
Red, Yellow, and Green Wavy Lines
Red Chili Peppers
Cinco de Mayo-Exclusive Ingredients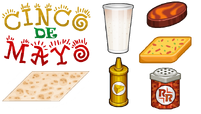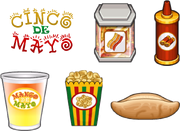 Trivia
Cinco de Mayo is the Spanish term for "fifth of May."

On this day in 1862, the Mexican army overcame all odds and defeated the French forces at the Battle of Puebla. This should not be confused with Mexico's Independence day (September 16), nor is a national holiday in Mexico itself (it is celebrated voluntarily). However, in the United States, Cinco de Mayo is a day to honor Mexican heritage and pride.

The theme icons for this holiday are (frequently), (Papa's Cupcakeria To Go!, Papa's Sushiria To Go!, and Papa's Mocharia To Go!) and (Papa's Hot Doggeria To Go! and Papa's Cheeseria To Go!).
Gallery
Locations during Cinco de Mayo
v • e

Holidays

Valentine's Day • St. Paddy's Day • Easter • OnionFest • Summer Luau • Starlight Jubilee • Baseball Season • Pirate Bash • Halloween • Thanksgiving • Christmas • New Year
Chilifest • Summer Luau • Starlight Jubilee • Neptune's Feast • Gondola 500 • Halloween • Thanksgiving • Christmas • New Year • Valentine's Day • St. Paddy's Day • Romano Wedding
Maple Mornings • Halloween • Thanksgiving • Christmas • New Year • Valentine's Day • St. Paddy's Day • Easter • Big Top Carnival • Summer Luau • Starlight Jubilee • Sky Ninja Returns
Cinco de Mayo • Summer Luau • Starlight BBQ • Portallini Feast • Maple Mornings • Halloween • Thanksgiving • Christmas • New Year • Valentine's Day • St. Paddy's Day • Easter
Valentine's Day • St. Paddy's Day • Easter • Cinco de Mayo • Summer Luau • Starlight Jubilee • Big Top Carnival • Comet Con • Halloween • Thanksgiving • Christmas • New Year
Valentine's Day • St. Paddy's Day • Easter • Cherry Blossom Festival • Summer Luau • Starlight Jubilee • Sugarplex Film Fest • Maple Mornings • Halloween • Thanksgiving • Christmas • New Year
New Year • Valentine's Day • St. Paddy's Day • Easter • Cherry Blossom Festival • Summer Luau • Starlight Jubilee • Comet Con • Grōōvstock • Halloween • Thanksgiving • Christmas
Starlight BBQ • Portallini Feast • Maple Mornings • Halloween • Thanksgiving • Christmas • New Year • Valentine's Day • St. Paddy's Day • Easter • Cherry Blossom Festival • Summer Luau
Cherry Blossom Festival • Cinco de Mayo • Summer Luau • Starlight BBQ • BavariaFest • Maple Mornings • Halloween • Thanksgiving • Christmas • New Year • Valentine's Day • Lucky Lucky Matsuri
Starlight BBQ • BavariaFest • Maple Mornings • Halloween • Thanksgiving • Christmas • New Year • Valentine's Day • St. Paddy's Day • Easter • Big Top Carnival • Summer Luau
Summer Luau • Starlight Jubilee • Sugarplex Film Fest • Grōōvstock • Halloween • Thanksgiving • Christmas • New Year • Valentine's Day • St. Paddy's Day • Easter • Cinco de Mayo
Thanksgiving • Christmas • New Year • Valentine's Day • Lucky Lucky Matsuri • Easter • Cinco de Mayo • Summer Luau • Starlight BBQ • BavariaFest • Maple Mornings • Halloween
Cherry Blossom Festival • Summer Luau • Starlight BBQ • Comet Con • Sugarplex Film Fest • Halloween • Thanksgiving • Christmas • New Year • Valentine's Day • St. Paddy's Day • Easter
Cinco de Mayo • Summer Luau • Starlight BBQ • Grōōvstock • Maple Mornings • Halloween • Thanksgiving • Christmas • New Year • Valentine's Day • St. Paddy's Day • Easter
Holi • Cherry Blossom Festival • OnionFest • Summer Luau • Starlight Jubilee • Baseball Season • Big Top Carnival • Halloween • Thanksgiving • Christmas • New Year • Valentine's Day
Holi • Cherry Blossom Festival • OnionFest • Summer Luau • Starlight Jubilee • Baseball Season • Big Top Carnival • Halloween • Thanksgiving • Christmas • New Year • Valentine's Day
Holi • Easter • Cinco de Mayo • Summer Luau • Starlight Jubilee • Baseball Season • Big Top Carnival • Halloween • Thanksgiving • Christmas • New Year • Valentine's Day
Summer Luau • Starlight Jubilee • BavariaFest • Pirate Bash • Halloween • Thanksgiving • Christmas • New Year • Valentine's Day • St. Paddy's Day • Cherry Blossom Festival • Cinco de Mayo
OnionFest • Summer Luau • Starlight BBQ • BavariaFest • Maple Mornings • Halloween • Thanksgiving • Christmas • New Year • Mardi Gras • Lucky Lucky Matsuri • Big Top Carnival
Maple Mornings • Halloween • Thanksgiving • Christmas • New Year • Mardi Gras • St. Paddy's Day • Easter • Sugarplex Film Fest • Summer Luau • Starlight Jubilee • Sky Ninja Returns
Cinco de Mayo • Summer Luau • Starlight BBQ • Portallini Feast • Pirate Bash • Halloween • Thanksgiving • Christmas • New Year • Valentine's Day • Holi • Easter
New Year • Valentine's Day • St. Paddy's Day • Easter • Big Top Carnival • Summer Luau • Starlight Jubilee • Sugarplex Film Fest • Grōōvstock • Halloween • Thanksgiving • Christmas
Cherry Blossom Festival • Cinco de Mayo • Summer Luau • Starlight BBQ • Portallini Feast • Comet Con • Halloween • Thanksgiving • Christmas • New Year • Valentine's Day • Lucky Lucky Matsuri
Chilifest • Summer Luau • Starlight Jubilee • Neptune's Feast • Gondola 500 • Halloween • Thanksgiving • Christmas • Lunar New Year • Mardi Gras • St. Paddy's Day • Romano Wedding
Halloween • Thanksgiving • Christmas • New Year • Valentine's Day • St. Paddy's Day • Cherry Blossom Festival • Cinco de Mayo • Summer Luau • Starlight Jubilee • Grōōvstock • Sugarplex Film Fest
Papa's Cluckeria To Go!
Day of the Dead