Fire Emblem Warriors: Three Hopes - The Loop
Play Sound
Clair is a female customer who made her first appearance in Papa's Pizzeria.
Flipdeck Info
Hometown: Frostfield
Occupation: Physician
Loves: Red Velvet
Hates: Flu Season
Clair is a Physician at the Frostfield Clinic Emergency Department. She works long, twelve hour shifts that change each week. For Clair, the fulfillment she receives from helping people will always outweigh her somewhat insufficient sleep schedule. Whenever Sarge or Radley attack, Clair is always there to look after Papa Louie's rattled customers. Although Clair's schedule can be hectic, she always finds time for her daughter, Sasha.
Appearance
Clair has short brunette hair and dark skin. She originally wore a rosy pink and red-trimmed sweater over a gray shirt, dark grayish-blue jeans, and white shoes with red laces.
After Papa's Pancakeria, she now wears pink hospital scrubs and a light pink bandana.
Clean-Up
She reverts back into her original Pizzeria outfit, but with several changes; her clothing is remodeled, her hair is now black, and she wears red shoes with gray laces.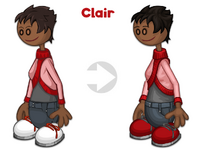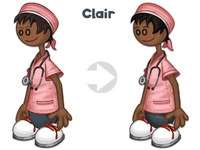 Styles
Style B
She wears the hospital scrubs she wore in the previous games. She wears a rosy pink shirt, a stethoscope around her neck, and gray pants. She also wears white shoes with red laces and gray soles.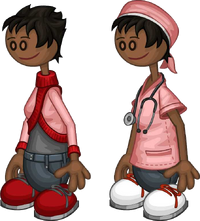 Orders
4 Pepperoni (all)
6 Mushrooms (left)
4 Peppers (bottom right)
30 minutes (1/2 of meter)
4 Slices
Bottom Bun
Mustard
Onion
Tomato
Rare Patty
Pickle
Mustard
Top Bun
Hard Shell with Beef
Lettuce
Peppers
Loco Mystery Sauce
Tomatoes
Guacamole
Small Cup
Blueberries
Rainbow Sherbet Syrup
Regular Blend
Whipped Cream
Blueberry Topping
Cherry
Bottom Bun
Mustard
Rare Patty
Swiss Cheese
Bacon
Onion
Tomato
Mustard
Top Bun
6 BBQ Boneless Wings (all)
6 Celeries (all)
Ranch Dip
Hot Dog on a Chicago Bun
Cheese
Onions
Mustard
Bacon
Drink and Popcorn:

Large Fizzo
Medium Kettle Corn
Liner B
Red Velvet Cake
Red Frosting
Cupcake 1:

Strawberry Drizzle
Rainbow Sprinkles
Cherry, Marshmallow, Cherry

Cupcake 2:

Vanilla Drizzle
Shaved Coconut
Cherry, Marshmallow, Cherry
Holiday (Starlight Jubilee)
Liner B
Red Velvet Cake
Pink Frosting
Cupcake 1:

Strawberry Drizzle
Silver Star Sprinkles
Cherry, Marshmallow, Cherry

Cupcake 2:

Powsicle Drizzle
Shaved Coconut
Cherry, Festive Flag, Cherry
Small Cup
Blueberries
Rainbow Sherbet Syrup
Regular Blend
Whipped Cream
Blueberry Topping
Sprinkles
Wildberry Derps
Cherry
Regular Macaroni
Three Cheese Sauce
Black Pepper
4 Prosciutto
5 Green Peppers
Pepperoni Bread
Holiday (Romano Wedding)
Regular Fiori Risoni
Cathedral Carbonara
Black Pepper
4 Prosciutto
5 Green Peppers
Pepperoni Bread
Medium Cup
Strawberries
Vanilla Syrup
Regular Blend
Whipped Cream
Mango Topping
Sprinkles
White Chocolate Truffle, Cherry, White Chocolate Truffle
Red Velvet Ring Donut

Strawberry Icing
Chocolate Drizzle

Regular Long John with Boston Cream

Cinnamon Sugar
Rainbow Sprinkles

Regular Roll Donut with Strawberry Jelly

Strawberry Icing
Strawberry Drizzle
Raspberry Bark
Holiday (Valentine's Day)
Red Velvet Ring Donut with Bubblegum Cream

Valentine Powder
Neapolitan Drizzle

Regular Long John with Boston Cream

Cinnamon Sugar
Rainbow Sprinkles

Red Velvet Heart Donut with Bubblegum Cream

Strawberry Icing
Red Cinnamon Drizzle
Raspberry Bark
4 Provolone Cheese (right)
6 Tomatoes (right)
4 Green Peppers (left)
Regular Bake
4 Slices
Rosemary Foccacia with Gorgonzola Cheese
Regular Grill
Fajita Peppers
Shredded Lettuce
Tomato
Bacon
Fries:

French Fries
Rosemary
Bacobites
Holiday (Cinco de Mayo)
Rosemary Foccacia with Oaxaca Cheese
Regular Grill
Fajita Peppers
Shredded Lettuce
Tomato
Bacon
Fries:

French Fries
Rosemary
Bacobites
Liner B
Red Velvet Cake
Cupcake 1:

Red Frosting
Strawberry Drizzle
Rainbow Sprinkles
Cherry
Strawberry Wafer

Cupcake 2:

Pink Frosting
Vanilla Drizzle
Shaved Coconut
Cherry
Strawberry Wafer
Holiday (Starlight Jubilee)
Liner B
Powsicle Cake
Cupcake 1:

Red Frosting
Strawberry Drizzle
Silver Star Sprinkles
Cherry
Strawberry Wafer

Cupcake 2:

Pink Frosting
Jubilee Jelly Drizzle
Shaved Coconut
Cherry
Festive Flag
Liner B
Red Velvet Cake
Cupcake 1:

Red Frosting
Strawberry Drizzle
Rainbow Sprinkles
Strawberry Wafer, Cherry, Strawberry Wafer

Cupcake 2:

Pink Frosting
Vanilla Drizzle
Shaved Coconut
Strawberry Wafer, Cherry, Strawberry Wafer
Holiday (Starlight Jubilee)
Liner B
Powsicle Cake
Cupcake 1:

Red Frosting
Strawberry Drizzle
Silver Star Sprinkles
Strawberry Wafer, Cherry, Strawberry Wafer

Cupcake 2:

Pink Frosting
Jubilee Jelly Drizzle
Shaved Coconut
Cherry, Festive Flag, Cherry
Red Velvet Crust
Blueberry Filling
Blueberry Filling
Rhubarb Filling
Rhubarb Filling
Vented Crust
White Chocolate Syrup (All Over)
9 Raspberries (Outer Ring and Center)
Holiday (Grōōvstock)
Red Velvet Crust
Blueberry Filling
Rhubarb Filling
Mission Fig Jam
Mission Fig Jam
Vented Crust
White Chocolate Syrup (All Over)
8 Marshmallow Drums (Inner Ring)
9 Raspberries (Outer Ring and Center)
Hard Shell with Beef
Lettuce
Peppers
Loco Mystery Sauce
Tomatoes
Guacamole
Chips:

Traditional Chips
Salsa Picante
Holiday (Halloween)
Hard Shell with Wild Boar
Lettuce
Peppers
Loco Mystery Sauce
Tomatoes
Jack-O-Mole
Chips:

Traditional Chips
Salsa Picante
Momoiro Soy Paper with Brown Rice
Not Flipped

Shiitake Mushrooms
Radish Sprouts
Cucumber Slices

Ponzu
Bubble Tea:

Tangerine Tea with Cotton Candy Bubbles
Holiday (Valentine's Day)
Momoiro Soy Paper with Brown Rice
Not Flipped

Shiitake Mushrooms
Radish Sprouts
Hokkigai

Azuki Sauce
Bubble Tea:

Tangerine Tea with Cotton Candy Bubbles
Hard Shell with Beef
Lettuce
Peppers
Loco Mystery Sauce
Tomatoes
Guacamole
Chips:

Chili Lime Tortillas
Salsa Picante
Holiday (Halloween)
Hard Shell with Wild Boar
Lettuce
Peppers
Loco Mystery Sauce
Tomatoes
Jack-O-Mole
Chips:

Chili Lime Tortillas
Salsa Picante
French Toast
Whipped Cream
Raspberries
French Toast
4 Strawberries
Blueberries
Drink:
Holiday (Grōōvstock)
French Toast
Whipped Cream
Raspberries
French Toast
4 Mission Figs
Blueberries
Drink:

Large Chai Reverb Tea with Cream
Traditional Crust
BBQ Sauce with Provolone Cheese
6 Green Peppers (left)
6 Tomatoes (right)
Regular Bake
4 Slices
Holiday (Valentine's Day)
Tomato Basil Crust
BBQ Sauce with Provolone Cheese
6 Green Peppers (left)
6 Tomatoes (right)
Regular Bake
4 Slices
Hot Dog on a Chicago Bun
Cheese
Onions
Mustard
Bacon
Drink and Popcorn:

Large Fizzo
Medium Kettle Corn
Holiday (Sugarplex Film Fest)
Hot Dog on a Hollywood Bun
Cheese
Onions
Mustard
Boston Beanies
Bacon
Drink and Popcorn:

Large Fizzo Gold
Medium Raisin Duds Popcorn
Hot Dog on a Chicago Bun
Cheese
Onions
Mustard
Bacon
Drink and Popcorn:

Large Fizzo
Medium Kettle Corn
Holiday (Halloween)
Hot Dog on a Pan de Muerto Bun
Cheese
Onions
Mustard
Bacon
Drink and Popcorn:

Large Black Mist
Medium Tarantula Puffs
Red Velvet Cookie with White Chocolate Chips
Red Velvet Cookie with Hot Rods

Raspberry Ripple Ice Cream

Red Velvet Cookie with Blueberries
Whipped Cream
Strawberry Syrup
Mini Mallows
Cherry
Holiday (Starlight Jubilee)
Red Velvet Cookie with White Chocolate Chips
Red Velvet Cookie with Star Sprinkles

Raspberry Ripple Ice Cream

Red Velvet Cookie with Blueberries
Whipped Cream
Strawberry Syrup
Mini Mallows
Cherry
French Toast
Whipped Cream
Raspberries
French Toast
4 Strawberries
Blueberries
Drink:
Holiday (Valentine's Day)
French Toast
Whipped Cream
Raspberries
French Toast
4 Candy Hearts
Cheesecake Crumbles
Drink:
9 BBQ Boneless Wings (All)
3 Celeries (All)
Zesty Pesto Dip
Holiday (Maple Mornings)
9 BBQ Boneless Wings (All)
3 Bacons (All)
Zesty Pesto Dip
Red Velvet Roll

Strawberry Icing
Chocolate Drizzle

Regular Ring Donut with Strawberry Jelly

Red Rose Icing
Strawberry Drizzle
Rainbow Sprinkles

Red Velvet Long John

Strawberry Icing
Raspberry Bark
Holiday (New Year)
Red Velvet Roll

Strawberry Icing
Flavor X Drizzle

Regular Ring Donut with Tutti Frutti Jelly

Red Rose Icing
Strawberry Drizzle
Countdown Crunch

Red Velvet Long John

Midnight Powder
Raspberry Bark
Rosemary Focaccia with Gorgonzola Cheese
Regular Grill
Fajita Peppers
Shredded Lettuce
Tomato
Bacon
Fries:

French Fries
Rosemary
Bacobites
Holiday (Cinco de Mayo)
Rosemary Focaccia with Oaxaca Cheese
Regular Grill
Fajita Peppers
Shredded Lettuce
Tomato
Bacon
Fries:

French Fries
Rosemary
Guacamole
Regular Macaroni
Three Cheese Sauce
Burgundy Truffle
4 Prosciutto
5 Green Peppers
Pepperoni Bread
Holiday (Romano Wedding)
Regular Fiori Risoni
Cathedral Carbonara
Burgundy Truffle
4 Prosciutto
5 Green Peppers
Pepperoni Bread
Large Cup
3 shots of French Roast
3 shots of Hot Strawberry Milk
Wildberry Shake Cream
Toasted Coconut
Rainbow Sprinkles
Cannoli:

Pizzelle Shell
Strawberry Cream
Rainbow Sprinkles
Holiday (Valentine's Day)
Large Cup
3 shots of French Roast
3 shots of Hot Strawberry Milk
Neapolitan Cream
X and O Sprinkles
Rainbow Sprinkles
Cannoli:

Pizzelle Shell
Neapolitan Cream
X and O Sprinkles
Brioche Bun
Pork Chop with Panko Breading
BBQ Sauce
Bacon
Onion
Pickles
Radish Sprouts
Small Slush

Sweet Tea Slush
Tangerine Slush
Holiday (Valentine's Day)
Pink Poppyseed Bun
Pork Chop with Panko Breading
BBQ Sauce
Bacon
Onion
Pickles
Radicchio
Small Slush

Sweet Tea Slush
Hot Rods Slush
Ranks required to unlock her
Unlockables
Papa's Next Chefs
Stickers
| Sticker Number | Name | Achievement | Sticker Earned |
| --- | --- | --- | --- |
| 86 | Cookie Clickin' | Strike out in Mitch's Mess by clicking three different cookies | |
| 60 | Rocky Rhonda | Serve a Rocky Road Special to Rhonda | |
| 14 | Trick or Treat | Unlock all Halloween Toppings | |
| Sticker Number | Name | Achievement | Sticker Earned |
| --- | --- | --- | --- |
| 89 | Wasteful Worker | Throw away 5 fully-cooked tacos in one day | |
| 62 | Guaco Greg | Serve a Guaco Taco Special to Greg | |
| 17 | Make 'Em Wait | Serve the first customer last | |
| Sticker Number | Name | Achievement | Sticker Earned |
| --- | --- | --- | --- |
| 41 | New Faces | Serve all of the new customers | |
| 40 | Scarlett and the Shakers | Serve (the rest of) Scarlett and the Shakers | |
| 62 | Peggy Hamachi | Serve a Negi Hamachi Special to Peggy | |
| Sticker Number | Name | Achievement | Sticker Earned |
| --- | --- | --- | --- |
| 32 | One Stop Shopping | Buy any 50 items from the Shop | |
| 46 | Special Collector | Earn 5 Special Recipes from customers | |
| 87 | Coupon Clipper | Send 10 Customer Coupons to your customers | |
| Sticker Number | Name | Achievement | Sticker Earned |
| --- | --- | --- | --- |
| 22 | Silver Medal | Earn 10 Silver Customer Awards | |
| 84 | Get the Tables! | Fill your lobby with any 12 large tables | |
| 7 | Happy New Year | Unlock all New Year toppings | |
| Sticker Number | Name | Achievement | Sticker Earned |
| --- | --- | --- | --- |
| 42 | Costumed Closers | Serve all of the costumed closers during Halloween | |
| 76 | Spooktacular | Serve 20 customers during Halloween wearing any Halloween clothing | |
| 10 | Trick or Treat | Unlock all Halloween toppings | |
| Sticker Number | Name | Achievement | Sticker Earned |
| --- | --- | --- | --- |
| 79 | Daredevil | Serve Boomer while wearing a Stunt Helmet and Cape | |
| 8 | Summer Fun | Unlock all Summer Luau toppings | |
| 25 | Dough Expert | Get a 100% Dough Score on 20 orders | |
| Sticker Number | Name | Achievement | Sticker Earned |
| --- | --- | --- | --- |
| 80 | Daredevil | Serve Boomer while wearing a Stunt Helmet and Cape | |
| 8 | Summer Fun | Unlock all Summer Luau toppings | |
| 25 | Dough Expert | Get a 100% Dough Score on 20 orders | |
| Sticker Number | Name | Achievement | Sticker Earned |
| --- | --- | --- | --- |
| 82 | Bubble Gum Bonanza | Have 10 different kinds of bubble gum in the lobby at once | |
| 39 | Romano Family | Serve everyone in the Romano Family Quartet | |
| 13 | Playing Cupid | Unlock all Valentine's Day toppings | |
| Sticker Number | Name | Achievement | Sticker Earned |
| --- | --- | --- | --- |
| 72 | Clairolina | Add Carolina Sauce to Clair's order | |
| 75 | Wylan B-B-Q | Add BBQ Sauce to Wylan B's order | |
| 43 | Game Show Contestant | Earn a Prize in each of Foodini's Mini-Games | |
| Sticker Number | Name | Achievement | Sticker Earned |
| --- | --- | --- | --- |
| 61 | Clair Eclairs | Serve a Chocolate Eclair Special to Clair | |
| 73 | Cosmic Koilee | Add Cosmic Coconut to one of Koilee's donuts | |
| 44 | Grand Prize Winner | Earn 5 Prizes or more in each of Foodini's Mini-Games | |
| Sticker Number | Name | Achievement | Sticker Earned |
| --- | --- | --- | --- |
| 47 | Recipe Collection | Earn 15 Special Recipes from customers | |
| 90 | Special Delivery | Serve 50 delivery orders to customers | |
| 31 | Piggy Bank | Don't spend any money in the Shop for 7 days | |
| Sticker Number | Name | Achievement | Sticker Earned |
| --- | --- | --- | --- |
| 15 | Thankful | Unlocks all Thanksgiving toppings | |
| 29 | Award Winning Pies | Get 5 Blue Ribbons from Jojo the Food Critic | |
| 85 | Dance Party | Use lots of musical furniture so 3 or more customers are dancing in the lobby | |
| Sticker Number | Name | Achievement | Sticker Earned |
| --- | --- | --- | --- |
| 40 | Scarlett and the Shakers | Serve (the rest of) Scarlett and the Shakers | |
| 51 | Super Special | Master 10 Special Recipes by earning 5 Stars on each | |
| 27 | Tea Expert | Get a 100% Tea Score on 20 orders | |
| Sticker Number | Name | Achievement | Sticker Earned |
| --- | --- | --- | --- |
| 74 | Clairamari | Add Fried Calamari to Clair's order | |
| 3 | Winter Wonderland | Reach Winter | |
| 61 | Boomer Bianca | Serve a Beefy Bianca Special to Boomer | |
| Sticker Number | Name | Achievement | Sticker Earned |
| --- | --- | --- | --- |
| 55 | Pump Up the Flavor | Unlock all of the Standard Syrups | |
| 8 | Happy New Year | Unlock all New Year toppings | |
| 24 | Order Expert | Get a 100% Waiting Score on 20 orders | |
| Sticker Number | Name | Achievement | Sticker Earned |
| --- | --- | --- | --- |
| 56 | Super Sauces | Unlock all of the Standard Sauces | |
| 89 | Mobile Meals | Serve any 10 meals from the Food Truck | |
| 90 | Food Truck Fanatics | Lure 3 regular customers to the Food Truck by preparing their normal order | |
Earn all three stickers in any of the above games to unlock this outfit: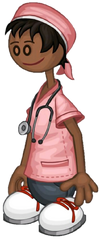 Trivia
Order Tickets
Gallery
Prepared Orders
Perfect Orders
Promotional Images
Others
Fan Art