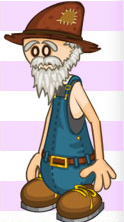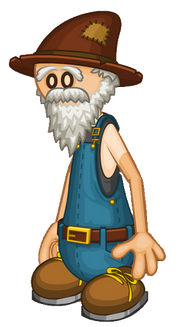 Cletus is a man with a white beard,a blue shirt, brown shoes and a brown hat. In Papa's Taco Mia!, he has shown to be an owner of a scrapyard according to one of the billboards. He first appeared in Papa's Burgeria. His daughter is Boomer. His best friend Wally started the Kid Brigade when Cletus, Wally, Edna, Olga and Edoardo were kids and they quit the Kid Brigade when they were 13 and let the younger ones (10-12 years) take the kid brigade so they start the Teen Brigade (13 to 18 years) and when they graduated from high school, they started the Pre-elders Brigade (19 to 60 years) and they all had spin offs when they (And their siblings) had children and started the Mother and Father Brigade and Mary, James, Boomer, Carlo, Bruna, Gino, Kingsley and Kayla were in the Kid Brigade and when they got old, they started the Elderly Brigade (OVER 61). and that was the history of the Brigades.
His daughter Boomer started learning Japanese when Boomer graduated from high school
He didn't let his assistant, Greg, go to Papa's Freezeria (Calypso Island) because he had to take care of the scrapyard.
His burger: bread, well-done patty,well-done patty,cheese,mayo,pickle, lettuce,top bun.
Papa's Pancakeria: pancake, pancake, whipped cream, 4 bananas, raspberries.
papa's taco mia: pita shell, pork, black beans, white rice, pinto beans, brown rice, hot sauce.
Papa's Freezeria: small chocolate sundae with creameo bits, blended smooth, chocolate whipped cream, chocolate sauce, chocolate chips, mit shavings, chocolate creameo (as you can see he loves chocolate)
His Wings: 8 Garlic Wings, 4 Carrots On The Left, 4 Green Peppers On The Right, Ranch Dip, Blue Cheese Dip.
In Papa's Next Chefs Round 1 he quickly lost to Greg and lost with Zoe.
His real name is Cletus Bradford
His daughter is Boomer
He started adopting Doan since Doan was small
His grandchildren are Akari, Nick and Tohru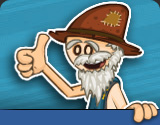 Community content is available under
CC-BY-SA
unless otherwise noted.