Daniela is a female customer who made her first appearance in Papa's Bakeria To Go!.
From the Flipline Studios Blog
Hey Everyone!
This week we would like to introduce you to Daniela, one of the new customers that will be making her debut in Papa's Bakeria To Go! [1]
Appearance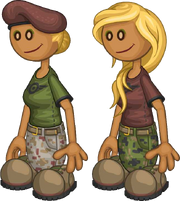 Daniela has long blonde hair tied in a bun, tanned skin, and green eyeshadow. She wears an army green shirt with black sleeve ends and a target symbol that has wings. She also wears camouflage pants (light gray with beige and maroon spots) held by a beige belt with a golden buckle, a maroon beret with a black rim, and light brown shoes with black soles, army green laces, and maroon rings just above her soles.
Styles
Style B
Her hair is no longer in a bun, it is down. She wears a maroon shirt with black sleeve ends, green camo pants held by her Style A belt, and her Style A shoes.
Orders
Chocolate Crust
Peanut Butter Fluff
Peanut Butter Fluff
Apple Filling
Apple Filling
Chocolate Crumb Topping
Chocolate Syrup (All Over)
8 Butterscotch Smooches (Outer Ring)
Holiday (Valentine's Day)
Chocolate Crust
Peanut Butter Fluff
Peanut Butter Fluff
Apple Filling
Apple Filling
Chocolate Crumb Topping
Chocolate Syrup (All Over)
8 Heart Cookies (Outer Ring)
Nori with Brown Rice
Flipped

Wagyu
Yellowtail
Snow Peas

Sesame Seeds
Yuzu Kosho
Bubble Tea:

Chocolate Tea with Cucumber Bubbles
Holiday (Thanksgiving)
Nori with Brown Rice
Flipped

Sweet Potatoes
Yellowtail
Snow Peas

Roasted Pumpkin Seeds
Yuzu Kosho
Bubble Tea:

Chocolate Tea with Cucumber Bubbles
Al Dente Bowtie
Creamy Alfredo Sauce
Burgundy Truffle
1 Fried Calamari
8 Chickens
Garlic Breadstick
Holiday (Christmas)
Al Dente Festive Rotini
Creamy Alfredo Sauce
Yule Spice
1 Fried Calamari
8 Chickens
Garlic Breadstick
Medium Cup
1 shot of French Roast
3 shots of Cold Chocolate Milk
Ice Cubes
Butterscotch Cream
Chocolate Syrup
Ground Nutmeg
Cannoli:

Caramel Apple Shell
Butterscotch Cream
Ground Nutmeg
Holiday (St. Paddy's Day)
Medium Cup
1 shot of French Roast
3 shots of Cold Chocolate Milk
Ice Cubes
Green Emerald Cream
Chocolate Syrup
Ground Nutmeg
Cannoli:

Celtic Cannoli Shell
Butterscotch Cream
Ground Nutmeg
Ranks required to unlock her
Unlockables
Stickers
| Sticker Number | Name | Achievement | Sticker Earned |
| --- | --- | --- | --- |
| 55 | Upper Crust | Unlock all of the Top Crusts, Crumbs, and Meringues | |
| 30 | Month's Pay | Receive your wages on four Pay Days | |
| 69 | Cordial Bomb | Use Chocolate Crust and Chocolate Syrup Drizzle on Cherissa's pie | |
| Sticker Number | Name | Achievement | Sticker Earned |
| --- | --- | --- | --- |
| 59 | Philly Foodini | Serve a Philly Roll Special to Foodini | |
| 76 | Spooktacular | Serve 20 customers during Halloween wearing any Halloween clothing | |
| 11 | Trick or Treat | Unlock all Halloween toppings | |
| Sticker Number | Name | Achievement | Sticker Earned |
| --- | --- | --- | --- |
| 53 | Pick your Pasta | Unlock all of the Standard Pastas | |
| 47 | Recipe Collection | Earn 15 Special Recipes from customers | |
| 12 | Holiday Meal | Unlock all Christmas toppings | |
| Sticker Number | Name | Achievement | Sticker Earned |
| --- | --- | --- | --- |
| 15 | Jam Session | Unlock all Grōōvstock toppings | |
| 86 | Get the Tables! | Fill your lobby with 8 large tables | |
| 28 | Perfect! | Get a Perfect Score on 30 orders | |
Earn all 3 stickers in either game to earn this outfit:
Papa's Next Chefs
Order Tickets
Gallery
Perfect Orders
Promotional Images
Others
Fan Art