Didar is a male customer who made his first appearance in Papa's Mocharia To Go!.
Appearance
Didar has tan skin and brown hair. He wears a black shirt with dark circles on the sleeves under an indigo vest with black buttons, pale green pants with dark green circles all over them, a black smartwatch on his wrist, black shoes with blue laces, black soles, and green stripes near the bottom, and an indigo cap with black lining, a green visor, and a black camera on it.
Styles
Style B
He wears his Style A, with the exception of his shoes, but it is all gray. He also wears a gray backpack.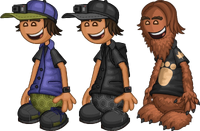 Orders
Small Cup
3 shots of City Roast
1 shot of Hot Soy Milk
Red Velvet Syrup
Cocoa Powder
Cannoli:

Caramel Apple Shell
Chocolate Mousse
Mini Mallows
Holiday (New Year)
Small Cup
3 shots of City Roast
1 shot of Hot Soy Milk
Flavor X Syrup
Cocoa Powder
Cannoli:

Dirt Cake Shell
Chocolate Mousse
Mini Mallows
Ranks required to unlock him
Unlockables
Stickers
| Sticker Number | Name | Achievement | Sticker Earned |
| --- | --- | --- | --- |
| 76 | Blue Boomer | Add Aprajita Powder and Blue Nimbus Syrup to Boomer's latte | |
| 47 | Special Collector | Earn 5 Special Receipes from customers | |
| 73 | Peggy Pizzelle | Use a Pizzelle Shell for Peggy's cannoli | |
Earn all three stickers in either game to earn this outfit: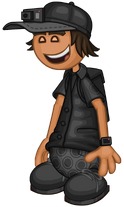 Papa's Next Chefs
Trivia
Order Tickets
Gallery
Perfect Orders
Promotional images
Others
Fan Art