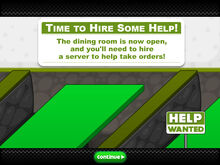 The Dining Room is a gameplay element added to many of Papa Louie's restaurant time-management games, first appearing in Papa's Pastaria.
It is made available to the players upon reaching Rank 4. Players are able to hire a second "worker", whether it be the second default worker or a second Custom Worker, to take orders from customers.
The server would stand in line for the customer and would give the order to the worker behind the counter. In Papa's Pastaria, the customer appears in the lower right corner of the screen. In future games, a cutscene would see the server take the order from the customer directly, accompanied by a second customer who does not place an order with the server. The pairings are random, so it is possible for a couple who share something in common (co-workers, family members) to sit together in the Dining Room.
Trivia
Orders taken from the Dining Room are normally from the second and the second-to-last customers during the day.

However, in Papa's Donuteria, only the second customer will go to the Dining Room until you reach Rank 6.

In-game Closers will never accompany a person or place orders from the Dining Room.
Customers who arrive with special envelopes will not sit at the Dining Room.
If you serve a friend's order to a customer dining in, the friend would be happy even though you would get a low score.
Starting in Papa's Pizzeria HD, both the driver and the chef will appear in the end of day cutscene.
Papa's Hot Doggeria HD is the only game with a dining room that takes place outside the restaurant.
Gallery