GTA: The Criminal Enterprises - The Loop
Play Sound
Drakson is a male customer who made his first appearance in Papa's Cheeseria To Go!.
From the Flipline Studios Blog
Hey Everyone!
Papa's Cheeseria To Go will feature two new customers along with the winner of this year's Customerpalooza.
So for this week, we would like you to meet the newest addition to the customer lineup, Drakson! [1]
Appearance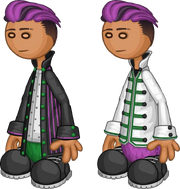 Drakson has purple and black streaks within his hair and tan skin. He wears green pants, a white shirt with black buttons, black shoes with white laces and soles, and a black jacket with green buttons and purple stripes.
Styles
Style B
Drakson wears a white coat with green lining and black buttons over a black shirt and purple pants.
Orders
Ciabatta with Asiago Cheese
Light Grill
Philly Steak
Wild Onion Sauce
Sauteed Onions
Fried Egg
Fries:

French Fries
Cheddar Topping
Awesome Sauce
Holiday (Pirate Bash)
Ciabatta with Asiago Cheese
Light Grill
Philly Steak
Blazeberry Sauce
Sauteed Onions
Anchovies
Fries:

French Fries
Caviar
Blazeberry Sauce
Chocolate Crust
Dragonfruit Filling
Dragonfruit Filling
Dragonfruit Filling
Dragonfruit Filling
Streusel Topping
Crushed Wafers (Outer Ring)
Shaved Chocolate (Outer Ring)
1 Raspberry (Center)
Holiday (Big Top Carnival)
Chocolate Crust
Dragonfruit Filling
Dragonfruit Filling
Dragonfruit Filling
Dragonfruit Filling
Streusel Topping
Cotton Candy Syrup (All Over)
Shaved Chocolate (Outer Ring)
1 Animal Cracker (Center)
Momoiro Soy Paper with Shiso Rice
Flipped
Bonito Flakes
Bubble Tea:

Almond Tea with Watermelon Bubbles
Holiday (Comet Con)
Momoiro Soy Paper with Shiso Rice
Flipped
Pulsar Pesto Sauce
Bonito Flakes
Bubble Tea:

Almond Tea with Watermelon Bubbles
Al Dente Spaghetti
Papa's Marinara Sauce
Crushida Pepper
6 Prosciutto
1 Tomato
Pepperoni Bread
Holiday (Neptune's Feast)
Al Dente Crab Mezzelune
Papa's Marinara Sauce
Crushida Pepper
6 Anchovies
1 Tomato
Pepperoni Bread
Medium Cup
1 shot of Cold Soy Milk
3 shots of City Roast
Crushed Ice
Strawberry Cream
Chocolate Syrup
Shaved Chocolate
Cannoli:

Battenberg Shell
Strawberry Cream
Ground Nutmeg
Holiday (Valentine's Day)
Medium Cup
1 shot of Cold Soy Milk
3 shots of City Roast
Crushed Ice
Neapolitan Cream
Chocolate Syrup
Shaved Chocolate
Cannoli:

Cupid Cannoli Shell
Strawberry Cream
Ground Nutmeg
Bagel
Pickled Red Onions
Country Steak with Beer Batter
Blazeberry Sauce
Fried Egg
Pickled Red Onions
Medium Slush

Dragonfruit Slush
Watermelon Slush
Holiday (Valentine's Day)
Pink Poppyseed Bun
Pickled Red Onions
Country Steak with Beer Batter
Blazeberry Sauce
Fried Egg
Pickled Red Onions
Medium Slush

Dragonfruit Slush
Watermelon Slush
Ranks required to unlock him
Unlockables
Stickers
| Sticker Number | Name | Achievement | Sticker Earned |
| --- | --- | --- | --- |
| 70 | Seafood Special | Add Lobster Chunks to Drakson's sandwich | |
| 66 | Xolo Po' Boy | Serve a Lobster Po' Boy Special to Xolo | |
| 51 | Super Special | Master 10 Special Recipes by earning 5 Stars on each | |
| Sticker Number | Name | Achievement | Sticker Earned |
| --- | --- | --- | --- |
| 62 | Penny Coolada | Serve a Piña Coolada Special to Penny | |
| 37 | Upgrade Master | Buy all of the Upgrades in the Shop | |
| 28 | Perfect! | Get a Perfect Score on 30 orders | |
| Sticker Number | Name | Achievement | Sticker Earned |
| --- | --- | --- | --- |
| 73 | Kraken for Drakson | Add Octopus to Drakson's sushi | |
| 53 | Rice and Wrappers | Unlock all of the Standard Rice and Papers | |
| 71 | Iggy Unagi | Add Unagi to Iggy's sushi | |
| Sticker Number | Name | Achievement | Sticker Earned |
| --- | --- | --- | --- |
| 52 | Cookbook Mastery | Master 20 Special Recipes by earning 5 Stars on each | |
| 30 | Month's Pay | Receive your wages on four Pay Days | |
| 62 | Maggie Mac | Serve a Cheesy Mac Special to Maggie | |
Earn all three stickers in any of the above games to unlock this outfit:
| Sticker Number | Name | Achievement | Sticker Earned |
| --- | --- | --- | --- |
| 10 | Go Green | Unlock all St. Paddy's Day toppings | |
| 37 | Upgrade Master | Buy all of the Upgrades in the Shop | |
| 64 | Lavender Liezel | Serve a Lavender Latte Special to Liezel | |
| Sticker Number | Name | Achievement | Sticker Earned |
| --- | --- | --- | --- |
| 72 | Captain Coronation | Add Coronation Sauce to Captain Cori's sandwich | |
| 78 | Wrong Restaurant | Serve Roy while wearing a Pizzeria Polo and Pizzeria Cap | |
| 12 | Playing Cupid | Unlock all Valentine's Day toppings | |
Earn all three stickers in any of the above games (from Papa's Mocharia To Go! onwards) to unlock this outfit:
Papa's Next Chefs
Trivia
Order Tickets
Gallery
Prepared Orders
Perfect Orders
Promotional Images
Others
Fan Art