Fire Emblem Warriors: Three Hopes - The Loop
Play Sound
Ember is a female customer who made her first appearance in Papa's Donuteria.
Flipdeck Info
Hometown: Maple Mountain
Loves: Buffalo Sauce
Hates: False Alarms
Occupation: Firefighter
Ember is the Fire Captain for the Powder Point Fire Department. Early in her career, Ember single handedly rescued three people from a burning building. This earned her the Golden Axe of Bravery and was a key factor in her future promotion to Captain. As a child in Maple Mountain, she was a fun loving Cookie Scout. Now, Ember is a Scoutmaster for the Cookie Scout Troop 312. Ember teaches her niece, Yippy and friends all about wilderness survival and the fine art of cookie crafting.
Appearance
Ember has mid-tone skin and bright orange hair. She wears a black shirt with orange and silver stripes and flames on the sleeves, yellow pants with white and orange stripes, a black belt, red suspenders, and black shoes with red laces and brown soles.
Styles
Style B
Ember wears a firefighter hat with the number "808" and the words "Powder Point Ember". She also wears a yellow coat with orange and white stripes and side pockets.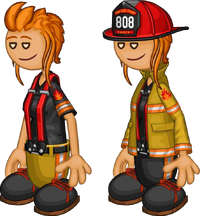 Orders
Regular French Cruller

Vanilla Icing
Dreamsicle Drizzle
Cosmic Coconut

Chocolate Round Donut with Chocolate Mousse

Powdered Sugar
Creameo Bits

Pumpkin Roll Donut

Red Icing
Dreamsicle Drizzle
Holiday (Thanksgiving)
Regular French Cruller

Vanilla Icing
Dreamsicle Drizzle
Cosmic Coconut

Chocolate Round Donut with Chocolate Mousse

Powdered Sugar
Creameo Bits

Pumpkin Acorn Donut with Pumpkin Pie Filling

Red Icing
Fudge Swirl Drizzle
Marshmallows
Red Velvet Syrup
Regular Blend
Whipped Cream
Dreamsicle Drizzle
Waffle Cone Wedge
Cloudberry, Cherry, Cloudberry
8 Blazeberry Wings
4 Buffalo Boneless Wings (left)
4 Potato Skins (right)
6 Pepperoni (left)
6 Philly Steak (right)
4 Jalapeños (left)
6 Fresh Garlic (right)
Regular Bake
4 Slices
Wheat Bread with Pepperjack Cheese
Regular Grill
Grilled Chicken
Buffalo Sauce
Jalapeños
Tomato
Regular Grill
Fries:

French Fries
BBQ Sauce
Jalapeños
Holiday (Starlight BBQ)
Wheat Bread with Pepperjack Cheese
Regular Grill
Sliced Beef Brisket
Buffalo Sauce
Jalapeños
Tomato
Regular Grill
Fries:

French Fries
BBQ Sauce
Jalapeños
Liner D
Red Velvet Cake
Cupcake 1:

Orange Frosting
Chocolate Drizzle
Creameo Bits
2 Cherries

Cupcake 2:

Orange Frosting
Apricot Drizzle
Rainbow Sprinkles
2 Cloudberries
Holiday (Halloween)
Liner D
Red Velvet Cake
Cupcake 1:

Orange Frosting
Licorice Drizzle
Creameo Bits
2 Candy Jack-O-Lanterns

Cupcake 2:

Orange Frosting
Apricot Drizzle
Spooky Sprinkles
2 Sugar Skulls
Liner D
Red Velvet Cake
Cupcake 1:

Orange Frosting
Chocolate Drizzle
Creameo Bits
Cherry, Cloudberry, Cherry

Cupcake 2:

Orange Frosting
Apricot Drizzle
Rainbow Sprinkles
Cloudberry, Cherry, Cloudberry
Holiday (Halloween)
Liner D
Red Velvet Cake
Cupcake 1:

Orange Frosting
Licorice Drizzle
Creameo Bits
2 Candy Jack-O-Lanterns

Cupcake 2:

Orange Frosting
Apricot Drizzle
Spooky Sprinkles
2 Sugar Skulls
Graham Cracker Crust
Peach Filling
Peach Filling
Pineapple Filling
Lemon Filling
Slit Top Crust
Whipped Cream (Outer Ring)
Toasted Coconut (Outer Ring)
8 Kumquats (Inner Ring)
Holiday (Halloween)
Graham Cracker Crust
Peach Filling
Peach Filling
Pineapple Filling
Lemon Filling
Slit Top Crust
Scream Cream (Outer Ring)
Toasted Coconut (Outer Ring)
8 Kumquats (Inner Ring)
Azul Ranch Taco with Beef
Blazeberry Sauce
Jalapeños
Refried Beans
Tomatoes
Hot Sauce
Chips:

Spicy Twists
Chile Serrano Salsa
Holiday (Starlight BBQ)
Azul Ranch Taco with Beef Brisket
Blazeberry Sauce
Jalapeños
Baked Beans
Tomatoes
Hot Sauce
Chips:

Spicy Twists
Chile Serrano Salsa
Ukoniro Soy Paper with White Rice
Not Flipped
Wagyu
Sriracha
Bubble Tea:

Chai Tea with Pawpaw Bubbles
Holiday (Starlight BBQ)
Deli Soy Paper with White Rice
Not Flipped
Wagyu
Duck Sauce
Bubble Tea:

Chai Tea with Pawpaw Bubbles
Waffle
Whipped Cream
Chocolate Chips
Maple Syrup
Drink:
Holiday (Thanksgiving)
Waffle
Whipped Cream
Chocolate Chips
Pumpkin Pie Drizzle
Drink:

Large Pumpkin Spice Coffee with Cream
Traditional Crust
Buffalo Sauce with Papa's Cheese Blend
6 Fresh Garlic (right)
6 Philly Steak (right)
6 Pepperoni (left)
4 Jalapeños (left)
Regular Bake
4 Slices
Holiday (Valentine's Day)
Traditional Crust
Buffalo Sauce with Papa's Cheese Blend
6 Ricotta Balls (right)
6 Soppressata (right)
6 Pepperoni (left)
4 Jalapeños (left)
Regular Bake
4 Slices
Kielbasa on a Hoagie Bun
Hot Sauce
Jalapeños
Salsa
3 Sport Peppers
Drink and Popcorn:

Large Tangerine Pop
Medium Red Hot Popcorn
Holiday (Thanksgiving)
Kielbasa on a Hoagie Bun
Hot Sauce
Jalapeños
Salsa
3 Sport Peppers
Drink and Popcorn:

Large Dream Cream Soda
Medium Pumpkin Spice Popcorn
Traditional Cookie with Chocolate Chips
Red Velvet Cookie with Hot Rods
Traditional Cookie with Citrus Zest
Whipped Cream
Rainbow Sprinkles
Mini Mallows
Cherry, Waffle Cone, Cherry
Holiday (Starlight Jubilee)
Traditional Cookie with Chocolate Chips
Red Velvet Cookie with Hot Rods
Traditional Cookie with Crackle Crumbs
Whipped Cream
Cherrybomb Syrup
Rainbow Sprinkles
Mini Mallows
Candy Rocket, Waffle Cone, Cherry
4 Sriracha Chicken Strips (All)
4 Buffalo Boneless Wings (Left)
4 Blazeberry Chicken Wings (Right)
4 Potato Skins (All)
Holiday (New Year)
4 Sriracha Chicken Strips (All)
4 Buffalo Boneless Wings (Left)
4 Blazeberry Chicken Wings (Right)
4 Pizza Poppers (All)
Chocolate Round Donut

Powdered Sugar
Cosmic Coconut

Regular French Cruller with Strawberry Jelly

Red Rose Icing
Dreamsicle Drizzle
Creameo Bits

Pumpkin Roll

Vanilla Icing
Dreamsicle Drizzle
Holiday (Thanksgiving)
Chocolate Round Donut

Powdered Sugar
Cosmic Coconut

Regular Acorn Donut with Pumpkin Pie Filling

Red Rose Icing
Candy Corn Drizzle
Creameo Bits

Pumpkin Acorn Donut

Vanilla Icing
Dreamsicle Drizzle
Regular Gnocchi
Garlic Basil
Crushida Pepper
4 Meatballs
4 Chickens
Pepperoni Bread
Holiday (ChiliFest)
Regular Gnocchi
Rico's Chili
Crushida Pepper
4 Chili Peppers
4 Chickens
Pepperoni Bread
Medium Cup
2 shots of Hot Skim Milk
3 shots of Decaf Roast

Chai Powder
Cinnamon Dolce Syrup

Peach Cream
Red Velvet Syrup
Mini Mallows
Cannoli:

Pineapple Upside-Down Shell
Lemon Chiffon
Toasted Coconut
Holiday (Thanksgiving)
Medium Cup
2 shots of Hot Skim Milk
3 shots of Decaf Roast

Chai Powder
Pumpkin Spice Syrup

Candy Corn Cream
Pumpkin Spice Syrup
Mini Mallows
Cannoli:

Pineapple Upside-Down Shell
Lemon Chiffon
Autumn Leaves Sprinkles
Buttermilk Biscuit
Chicken Breast with Spicy Cajun Batter
Buffalo Sauce
Jalapeños
Pepperjack Cheese
Summer Crisp Lettuce
Medium Slush

Tangerine Slush
Black Cherry Slush
Holiday (Thanksgiving)
Frybread
Chicken Breast with Spicy Cajun Batter
Wojapi Sauce
Jalapeños
Pepperjack Cheese
Summer Crisp Lettuce
Medium Slush

Pumpkin Spice Slush
Black Cherry Slush
Ranks required to unlock her
Unlockables
Stickers
| Sticker Number | Name | Achievement | Sticker Earned |
| --- | --- | --- | --- |
| 29 | Award Winning Pies | Get the 5 Blue Ribbons from Jojo the Food Critic | |
| 89 | Friendly Fill-Up | When dining in, fill the customer's pie with their friend's favorite fillings instead | |
| 45 | Grand Prize Winner | Earn 5 Prizes or more in each of Foodini's Mini-Games | |
| Sticker Number | Name | Achievement | Sticker Earned |
| --- | --- | --- | --- |
| 30 | Month's Pay | Receive your wages on four Pay Days | |
| 36 | New Coat of Paint | Buy any 4 Flooring or Wallpaper from the Shop | |
| 72 | Nacho Nick | Add Nacho Cheese Sauce to Nick's taco | |
| Sticker Number | Name | Achievement | Sticker Earned |
| --- | --- | --- | --- |
| 9 | Folk Festival | Unlock all BavariaFest toppings | |
| 2 | Fall Harvest | Reach Autumn | |
| 65 | Roly Romano | Serve a Roly Mackerel Special to Bruna Romano | |
| Sticker Number | Name | Achievement | Sticker Earned |
| --- | --- | --- | --- |
| 42 | Costumed Closers | Serve all of the Costumed Closers during Halloween | |
| 10 | Thankful | Unlock all Thanksgiving toppings | |
| 82 | Bubble Gum Bonanza | Have 10 different kinds of bubble gum in the lobby at once | |
| Sticker Number | Name | Achievement | Sticker Earned |
| --- | --- | --- | --- |
| 45 | Rare Reward | Win a Rare Bonus Prize in a Mini-Game by earning a Star Medal | |
| 10 | Easter Basket | Unlock all Easter toppings | |
| 71 | Capiclover | Add Capicola to Clover's order | |
| Sticker Number | Name | Achievement | Sticker Earned |
| --- | --- | --- | --- |
| 78 | Santa's Helper | Serve 20 customers during Christmas wearing a Christmas Hat and Fur Parka | |
| 70 | Mary-nara | Serve Marinara Sauce to Mary's order | |
| 12 | Holiday Hot Dogs | Unlock all Christmas toppings | |
| Sticker Number | Name | Achievement | Sticker Earned |
| --- | --- | --- | --- |
| 10 | Play Ball | Unlock all Baseball Season toppings | |
| 3 | Fall Harvest | Reach Autumn | |
| 11 | Carnival Cookies | Unlock all Big Top Carnival toppings | |
| Sticker Number | Name | Achievement | Sticker Earned |
| --- | --- | --- | --- |
| 54 | Syrup Sampler | Unlock all of the Standard Syrups | |
| 63 | Kahuna Honey | Serve a Honeyhive Special to Kahuna | |
| 71 | Chocolate Chuck | Add Chocolate Chips on top of Chuck's order | |
| Sticker Number | Name | Achievement | Sticker Earned |
| --- | --- | --- | --- |
| 14 | Masquerade | Unlock all Mardi Gras toppings | |
| 79 | Daredevil | Serve Boomer while wearing a Stunt Helmet and Cape | |
| 81 | Everyone's a Critic | Serve Jojo while wearing a Turtleneck and Beret | |
| Sticker Number | Name | Achievement | Sticker Earned |
| --- | --- | --- | --- |
| 52 | Cookbook Mastery | Master 20 Special Recipes by earning 5 Stars on each | |
| 30 | Month's Pay | Receive your wages on four Pay Days | |
| 46 | Special Collector | Earn 5 Special Recipes from customers | |
| Sticker Number | Name | Achievement | Sticker Earned |
| --- | --- | --- | --- |
| 52 | Cookbook Mastery | Master 20 Special Recipes by earning 5 Stars on each | |
| 89 | Wasteful Worker | Throw away 3 baskets of fully-cooked fries in the same day | |
| 81 | Everyone's a Critic | Serve Jojo while wearing a Turtleneck and Beret | |
| Sticker Number | Name | Achievement | Sticker Earned |
| --- | --- | --- | --- |
| 61 | Rhuby Rudy Tuber | Serve a Rhuby Tuber Special to Rudy | |
| 54 | Flavorful Fillings | Unlock all of the Standard Fillings | |
| 15 | Thankful | Unlocks all Thanksgiving toppings | |
| Sticker Number | Name | Achievement | Sticker Earned |
| --- | --- | --- | --- |
| 56 | Finishing Touches | Unlock all of the Standard Sauces and Shakers | |
| 85 | Dance Party | Use lots of musical furniture so 3 or more customers are dancing in the lobby | |
| 7 | Summer Fun | Unlock all Summer Luau toppings | |
| Sticker Number | Name | Achievement | Sticker Earned |
| --- | --- | --- | --- |
| 1 | Summer Vacation | Reach Summer | |
| 50 | Recipe Master | Master a Special Recipe by earning 5 Special Stars | |
| 31 | Piggy Bank | Don't spend any money in the Shop for 7 days | |
| Sticker Number | Name | Achievement | Sticker Earned |
| --- | --- | --- | --- |
| 53 | Cookbook Mastery | Master 20 Special Recipes by earning 5 Stars on each | |
| 27 | Topping Expert | Get a 100% Topping Score on 20 orders | |
| 72 | Franco Fragola | Use Strawberry Milk in Franco's latte | |
| Sticker Number | Name | Achievement | Sticker Earned |
| --- | --- | --- | --- |
| 6 | Folk Festival | Unlock all BavariaFest toppings | |
| 85 | Coupon Clipper | Send 10 Customer Coupons to your customers | |
| 17 | Make 'Em Wait | Serve the first customer last | |
Earn all three stickers in any of the above games to unlock this outfit:
OnionFest Crown Classic
Trivia
Order Tickets
Gallery
Prepared Orders
Perfect Orders
Promotional Images
Holiday Pictures
Others
Fan Art