GTA: The Criminal Enterprises - The Loop
Play Sound
Evelyn is a female customer who made her first appearance in Papa's Sushiria To Go!.
Appearance
Evelyn has white, wavy hair and eyebrows. She wears a black shirt with beige buttons, a leopard-print collar and red cuffs. She also wears leopard-print pants, a red sash belt, black olive bracelets, and red shoes with brown accent colors, beige lines, and black soles.
Styles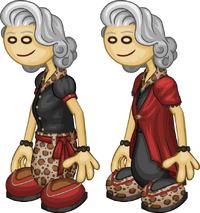 Style B
Evelyn wears a red, short-sleeve cardigan with a leopard-print button and black ruffled cuffs. She also wears a black shirt with black buttons, black pants, and leopard-print shoes with black accent colors and red lines.
Orders
Nori with White Rice
Flipped
Tonkatsu Sauce
Bubble Tea:

Chai Tea with Cherry Bubbles
Holiday (Portallini Feast)
Nori with White Rice
Flipped

Shiitake Mushrooms
Spinach Ricotta

Marinara Sauce
Bubble Tea:

Spumoni Tea with Cherry Bubbles
Al Dente Fettuccine
Papa's Marinara Sauce
Burgundy Truffle
1 Fried Calamari
6 Clams
Crescent Roll
Holiday (Gondola 500)
Al Dente Fettuccine
Papa's Marinara Sauce
Garlic Rush
1 Fried Ravioli
6 Clams
Crescent Roll
Small Cup
2 shots of French Roast
2 shots of Hot Skim Milk

Matcha Powder
Honey Syrup

Honey Syrup
Ground Nutmeg
Cannoli:

Chocolate Cannoli Shell
Creameo Cream
Cocoa Powder
Holiday (Sugarplex Film Fest)
Small Cup
2 shots of French Roast
2 shots of Hot Skim Milk

Dr. Cherry Powder
Golden Age Syrup

Golden Age Syrup
Ground Nutmeg
Cannoli:

Shell Noir
Creameo Cream
Cocoa Powder
Sesame Bun
Watercress
Eggplant with Sweet Belgian Batter
Coronation Sauce
Banana Peppers
Red Cabbage Slaw
Small Slush

Black Cherry Slush
Cream Soda Slush
Holiday (Easter)
Pasqua Bun
Mixed Microgreens
Eggplant with Sweet Belgian Batter
Coronation Sauce
Banana Peppers
Red Cabbage Slaw
Small Slush

Black Cherry Slush
Cream Soda Slush
Ranks required to unlock her
Unlockables
Stickers
| Sticker Number | Name | Achievement | Sticker Earned |
| --- | --- | --- | --- |
| 52 | Cookbook Mastery | Master 20 Special Recipes by earning 5 Stars on each | |
| 84 | Bubble Gum Bonanza | Have 10 different kinds of bubble gum in the lobby at once | |
| 51 | Super Special | Master 10 Special Recipes by earning 5 Stars on each | |
| Sticker Number | Name | Achievement | Sticker Earned |
| --- | --- | --- | --- |
| 72 | Cheesy Cherissa | Use Three Cheese Sauce and Grated Mozzarella on Cherissa's order | |
| 9 | Gondola Goodies | Unlock all Gondola 500 toppings | |
| 2 | Fall Harvest | Reach Autumn | |
| Sticker Number | Name | Achievement | Sticker Earned |
| --- | --- | --- | --- |
| 59 | Drink Decorator | Unlock all of the Standard Shakers | |
| 22 | Silver Medal | Earn 10 Silver Customer Awards | |
| 27 | Topping Expert | Get a 100% Topping Score on 20 orders | |
| Sticker Number | Name | Achievement | Sticker Earned |
| --- | --- | --- | --- |
| 4 | Summer Vacation | Reach Summer | |
| 38 | New Threads | Change your worker's shirt, pants, hat, belt, jacket, and shoes. | |
| 1 | Fall Harvest | Reach Autumn | |
Earn all three stickers in any of the above games to unlock this outfit: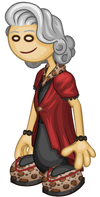 Trivia
Order Tickets
Gallery
Prepared Orders
Perfect Orders
Promotional Images
Others
Fan Art