This article has been awarded the Blue Ribbon as an outstanding featured article!
Fernanda is a female customer who made her first appearance in Papa's Scooperia, Papa's Scooperia HD, and Papa's Scooperia To Go!
Appearance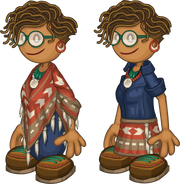 Fernanda has short, curly brown hair (similar to that of her daughter, Lisa) that is styled in a side sweep. She wears sea green colored glasses along with red and white earrings. For clothing, she wears a red and brown poncho with white lines and arrows as well as a blue body suit underneath. She wears brown moccasins with sea green laces and red stitching and a silver medallion necklace.
Styles
Style B
She wears a blue dress shirt and ties the poncho around her waist to act as a skirt.
Orders
Oatmeal Cookie with White Chocolate Chips
Gingerbread Cookie with Yum n' M's
Snickerdoodle Cookie with Peanuts
Cookie Dough Bits
Mini Mallows
Blueberry Swizzle, Blueberry Swizzle, Blueberry Swizzle
Holiday (New Year)
Oatmeal Cookie with White Chocolate Chips
Gingerbread Cookie with Yum n' M's
Snickerdoodle Cookie with Peanuts
Cookie Dough Bits
Mini Mallows
Blueberry Swizzle, Blueberry Swizzle, Blueberry Swizzle
2 Pecan French Toasts
Cinnamon
Honey
Drink:
Holiday (Christmas)
2 Pecan French Toasts
Cinnamon
Holiday Yum n' Ms
1 Christmas Jelly Cookie
Drink:
6 Adobo Chicken Wings (Left)
4 Calypso Tofu Skewers (Right)
4 Taquitos (Right)
Guacamole
Holiday (Mardi Gras)
6 Adobo Chicken Wings (Left)
4 Muffuletta Tofu Skewers (Right)
4 Crawdads (Right)
Guacamole
Ranks Required to Unlock Her
Unlockables
Stickers
| Number | Name | Achievement | Sticker Earned |
| --- | --- | --- | --- |
| 32 | One-Stop Shopping | Buy 50 items from the Shop | |
| 52 | Cookbook Mastery | Master 20 Special Recipes by reaching 5 Stars on each | |
| 69 | Tiramisue | Serve a Tiramisu Special to Sue | |
| Number | Name | Achievement | Sticker Earned |
| --- | --- | --- | --- |
| 15 | Blossom Breakfast | Unlock all Cherry Blossom Festival toppings | |
| 10 | Thankful | Unlock all Thanksgiving toppings | |
| 64 | Breakfast Buckle | Serve a Blueberry Buckle Special to Emmlette | |
| Number | Name | Achievement | Sticker Earned |
| --- | --- | --- | --- |
| 1 | Summer Vacation | Reach Summer | |
| 41 | The Gang's All Here | Serve all of the customers! | |
| 19 | Quick Fitz | Have Professor Fitz's order ready when he arrives and serve immediately | |
Trivia
Order Tickets
Gallery
Fan Art