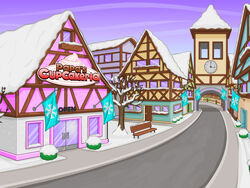 Frostfield is a fictional town within the Flipverse. It is home to Papa's Cupcakeria.
The mayor of Frostfield is Mayor Mallow. As mayor, he managed to bring many new businesses to the area, such as the Biscotti Bookstore, the bookstore where Willow buys horror novels, and The Great Sprinkler Chalet, an indoor waterpark. [1]
Frostfield is represented in Griller Stadium by the Frostfield Batters baseball team and the Frostfield Snowmen hockey team.
Locations
Businesses
Others
Townspeople
Trivia
This city celebrates 18 holidays, which is the most of any city or location in the Flipverse.
Gallery
Frostfield during holidays