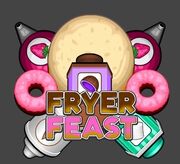 Fryer Feast is a doughnut special that can be selected by players to be the "Special of the Day" in Papa's Donuteria To Go!. Customers coming in can choose this special instead of their regular order. Customers who order the Fryer Feast special will give the player +1 

. The special prize for this recipe is a Biker Helmet.
Recipe

This section may be having some missing details or it is incomplete! You can help by adding the correct info to finish the list. Once the list is complete, remove this template box.
Gallery
Community content is available under
CC-BY-SA
unless otherwise noted.