Gingerbread Man is a holiday-exclusive topping available during Christmas in Papa's Cupcakeria/To Go!/HD. It is unlocked on Day 4 of the holiday.
Customers who order this
Cupcakeria
Cupcakeria To Go!
Cupcakeria HD
Poster
Appears in
Picture
Bonus
Points
Cost
Theme
Papa's Cupcakeria/To Go!/HD

Gingerbread Man Bonus
20 points
Won in Strike Out!

$40.00 (To Go!/HD)

(Cupcakeria/HD)

(Cupcakeria To Go!)
Papa's Cook Book
Gingerbread Men was the sixteenth recipe featured in Papa's Cook Book, a feature on the Flipline Studios Blog.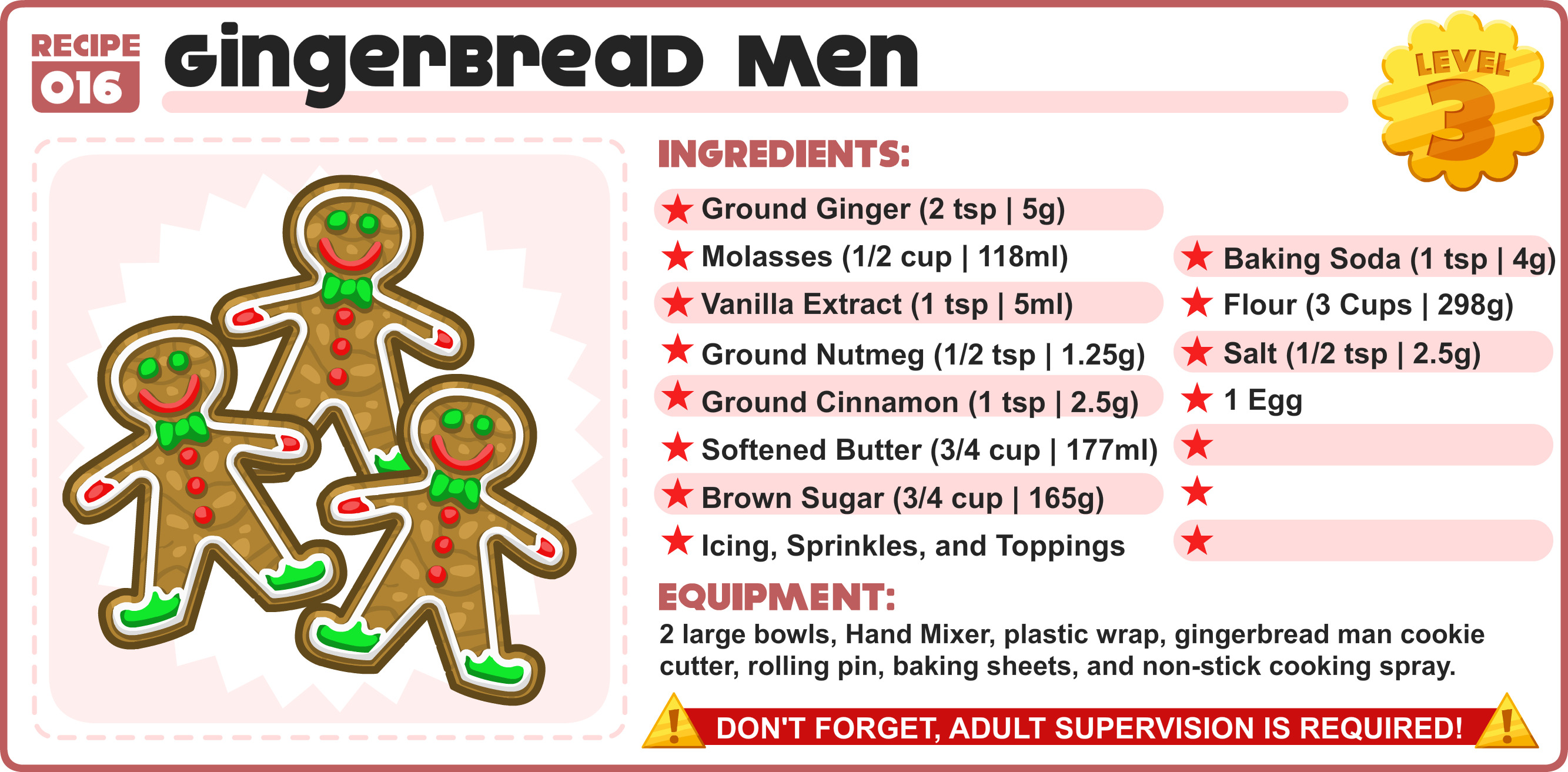 Instructions
The instructions are posted here.
1: Mix it Up!
In a large bowl, add the cinnamon, nutmeg, ginger, baking soda, and flour. Mix them thoroughly and set the bowl aside for later use.
In a second large bowl, mix the brown sugar and the butter until the mixture is fluffy. It helps to have a hand mixer. Then add the egg, vanilla extract, and molasses and mix thoroughly.
Finally, add in the dry mixture from the first bowl slowly until everything is completely blended with no lumps and stuff.
2: Wrap and Chill
Take your dough and divide it in half. Roll the halves into balls and cover each with plastic wrap. Let them chill in the refrigerator for 2 hours.
3: Cookie Cutter Time!
Prepare your work surface with a light dusting of flour so that the dough doesn't stick to it. Take each ball of dough and roll it out until the dough sheets are 1/8th inch thick.
Dust your cookie cutter in flour and start cutting out as many gingerbread men as you can. This should make about 2 dozen depending on the size of your cutter.
4: Bake and Decorate!
Preheat your oven to 350° F. Spray the non-stick cooking spray on your cooking sheets. Place each gingerbread man on the sheets leaving 2 inches between each of them. Bake them for 8-10 minutes.
Let the cookies fully cool down after they are done baking. Once cool, decorate them with your icing, sprinkles, and any other festive toppings you like!
Gallery
Community content is available under
CC-BY-SA
unless otherwise noted.