Raise a Floppa - The Loop
Play Sound
Greg is a male customer who made his first appearance in Papa Louie: When Pizzas Attack!.
Flipdeck Info
Hometown: Tastyville
Loves: Tomatoes
Hates: Homework
Greg is a fun-loving kid who lives in the apartments above Papa's Pizzeria. As with other customers, Greg was held captive by Sarge in a gilded cage for many days. During that time, he observed dozens of wild-jumping tomatoes in the area. Greg studied them, taking detailed notes and sketches. After he was rescued by Papa Louie, Greg became the go-to kid for any and all tomato facts.
Appearance
Greg has fair skin, short brown hair, and freckled cheeks. He wears a red shirt with off-white striped highlights and a small-eyed tomato printed on the left side of his shirt. He also wears brown pants held by a gray belt with a faded brown buckle and white sneakers with red laces.
He also wears a red cap with green top and trims that look like tomato leaves, cream-colored front, and a pair of goofy-looking eyes, made to resemble the Tomatoes from the Papa Louie platformer games.
Originally, he wore a plain off-white cap with a red front and trims until Papa's Hot Doggeria.
Clean-Up
His outfit got remodeled, and his skin got tanner.
Styles
Style B
He wears the Tastyville Tomatoes uniform, consisting of a pale green jersey with red buttons and vertical stripes, along with matching pants. He also wears a green cap that has red trims and a small tomato printed in the middle of it, a brown belt with a gray buckle, and brown shoes with red laces and black soles.
Style C (Papa Louie 2)
He wears his Style A outfit, except that his shirt is off-white, pants are red, and the belt is green.
St. Paddy's Day Outfit
He wears a green beret with a yellow top, a bottom black rim, and a shamrock, a green shirt with a folded white collar, a black tie, a black skirt held by a dark green belt with a golden buckle, and black shoes with green laces.
Valentine's Day Outfit
The white stripes in his shirt are changed to pink, and the tomato logo is changed to a white heart. He wears a red cap with a pink visor, and it also has a white logo. His pants are now white and his belt buckle is now pink. His shoes are changed to white with a red stripe, pink laces, and light gray soles. He also wears Cupid wings.

​​Orders
6 Pepperoni (left and bottom right)
4 Mushrooms (bottom left)
30 minutes (1/2 of meter)
4 Slices
Bottom Bun
Pickle
Pickle
Tomato
Tomato
Well-Done Patty
Mustard
Top Bun
Hard Taco with Beef
Tomatoes
Cheese
Tomatoes
Mild Sauce
Tomatoes
3 Chocolate Chip Waffles
Whipped Cream
Chocolate Chips
Drink:

Small Orange Juice with Ice
Bottom Bun
Ketchup
Tomato
Tomato
Well-Done Patty
Pickle
Tomato
Ketchup
Top Bun
8 BBQ Chicken Wings (all)
4 Red Peppers (all)
Ranch Dip
Hot Dog on a Regular Bun
Ketchup
Salsa
3 Tomato Wedges
Drink and Popcorn:

Small Tangerine Pop
Large Cotton Puffs
Both Cupcakes:

Liner A
Confetti Cake
Red Frosting
Strawberry Drizzle
Rainbow Sprinkles
Marshmallow, Cherry, Marshmallow
Holiday (Baseball Season)
Liner A
Confetti Cake
Red Frosting
Cupcake 1:

Strawberry Drizzle
Rainbow Sprinkles
Candy Baseball, Cherry, Candy Baseball

Cupcake 2:

Strawberry Drizzle
Rainbow Sprinkles
Marshmallow, Cherry, Marshmallow
Medium Cup
Birthday Cake
Chocolate Syrup
Regular Blend
Whipped Cream
Chocolate Topping
Sprinkles
Nuts
3 Cherries
Regular Penne
Papa's Marinara Sauce
Black Pepper
6 Tomatoes
1 Prosciutto
Cheesy Bread
Holiday (Valentine's Day)
Regular Penne
Papa's Marinara Sauce
Black Pepper
6 Cherry Tomatoes
6 Tomatoes
1 Prosciutto
Cheesy Bread
Medium Cup
Birthday Cake
Cotton Candy Syrup
Chunky Blend
Whipped Cream
Sprinkles
Wildberry Derps
Gummy Onion, Cherry, Gummy Onion
Chocolate Ring Donut

Powdered Sugar
Rainbow Sprinkles

Red Velvet Round Donut with Strawberry Jelly

Red Icing
Rainbow Sprinkles

Regular Ring Donut with Strawberry Jelly

Strawberry Icing
Rainbow Sprinkles
Holiday (Valentine's Day)
Chocolate Ring Donut

Valentine Powder
Rainbow Sprinkles

Red Velvet Round Donut with Strawberry Jelly

Red Icing
Cupidberry Derps

Regular Ring Donut with Bubble Gum Cream

Valentine Powder
Red Cinnamon Drizzle
Cupidberry Derps
8 Smoky Bacon Chicken Wings (all)
4 Red Peppers (all)
Ranch Dip
8 Tomatoes (all)
4 Mushrooms (bottom right)
Light Bake
8 Slices
White Bread with Aged Gouda
Light Grill
Tomato
Grilled Chicken
Tomato
Ketchup
Fries:

Waffle Fries
Fry Seasoning
Ketchup
Holiday (Valentine's Day)
Beetbread with Aged Gouda
Light Grill
Sun Dried Tomatoes
Grilled Chicken
Tomato
Ketchup
Sun Dried Tomatoes
Fries:

Waffle Fries
Fry Seasoning
Ketchup
Liner A
Red Velvet Cake
Cupcake 1:

Red Frosting
Rainbow Sprinkles
Cherry
Marshmallow

Cupcake 2:

Red Frosting
Strawberry Drizzle
Rainbow Sprinkles
Marshmallow
Cherry
Holiday (Easter)
Liner A
Battenberg Cake
Cupcake 1:

Pink Frosting
Rainbow Sprinkles
Jelly Beans
Cherry
Candy Egg

Cupcake 2:

Red Frosting
Strawberry Drizzle
Rainbow Sprinkles
Candy Egg
Cherry
Liner B
Red Velvet Cake
Cupcake 1:

Pink Frosting
Strawberry Drizzle
Rainbow Sprinkles
Cherry

Cupcake 2:

Red Frosting
Strawberry Drizzle
Rainbow Sprinkles
Marshmallow, Cherry, Marshmallow
Holiday (Sugarplex Film Fest)
Liner B
Red Velvet Cake
Cupcake 1:

Pink Frosting
Dr. Cherry Drizzle
Rainbow Sprinkles
Red Licorice, Cherry, Red Licorice

Cupcake 2:

Red Frosting
Strawberry Drizzle
Rainbow Sprinkles
Blot, Cherry, Blot
Traditional Crust
Strawberry Filling
Strawberry Filling
Strawberry Filling
Fudge Filling
Streusel Topping
Chocolate Syrup (All Over)
9 Chocolate Mousse Dollops (Inner Ring and Center)
9 Cherries (Inner Ring and Center)
Holiday (Valentine's Day)
Traditional Crust
Strawberry Filling
Strawberry Filling
Strawberry Filling
Fudge Filling
Streusel Topping
Chocolate Syrup (All Over)
8 Macarons (Outer Ring)
9 Cherries (Inner Ring and Center)
Hard Taco with Beef
Tomatoes
Cheese
Refried Beans
Mild Sauce
Tomatoes
Chips:

Nacho Cheese Chips
Refried Beans
Holiday (Starlight BBQ)
Cornbread with Beef Brisket
Tomatoes
Cheese
Refried Beans
Mild Sauce
Tomatoes
Chips:

Nacho Cheese Chips
Refried Beans
Nori with Black Rice
Flipped
Tuna
Ponzu
Bubble Tea:

Chocolate Tea with Cherry Bubbles
Holiday (Valentine's Day)
Nori with Black Rice
Flipped

Tuna
Hokkigai
Cream Cheese

Tuna
Azuki Sauce
Bubble Tea:

Chocolate Tea with Cherry Bubbles
3 Chocolate Chip Waffles
Whipped Cream
Chocolate Chips
Drink:

Small Orange Juice with Ice
Holiday (Valentine's Day)
3 Chocolate Chip Waffles
Whipped Cream
Chocolate Chips
Red Velvet Syrup
1 Candy Heart
Drink:

Small Orange Juice with Ice
Traditional Crust
Rustic Romana with Papa's Cheese Blend
8 Tomatoes (all)
3 Mushrooms (bottom right)
3 Chickens (top left)
Light Bake
8 Slices
Holiday (Thanksgiving)
Traditional Crust
Rustic Romana with Papa's Cheese Blend
8 Tomatoes (all)
3 Sweet Potatoes (bottom right)
3 Chickens (top left)
Light Bake
8 Slices
Hot Dog on a Regular Bun
Ketchup
Salsa
3 Tomatoes
Drink and Popcorn:

Small Tangerine Pop
Medium Chocolate Popcorn
Holiday (Valentine's Day)
Hot Dog on a Beetbread Bun
Sundried Tomatoes
Ketchup
Salsa
3 Tomatoes
Drink and Popcorn:

Small Razzle Dazzle
Medium Cherry Cordial Corn
Traditional Cookie with Hot Rods
Red Velvet Cookie with Hot Rods
Traditional Cookie with Hot Rods
Strawberry Syrup
Cherry, Macaron, Cherry
Holiday (Valentine's Day)
Traditional Cookie with X and O Sprinkles
Red Velvet Cookie with Hot Rods
Traditional Cookie with X and O Sprinkles
Strawberry Syrup
Candy Hearts
Chocolate Strawberry, Macaron, Chocolate Strawberry
6 Sriracha Chicken Wings (All)
3 Red Peppers (Left)
3 French Fries (Right)
Ranch Dip
Holiday (Christmas)
6 Cranberry Chili Chicken Wings (All)
3 Red Peppers (Left)
3 French Fries (Right)
Risalamande Dip
Red Velvet Round Donut

Powdered Sugar
Rainbow Sprinkles

Chocolate Ring Donut with Strawberry Jelly

Red Rose Icing
Strawberry Drizzle
Rainbow Sprinkles

Regular Ring Donut

Strawberry Icing
Rainbow Sprinkles
Holiday (Christmas)
Red Velvet Round Donut

Powdered Sugar
Rainbow Sprinkles

Chocolate Ring Donut with Cherry Cordial Cream

Festive Swirl Icing
Candy Cane Drizzle
Rainbow Sprinkles

Regular Ring Donut

Strawberry Icing
Snowflake Sprinkles
White Bread with Aged Gouda
Light Grill
Tomato
Grilled Chicken
Tomato
Ketchup
Fries:

Waffle Fries
Fry Seasoning
Ketchup
Holiday (Valentine's Day)
Beetbread with Aged Gouda
Light Grill
Sun Dried Tomatoes
Grilled Chicken
Tomatoes
Ketchup
Sun Dried Tomatoes
Fries:

Waffle Fries
Salsa Criolla
Ketchup
Regular Penne
Papa's Marinara Sauce
Black Pepper
6 Tomatoes
1 Prosciutto
Cheesy Bread
Holiday (Mardi Gras)
Regular Penne
Papa's Marinara Sauce
Black Pepper
6 Tomatoes
1 Gator Bite
Cheesy Bread
Small Cup
Red Velvet Syrup
1 shot of New England Roast
3 shots of Hot Skim Milk
Strawberry Cream
Red Velvet Syrup
Mini Mallows
Cannoli:

Battenberg Shell
Chocolate Mousse
Mini Mallows
Holiday (Valentine's Day)
Small Cup
Red Velvet Syrup
1 shot of New England Roast
3 shots of Hot Skim Milk
Strawberry Cream
Red Velvet Syrup
X and O Sprinkles
Cannoli:

Cupid Cannoli Shell
Chocolate Mousse
X and O Sprinkles
Classic Bun
Tomato
Chicken Patty with Panko Breading
Marinara Sauce
Provolone Cheese
Pickled Red Onions
Tomato
Medium Slush

Tangerine Slush
Black Cherry Slush
Holiday (Valentine's Day)
Pink Poppyseed Bun
Tomato
Chicken Patty with Panko Breading
Marinara Sauce
Provolone Cheese
Pickled Red Onions
Prosciutto
Medium Slush

Hot Rods Slush
Black Cherry Slush
Ranks required to unlock him
Unlockables
Stickers
| Sticker Number | Name | Achievement | Sticker Earned |
| --- | --- | --- | --- |
| 32 | One-Stop Shopping | Buy any 50 items from the Shop | |
| 29 | Award Winning Pies | Get 5 Blue Ribbons from Jojo the Food Critic | |
| 39 | Romano Family | Serve everyone in the Romano Family Quartet | |
| Sticker Number | Name | Achievement | Sticker Earned |
| --- | --- | --- | --- |
| 62 | Guaco Greg | Serve a Guaco Taco Special to Greg | |
| 49 | Successful Specials | Earn 3 Special Stars when serving Today's Special | |
| 59 | Rico Con Queso | Serve a Smothered Chicken Special to Rico | |
| Sticker Number | Name | Achievement | Sticker Earned |
| --- | --- | --- | --- |
| 28 | Perfect! | Get a Perfect Score on 30 orders | |
| 48 | Complete Cookbook | Earn 40 Special Recipes from customers | |
| 42 | The Gang's All Here | Serve all of the customers! | |
| Sticker Number | Name | Achievement | Sticker Earned |
| --- | --- | --- | --- |
| 56 | Building Materials | Unlock all of the Standard Toppings | |
| 47 | Recipe Collection | Earn 15 Special Recipes from customers | |
| 11 | Holiday Hotcakes | Unlock all Christmas toppings | |
| Sticker Number | Name | Achievement | Sticker Earned |
| --- | --- | --- | --- |
| 25 | Build Expert | Get a 100% Build Score on 20 orders | |
| 32 | One-Stop Shopping | Buy 50 items from the Shop | |
| 89 | Burnt Pies | Completely overcook and burn 20 pizzas | |
| Sticker Number | Name | Achievement | Sticker Earned |
| --- | --- | --- | --- |
| 63 | The Gregowski | Serve a The Grabowski Special to Greg | |
| 50 | Recipe Master | Master a Special Recipe by earning 5 Special Stars | |
| 34 | Interior Decorator | Buy 8 Furniture items from the Shop | |
| Sticker Number | Name | Achievement | Sticker Earned |
| --- | --- | --- | --- |
| 75 | Rockin' Robby | Add Rock Candy to Robby's sundae | |
| 81 | Color Coordinated | Dress your chef and server in the exact same outfit but with different colors | |
| 83 | Dance Party | Use lots of musical furniture so 3 or more customers are dancing in the lobby | |
| Sticker Number | Name | Achievement | Sticker Earned |
| --- | --- | --- | --- |
| 76 | Rockin' Robby | Add Rock Candy to Robby's sundae | |
| 82 | Color Coordinated | Dress your chef and server in the exact same outfit but with different colors | |
| 84 | Dance Party | Use lots of musical furniture so 3 or more customers are dancing in the lobby | |
| Sticker Number | Name | Achievement | Sticker Earned |
| --- | --- | --- | --- |
| 27 | Drink Expert | Get a 100% Drink Score on 20 orders | |
| 13 | Playing Cupid | Unlock all Valentine's Day toppings | |
| 14 | Go Green | Unlock all St. Paddy's Day toppings | |
| Sticker Number | Name | Achievement | Sticker Earned |
| --- | --- | --- | --- |
| 12 | Holiday Wings | Unlock all Christmas toppings | |
| 76 | Spooktacular | Serve 20 customers during Halloween wearing any Halloween clothing | |
| 80 | Wrong Restaurant | Serve Roy while wearing a Pizzeria Polo and Pizzeria Cap | |
| Sticker Number | Name | Achievement | Sticker Earned |
| --- | --- | --- | --- |
| 28 | Perfect! | Get a Perfect Score on 30 orders | |
| 6 | Trick or Treat | Unlock all Halloween toppings | |
| 19 | Rapid Rudy | Have Rudy's order ready when he arrives and serve immediately | |
| Sticker Number | Name | Achievement | Sticker Earned |
| --- | --- | --- | --- |
| 15 | Festival of Colors | Unlock all Holi toppings | |
| 19 | Hank in a Hurry | Have Hank's order ready when he arrives and serve immediately | |
| 50 | Recipe Master | Master a Special Recipe by earning 5 Special Stars | |
| Sticker Number | Name | Achievement | Sticker Earned |
| --- | --- | --- | --- |
| 57 | Decorations | Unlock all of the Standard Placeable Toppings | |
| 77 | Holiday Spirit | Serve 100 customers while wearing clothing that matches the season | |
| 66 | Captain Apple | Serve a Caramel Apple Special to Captain Cori | |
| Sticker Number | Name | Achievement | Sticker Earned |
| --- | --- | --- | --- |
| 58 | Bubble Buddy | Unlock all of the Tea Bubbles | |
| 30 | Month's Pay | Receive your wages on four Pay Days | |
| 89 | Melon Mess-Up | Throw away 5 Bubbles Teas with Watermelon Bubbles in one day | |
| Sticker Number | Name | Achievement | Sticker Earned |
| --- | --- | --- | --- |
| 69 | Mighty Meat Clover | Serve a Mighty Meatlover Special to Clover | |
| 60 | Pauly Portobello | Serve a Creamy Portobello Special to Big Pauly | |
| 88 | Overcooked Assortment | Leave four different types of pasta in the cooking pots at the end of the day | |
| Sticker Number | Name | Achievement | Sticker Earned |
| --- | --- | --- | --- |
| 74 | Nutmeg for Greg | Add Ground Nutmeg to Greg's order | |
| 13 | Summer Fun | Unlock all Summer Luau toppings | |
| 7 | Holiday Cheer | Unlock all Christmas toppings | |
| Sticker Number | Name | Achievement | Sticker Earned |
| --- | --- | --- | --- |
| 58 | Slush Server | Unlock all of the Standard Slush Flavors | |
| 68 | Xolo Sando | Serve a Katsu Sando Special to Xolo | |
| 54 | Batter Up | Unlock all of the Breading and Batters | |
Earn all three stickers in any of the above games to unlock this outfit: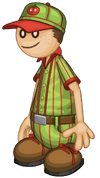 Papa's Next Chefs
| Rescued at | Needs | Special Skill | Weapon | Styles |
| --- | --- | --- | --- | --- |
| Level 6: Cheddar Hills | Pushing | Crawling | Yo-Yo (Whip) | |
Trivia
Order Tickets
Gallery
Prepared Orders
Perfect Orders
Promotional Images
Holiday Pictures
Others
Fan Art