Halloween is a holiday celebrated in many of Papa Louie's restaurant time-management games. When a player reaches this holiday in any of the games below, the following characters make their first appearance as well:
The achievement "Trick or Treat" is earned when all of the Halloween holiday-exclusive ingredients are unlocked.
Customers bring Jack-O-Lantern baskets to celebrate the holiday.
Customers Who Like This Holiday
Costumed Customers
Gamerias
Halloween Cupcake Liners

Jack-O-Lantern
Purple Background with the word "BOO" in light orange text
Black Cat's Eyes
Orange and Black Vertical Stripes
Halloween-Exclusive Ingredients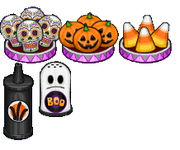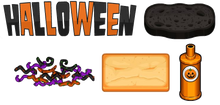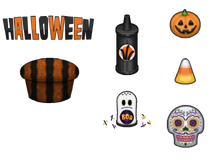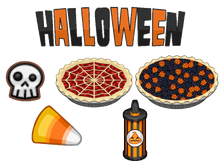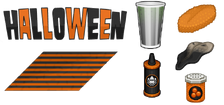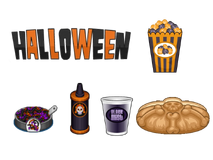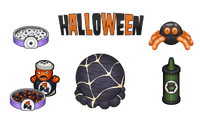 Trivia
The theme icon for this is . In Papa's Scooperia, the icon has changed to W, because the H represents Holi.
During the start of day sequence in each game in which Halloween is a holiday, the Belltower Ghost is always somewhere in the background (with the exceptions of Papa's Cupcakeria To Go! and Hot Doggeria To Go!).
Halloween has the most amount of people listing it as their favorite holiday in Papa's Cupcakeria.
During this holiday, Closers dress up in costumes. They can be seen wearing their costumes during the parade sequence and in their customer file even before they are served.
Since Papa's Pastaria, Willow has always been unlocked along with Halloween. (Except Papa's Hot Doggeria HD/To Go!, and Papa's Wingeria To Go!)
Both Cupcakeria chefs like this holiday in Cupcakeria/To Go! and Bakeria.
Both Donuteria chefs like this holiday in Cupcakeria To Go!.
Both Taco Mia! chefs like this holiday in Wingeria To Go!.
Sasha has been unlocked along with Halloween in three of the Papa's Cupcakeria games. It is because Willow is a Cupcakeria chef.
Starting in Papa's Pancakeria HD, when you unlock a customer on Halloween, you'll also get their costume (Style H)
Gallery
Cities during Halloween
Halloween Posters
v • e

Holidays

Valentine's Day • St. Paddy's Day • Easter • Onionfest • Summer Luau • Starlight Jubilee • Baseball Season • Pirate Bash • Halloween • Thanksgiving • Christmas • New Year
Chilifest • Summer Luau • Starlight Jubilee • Neptune Feast • Gondola 500 • Halloween • Thanksgiving • Christmas • New Year • Valentine's Day • St. Paddy's Day • Romano Wedding
Maple Mornings • Halloween • Thanksgiving • Christmas • New Year • Valentine's Day • St. Paddy's Day • Easter • Big Top Carnival • Summer Luau • Starlight Jubilee • Sky Ninja Returns
Cinco de Mayo • Summer Luau • Starlight BBQ • Portallini Feast • Maple Mornings • Halloween • Thanksgiving • Christmas • New Year • Valentine's Day • St. Paddy's Day • Easter
Valentine's Day • St. Paddy's Day • Easter • Cinco de Mayo • Summer Luau • Starlight Jubilee • Big Top Carnival • Comet Con • Halloween • Thanksgiving • Christmas • New Year
Valentine's Day • St. Paddy's Day • Easter • Cherry Blossom Festival • Summer Luau • Starlight Jubilee • Sugarplex Film Fest • Maple Mornings • Halloween • Thanksgiving • Christmas • New Year
New Year • Valentine's Day • St. Paddy's Day • Easter • Cherry Blossom Fest • Summer Luau • Starlight Jubilee • Comet Con • Groovstock • Halloween • Thanksgiving • Christmas
Starlight BBQ • Portallini Feast • Maple Mornings • Halloween • Thanksgiving • Christmas • New Year • Valentine's Day • St. Paddy's Day • Easter • Cherry Blossom Fest • Summer Luau
Cherry Blossom Festival • Cinco de Mayo • Summer Luau • Starlight BBQ • BavariaFest • Maple Mornings • Halloween • Thanksgiving • Christmas • New Year • Valentine's Day • Lucky Lucky Matsuri
Starlight BBQ • BavariaFest • Maple Mornings • Halloween • Thanksgiving • Christmas • New Year • Valentine's Day • St. Paddy's Day • Easter • Big Top Carnival • Summer Luau
Summer Luau • Starlight Jubilee • Sugarplex Film Fest • Groovstock • Halloween • Thanksgiving • Christmas • New Year • Valentine's Day • St. Paddy's Day • Easter • Cinco de Mayo
Thanksgiving • Christmas • New Year • Valentine's Day • Lucky Lucky Matsuri • Easter • Cinco de Mayo • Summer Luau • Starlight BBQ • BavariaFest • Maple Mornings • Halloween
Cherry Blossom Festival • Summer Luau • Starlight BBQ • Comet Con • Sugarplex Film Fest • Halloween • Thanksgiving • Christmas • New Year • Valentine's Day • St. Paddy's Day • Easter
Cinco de Mayo • Summer Luau • Starlight BBQ • Groovstock • Maple Mornings • Halloween • Thanksgiving • Christmas • New Year • Valentine's Day • St. Paddy's Day • Easter
Holi • Cherry Blossom Festival • Onionfest • Summer Luau • Starlight Jubilee • Baseball Season • Big Top Carnival • Halloween • Thanksgiving • Christmas • New Year • Valentine's Day
Holi • Cherry Blossom Festival • Onionfest • Summer Luau • Starlight Jubilee • Baseball Season • Big Top Carnival • Halloween • Thanksgiving • Christmas • New Year • Valentine's Day
Holi • Easter • Cinco de Mayo • Summer Luau • Starlight Jubilee • Baseball Season • Big Top Carnival • Halloween • Thanksgiving • Christmas • New Year • Valentine's Day
Summer Luau • Starlight Jubilee • BavariaFest • Pirate Bash • Halloween • Thanksgiving • Christmas • New Year • Valentine's Day • St. Paddy's Day • Cherry Blossom Festival • Cinco de Mayo
Onionfest • Summer Luau • Starlight BBQ • BavariaFest • Maple Mornings • Halloween • Thanksgiving • Christmas • New Year • Mardi Gras • Lucky Lucky Matsuri • Big Top Carnival