GTA: The Criminal Enterprises - The Loop
Play Sound

Holi is a holiday celebrated in Papa's Scooperia/HD/To Go! and Papa's Cheeseria To Go!. Upon reaching this holiday, Mindy makes her first appearance as well.
Stickers such as "Colorful Scoops" or "Festival of Colors" are earned when all of the Holi exclusive ingredients are unlocked.
Customers bring in Holi pumps to celebrate the holiday.
From the Flipline Studios Blog
Happy Holi Everyone!
Known as the Festival of Color, Holi is celebrated across most of India. It starts this evening and ends tomorrow night. People celebrate this holiday by covering each other in colorful powder and dyed water. The wild festivities usually leaves both the people and the town covered in a smattering of vivid colors.
We thought today would be the perfect time to announce that Holi will be making its debut as a holiday in Papa's Scooperia! Expect lots of color around town while unlocking the sweet flavors of India!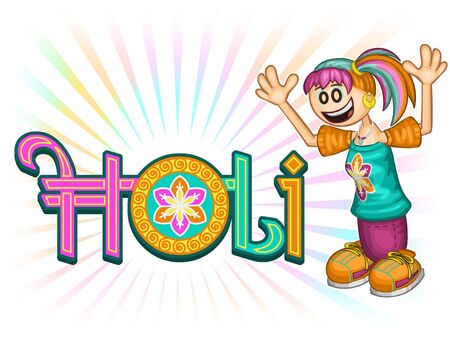 Stay tuned for more sneak peeks of Papa's Scooperia! [1]
Customers who favor this holiday
Holi-Exclusive Ingredients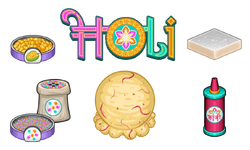 Trivia
Holi is celebrated across most of India. It starts during the first full moon day of the month of Phālguna in the Hindu calendar and ends the next evening, in the Gregorian calendar the date varies.
The theme icon for this holiday is .
Gallery
Cities during Holi
Posters
Appears in
Picture
Bonus
Points
Theme
Cost
Papa's Scooperia/HD/To Go!
Cheeseria To Go!

Waiting Bonus
20 Points
Earned in Mini-Game (Scooperia/HD/To Go!)
$45.00 (Cheeseria To Go!)
v • e

Holidays

Valentine's Day • St. Paddy's Day • Easter • OnionFest • Summer Luau • Starlight Jubilee • Baseball Season • Pirate Bash • Halloween • Thanksgiving • Christmas • New Year
Chilifest • Summer Luau • Starlight Jubilee • Neptune's Feast • Gondola 500 • Halloween • Thanksgiving • Christmas • New Year • Valentine's Day • St. Paddy's Day • Romano Wedding
Maple Mornings • Halloween • Thanksgiving • Christmas • New Year • Valentine's Day • St. Paddy's Day • Easter • Big Top Carnival • Summer Luau • Starlight Jubilee • Sky Ninja Returns
Cinco de Mayo • Summer Luau • Starlight BBQ • Portallini Feast • Maple Mornings • Halloween • Thanksgiving • Christmas • New Year • Valentine's Day • St. Paddy's Day • Easter
Valentine's Day • St. Paddy's Day • Easter • Cinco de Mayo • Summer Luau • Starlight Jubilee • Big Top Carnival • Comet Con • Halloween • Thanksgiving • Christmas • New Year
Valentine's Day • St. Paddy's Day • Easter • Cherry Blossom Festival • Summer Luau • Starlight Jubilee • Sugarplex Film Fest • Maple Mornings • Halloween • Thanksgiving • Christmas • New Year
New Year • Valentine's Day • St. Paddy's Day • Easter • Cherry Blossom Festival • Summer Luau • Starlight Jubilee • Comet Con • Grōōvstock • Halloween • Thanksgiving • Christmas
Starlight BBQ • Portallini Feast • Maple Mornings • Halloween • Thanksgiving • Christmas • New Year • Valentine's Day • St. Paddy's Day • Easter • Cherry Blossom Festival • Summer Luau
Cherry Blossom Festival • Cinco de Mayo • Summer Luau • Starlight BBQ • BavariaFest • Maple Mornings • Halloween • Thanksgiving • Christmas • New Year • Valentine's Day • Lucky Lucky Matsuri
Starlight BBQ • BavariaFest • Maple Mornings • Halloween • Thanksgiving • Christmas • New Year • Valentine's Day • St. Paddy's Day • Easter • Big Top Carnival • Summer Luau
Summer Luau • Starlight Jubilee • Sugarplex Film Fest • Grōōvstock • Halloween • Thanksgiving • Christmas • New Year • Valentine's Day • St. Paddy's Day • Easter • Cinco de Mayo
Thanksgiving • Christmas • New Year • Valentine's Day • Lucky Lucky Matsuri • Easter • Cinco de Mayo • Summer Luau • Starlight BBQ • BavariaFest • Maple Mornings • Halloween
Cherry Blossom Festival • Summer Luau • Starlight BBQ • Comet Con • Sugarplex Film Fest • Halloween • Thanksgiving • Christmas • New Year • Valentine's Day • St. Paddy's Day • Easter
Cinco de Mayo • Summer Luau • Starlight BBQ • Grōōvstock • Maple Mornings • Halloween • Thanksgiving • Christmas • New Year • Valentine's Day • St. Paddy's Day • Easter
Holi • Cherry Blossom Festival • OnionFest • Summer Luau • Starlight Jubilee • Baseball Season • Big Top Carnival • Halloween • Thanksgiving • Christmas • New Year • Valentine's Day
Holi • Cherry Blossom Festival • OnionFest • Summer Luau • Starlight Jubilee • Baseball Season • Big Top Carnival • Halloween • Thanksgiving • Christmas • New Year • Valentine's Day
Holi • Easter • Cinco de Mayo • Summer Luau • Starlight Jubilee • Baseball Season • Big Top Carnival • Halloween • Thanksgiving • Christmas • New Year • Valentine's Day
Summer Luau • Starlight Jubilee • BavariaFest • Pirate Bash • Halloween • Thanksgiving • Christmas • New Year • Valentine's Day • St. Paddy's Day • Cherry Blossom Festival • Cinco de Mayo
OnionFest • Summer Luau • Starlight BBQ • BavariaFest • Maple Mornings • Halloween • Thanksgiving • Christmas • New Year • Mardi Gras • Lucky Lucky Matsuri • Big Top Carnival
Maple Mornings • Halloween • Thanksgiving • Christmas • New Year • Mardi Gras • St. Paddy's Day • Easter • Sugarplex Film Fest • Summer Luau • Starlight Jubilee • Sky Ninja Returns
Cinco de Mayo • Summer Luau • Starlight BBQ • Portallini Feast • Pirate Bash • Halloween • Thanksgiving • Christmas • New Year • Valentine's Day • Holi • Easter
New Year • Valentine's Day • St. Paddy's Day • Easter • Big Top Carnival • Summer Luau • Starlight Jubilee • Sugarplex Film Fest • Grōōvstock • Halloween • Thanksgiving • Christmas
Cherry Blossom Festival • Cinco de Mayo • Summer Luau • Starlight BBQ • Portallini Feast • Comet Con • Halloween • Thanksgiving • Christmas • New Year • Valentine's Day • Lucky Lucky Matsuri
Chilifest • Summer Luau • Starlight Jubilee • Neptune's Feast • Gondola 500 • Halloween • Thanksgiving • Christmas • Lunar New Year • Mardi Gras • St. Paddy's Day • Romano Wedding
Halloween • Thanksgiving • Christmas • New Year • Valentine's Day • St. Paddy's Day • Cherry Blossom Festival • Cinco de Mayo • Summer Luau • Starlight Jubilee • Grōōvstock • Sugarplex Film Fest
Starlight BBQ • BavariaFest • Maple Mornings • Day of the Dead • Thanksgiving • Christmas • New Year • Valentine's Day • Lucky Lucky Matsuri • Easter • Comet Con • Summer Luau