Fire Emblem Warriors: Three Hopes - The Loop
Play Sound
Hope is a female customer who made her first appearance in Papa's Pastaria. She's a fan-made customer selected by fans in Kingsley's Customerpalooza 2013, created by Flipline Forum user Colorinda.
Appearance
Hope has long, wavy loose black hair, blue eyeshadow, and tan skin. She wears a gray star tank-top underneath a black leather jacket, a blue knit hat, black and white pinstriped pants, and light blue sneakers with white accents, laces, and soles.
Clean-Up
Her skin got tanner, her hair is slightly more detailed and has visible lighter streaks.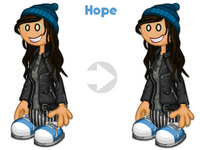 Styles
Style B
Hope doesn't wear her hat, but she wears a blue turtleneck sweater under a leather vest, white and blue pinstripe pants, and black and white shoes with blue laces and black soles.
Kingsley's Customerpalooza 2013
On her way to winning the first KCP, Hope received more votes than:
Lizzy in Round 1 of the Tacodale Division (2,578-1,096)
Kya in the Tacodale Division Finals (2,742-758)
Emmy in Round 2 of the Semi-Finals (3,267-2,116)
Amber in the Final Four (2,883-1,798)
Dice in the Grand Finals (4,396-2,675)
Orders
Regular Gnocchi
Papa's Marinara Sauce
Grated Mozzarella
4 Meatballs
Focaccia
Holiday (Starlight Jubilee)
Regular Gnocchi
Rocket Ragu
Grated Mozzarella
4 Meatballs
1 Provolone Star
Focaccia
Medium Cup
Birthday Cake
Purple Burple Syrup
Regular Blend
Whipped Cream
Strawberry Topping
Sprinkles
3 Cherries
Regular Ring Donut with Blueberry Custard

Sky Blue Icing
Cosmic Coconut

Red Velvet French Cruller with Cookie Dough Cream

Powdered Sugar
Rainbow Sprinkles

Regular Long John with Strawberry Jelly

Strawberry Icing
Blue Moon Drizzle
Rainbow Sprinkles
Holiday (New Year)
Regular Ring Donut with Blueberry Custard

Sky Blue Icing
Cosmic Coconut

Red Velvet French Cruller with Boston Cream

Powdered Sugar
Rainbow Sprinkles

Regular Infinity Loop Donut with Tutti Frutti Jelly

Strawberry Icing
Flavor X Drizzle
Countdown Crunch
4 Smoky Bacon Chicken Strips
4 Curly Fries (left)
2 Potato Skins (right)
2 Kung Pao Dips
8 Provolone Cheese (all)
6 Meatballs (right half, top right)
6 Bacons (left half, bottom right)
Regular Bake
4 Slices
Ciabatta with Shredded Mozzarella
Well-Done Grill
Bacon
Sauteed Onions
Bacon
Sauteed Onions
Fries:
Holiday (Portallini Feast)
Ciabatta with Shredded Mozzarella
Well-Done Grill
Meatballs
Sauteed Onions
Meatballs
Sauteed Onions
Marinara Sauce
Fries:
Liner B
Strawberry Cake
Cupcake 1:

Teal Frosting
Blue Moon Drizzle
Rainbow Sprinkles
Frosted Flower

Cupcake 2:

Dark Blue Frosting
Vanilla Drizzle
Rainbow Sprinkles
Frosted Flower
Holiday (Starlight Jubilee) 
Liner B
Strawberry Cake
Cupcake 1:

Teal Frosting
Jubilee Jelly Drizzle
Rainbow Sprinkles
Frosted Flower
Candy Rocket

Cupcake 2:

Dark Blue Frosting
Vanilla Drizzle
Silver Star Sprinkles
White Chocolate Star
Liner B
Strawberry Cake
Cupcake 1:

Teal Frosting
Blue Moon Drizzle
Rainbow Sprinkles
Frosted Flower, Cherry, Frosted Flower

Cupcake 2:

Dark Blue Frosting
Vanilla Drizzle
Rainbow Sprinkles
Frosted Flower
Holiday (Starlight Jubilee)
Liner A
Strawberry Cake
Cupcake 1:

Teal Frosting
Jubilee Jelly Drizzle
Rainbow Sprinkles
Frosted Flower, Candy Rocket, Frosted Flower

Cupcake 2:

Dark Blue Frosting
Vanilla Drizzle
Silver Star Sprinkles
White Chocolate Star
Traditional Crust
Key Lime Filling
Strawberry Filling
Strawberry Filling
Strawberry Filling
Streusel Topping
Blueberries (All Over)
8 Grape Jelly Cookies (Inner Ring)
8 Blueberry Pie-Tarts (Outer Ring)
Holiday (Starlight Jubilee)
Traditional Crust
Key Lime Filling
Strawberry Filling
Strawberry Filling
Strawberry Filling
Streusel Topping
Blueberries (All Over)
8 White Chocolate Stars (Inner Ring)
8 Blueberry Pie-Tarts (Outer Ring)
Azul Ranch Taco with Beef
Ancho Chile Sauce
Lettuce
Cheese
Onions
Sour Cream
Chips:

Traditional Chips
Pico de Gallo
Holiday (Christmas)
Azul Ranch Taco with Beef
Chimichurri
Lettuce
Cheese
Onions
Sour Cream
Chips:

Traditional Chips
Pico de Gallo
Nori with Black Rice
Not Flipped

Carrots
Cucumber Slices
Tamago

Kiwi Slices
Yuzu Kosho
Bubble Tea:

Taro Tea with Watermelon Bubbles
Holiday (Halloween)
Nori with Black Rice
Not Flipped

Carrots
Cucumber Slices
Tamago

Kiwi Slices
Squid Sauce
Bubble Tea:

Witch's Brew Tea with Watermelon Bubbles
2 Pecan Pancakes
Strawberry Syrup
Chocolate Chips
1 Butter

Small Orange Juice with Ice
Holiday (New Year)
2 Pecan Pancakes
Strawberry Syrup
Countdown Crunch
1 Butter

Small Sparkling Grape Juice with Ice
Thick Crust
Olive Oil
Papa's Cheese Blend
6 Bacons (left and bottom right)
6 Meatballs (top left and right)
8 Gorgonzolas
Regular Bake
4 Slices
Holiday (BavariaFest)
Thick Crust
Bierkäse Sauce
Papa's Cheese Blend
6 Schnitzels (left, bottom right)
6 Meatballs (top left, right)
8 Gorgonzolas
Regular Bake
4 Slices
Cheddarwurst on a Chicago Bun
Marinara Sauce
Wild Onion Sauce
Bacon
Drink and Popcorn:

Small Root Beer
Large Kettle Corn
Holiday (Christmas)
Cheddarwurst on a Fruitcake Bun
Marinara Sauce
Wild Onion Sauce
Bacon
Drink and Popcorn:

Small Dr. Dasher
Large Kettle Corn
Traditional Cookie with Blackberry Bark
Traditional Cookie with Blueberries
Oatmeal Cookie with Raisins
Whipped Cream
Strawberry Syrup
Rainbow Sprinkles
Cherry, Blueberry Swizzle, Cherry
Holiday (Starlight Jubilee)
Traditional Cookie with Blackberry Bark
Traditional Cookie with Crackle Crumbs
Oatmeal Cookie with Raisins
Whipped Cream
Strawberry Syrup
Star Sprinkles
Cherry, Candy Rocket, Cherry
4 Parmesan Chicken Strips (all)
4 French Fries (all)
2 Kung Pao Dips
Holiday (Big Top Carnival)
4 Salted Caramel Chicken Strips (all)
4 French Fries (all)
2 Kung Pao Dips
Red Velvet French Cruller with Cookie Dough Cream

Powdered Sugar
Rainbow Sprinkles

Regular French Cruller

Blue Nimbus Icing
Strawberry Drizzle
Cosmic Coconut

Regular Long John with Blueberry Custard

Strawberry Icing
Blue Moon Drizzle
Holiday (New Year)
Red Velvet French Cruller with Cookie Dough Cream

Powdered Sugar
Rainbow Sprinkles

Regular French Cruller with Tutti Frutti Jelly

Blue Nimbus Icing
Flavor X Drizzle
Cosmic Coconut

Regular Long John with Blueberry Custard

Strawberry Icing
Creameo Drizzle
Ciabatta with Shredded Mozzarella
Well-Done Grill
Bacon
Sauteed Onions
Bacon
Sauteed Onions
Fries:
Holiday (Portallini Feast)
Ciabatta with Shredded Mozzarella
Well-Done Grill
Meatballs
Sauteed Onions
Meatballs
Sauteed Onions
Marinara Sauce
Fries:

Curly Fries
Marinara Sauce
Ranch
Regular Gnocchi
Papa's Marinara Sauce
Grated Mozzarella
4 Meatballs
Focaccia
Holiday (Halloween)
Regular Vermicelli
Papa's Marinara Sauce
Cauldron Powder
4 Meatballs
Focaccia
Small Cup
1 shot of City Roast
3 shots of Hot Strawberry Milk
Whipped Cream
Blue Nimbus Syrup
Rainbow Sprinkles
Cannoli:

Classic Cannoli Shell
Strawberry Cream
Mini Mallows
Holiday (Christmas)
Small Cup
1 shot of City Roast
3 shots of Hot Strawberry Milk
Snowpuff
Blue Nimbus Syrup
Elf Sugar
Cannoli:

Classic Cannoli Shell
Strawberry Cream
Mini Mallows
Classic Bun
Schnitzel with Cheez Puff Breading
Bacon
Provolone Cheese
Marinara Sauce
Onion
Small Slush

Watermelon Slush
Purple Burple Slush
Holiday (BavariaFest)
Classic Bun
Schnitzel with Cheez Puff Breading
Bacon
Provolone Cheese
Bierkäse
Onion
Small Slush

Watermelon Slush
Purple Burple Slush
Ranks required to unlock her
Unlockables
Stickers
| Sticker Number | Name | Achievement | Sticker Earned |
| --- | --- | --- | --- |
| 47 | Recipe Collection | Earn 15 Special Recipes from customers | |
| 58 | Syrup Sampler | Unlock all of the Standard Syrups and Creams | |
| 3 | Fall Harvest | Reach Autumn | |
| Sticker Number | Name | Achievement | Sticker Earned |
| --- | --- | --- | --- |
| 9 | Thankful | Unlock all Thanksgiving toppings | |
| 26 | Build Expert | Get a 100% Building Score on 20 orders | |
| 70 | Ancho Romano | Add Ancho Chile Sauce to Bruna Romano's taco | |
| Sticker Number | Name | Achievement | Sticker Earned |
| --- | --- | --- | --- |
| 12 | Thankful | Unlock all Thanksgiving toppings | |
| 47 | Recipe Collection | Earn 15 Special Recipes from customers | |
| 68 | The Amberjanana | Serve The Amberjack Special to Janana | |
| Sticker Number | Name | Achievement | Sticker Earned |
| --- | --- | --- | --- |
| 13 | Playing Cupid | Unlock all Valentine's Day toppings | |
| 11 | Holiday Hotcakes | Unlock all Christmas toppings | |
| 80 | Holiday Outfit | Wear a shirt, belt, jacket, pants, and hat to match the current holiday | |
| Sticker Number | Name | Achievement | Sticker Earned |
| --- | --- | --- | --- |
| 75 | Philly Fitz | Add Philly Steak to Professor Fitz's order | |
| 78 | Santa's Helper | Serve 20 customers during Christmas wearing a Christmas Hat and Fur Parka | |
| 45 | Rare Reward | Win a Rare Bonus Prize in a Mini-Game by earning a Star Medal | |
| Sticker Number | Name | Achievement | Sticker Earned |
| --- | --- | --- | --- |
| 47 | Recipe Collection | Earn 15 Special Recipes from customers | |
| 65 | Zoe Zwiebelwurst | Serve a Wild Zwiebelwurst Special to Zoe | |
| 53 | Griller Guru | Unlock all of the Meats | |
| Sticker Number | Name | Achievement | Sticker Earned |
| --- | --- | --- | --- |
| 57 | Drizzling Dynamo | Unlock all of the Standard Syrups | |
| 84 | Get the Tables! | Fill your lobby with any 12 large tables | |
| 10 | Play Ball | Unlock all Baseball Season toppings | |
| Sticker Number | Name | Achievement | Sticker Earned |
| --- | --- | --- | --- |
| 58 | Drizzling Dynamo | Unlock all of the Standard Syrups | |
| 85 | Get the Tables! | Fill your lobby with any 12 large tables | |
| 10 | Play Ball | Unlock all Baseball Season toppings | |
| Sticker Number | Name | Achievement | Sticker Earned |
| --- | --- | --- | --- |
| 39 | Romano Family | Serve everyone in the Romano Family Quartet | |
| 72 | Raspberry Romano | Add Raspberries to Bruna Romano's order | |
| 65 | Deano Delight | Serve a Daybreak Delight Special to Deano | |
| Sticker Number | Name | Achievement | Sticker Earned |
| --- | --- | --- | --- |
| 83 | Color Coordinated | Dress your chef and server in the exact same outfit but with different colors | |
| 17 | Make 'Em Wait | Serve the first customer last | |
| 89 | Wasted Wings | Leave Wings cooking in all fryer baskets at the end of the day | |
| Sticker Number | Name | Achievement | Sticker Earned |
| --- | --- | --- | --- |
| 77 | Holiday Spirit | Serve 100 customers while wearing clothing that matches the season | |
| 59 | Powder Pointer | Serve a Powder Point Special to Rudy | |
| 88 | Coupon Clipper | Send 10 Customer Coupons to your customers | |
| Sticker Number | Name | Achievement | Sticker Earned |
| --- | --- | --- | --- |
| 2 | Fall Harvest | Reach Autumn | |
| 85 | Dance Party | Use lots of musical furniture so 3 or more customers are dancing in the lobby | |
| 79 | Daredevil | Serve Boomer while wearing a Stunt Helmet and Cape | |
| Sticker Number | Name | Achievement | Sticker Earned |
| --- | --- | --- | --- |
| 11 | Patriotic | Unlock all Starlight Jubilee toppings | |
| 79 | Daredevil | Serve Boomer while wearing a Stunt Helmet and Cape | |
| 45 | Rare Reward | Win a Rare Bonus Prize in a Mini-Game by earning a Star Medal | |
| Sticker Number | Name | Achievement | Sticker Earned |
| --- | --- | --- | --- |
| 74 | Momo Mesa | Use Momoiro Soy Paper for Mesa's sushi | |
| 72 | Miso Sasha Shiso | Use Shiso Rice and Ginger Miso Sauce on Sasha's sushi | |
| 65 | Roly Romano | Serve a Roly Mackerel Special to Bruna Romano | |
| Sticker Number | Name | Achievement | Sticker Earned |
| --- | --- | --- | --- |
| 82 | Holiday Outfit | Wear a shirt, belt, jacket, pants, hat, and shoes to match the current holiday | |
| 18 | Hot and Ready | Have Quinn's order ready when she arrives and serve immediately | |
| 89 | Bye Bye Bread | Throw away 5 toasted breads in one day | |
| Sticker Number | Name | Achievement | Sticker Earned |
| --- | --- | --- | --- |
| 68 | Butterfly for Sky | Serve a Butterfly Matchiato Special to Skyler | |
| 79 | Santa's Helper | Serve 20 customers during Christmas wearing a Christmas Hat and Fur Parka | |
| 24 | Order Expert | Get a 100% Waiting Score on 20 orders | |
| Sticker Number | Name | Achievement | Sticker Earned |
| --- | --- | --- | --- |
| 61 | Peggy Alla Pizzaiola | Serve a Cotolette Alla Pizzaiola Special to Peggy | |
| 22 | Silver Medal | Earn 10 Silver Customer Awards | |
| 36 | New Coat of Paint | Buy any 4 Flooring or Wallpaper from the Shop | |
Earn all three stickers in any of the above games to unlock this outfit:
Trivia
Order Tickets
Gallery
Prepared Orders
Perfect Orders
Promotional Images
Others
Fan Art