Fire Emblem Warriors: Three Hopes - The Loop
Play Sound
Hugo is a male customer who made his first appearance in Papa's Pizzeria.
Flipdeck Info
Hometown: Tastyville
Loves: Honey Mustard
Hates: Scratched Vinyl
Occupation: DJ/Shop Owner
Hugo is a local DJ and avid record collector. On Wednesday and Friday nights, he's known as DJ Honey Buster at Club Atomic in downtown Tastyville. During the day, he runs Hugo's Warped Records, a small shop specializing in rare vinyl records and music merchandise. One of his prized records is the first single of the Romano Family Quartet, "A Walk in the Field", which is a classic country single.
Appearance
Hugo has tanned skin and a nearly bald head. He wears a matching two-piece brown tracksuit with white lines on each side over a white shirt, brown pants with white lines, and white sneakers with brown laces and soles. He also wears brown-rimmed shades with rose lenses.
Clean-Up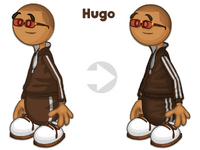 His outfit got remodeled. The lines in his tracksuit are now two and he wears a gray shirt underneath his tracksuit.
Styles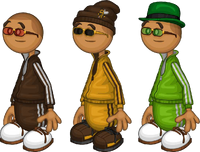 Style B
He wears a golden yellow tracksuit with two brown vertical stripes over a brown shirt, and golden yellow pants with brown lines. He wears a brown knit hat with the Honey Mustard logo printed on it, gold-rimmed sunglasses with black lenses, and brown sneakers with gold streaks, black laces, and black soles.
St Paddy's Day Outfit
He wears a green fedora with a black rim, a green tracksuit with white stripes on the sleeves over a white shirt, green pants with white stripes, and brown glasses with green shades.
Orders
4 Sausages (right)
4 Green Peppers (bottom right)
30 minutes (1/2 of meter)
6 Slices
Bottom Bun
Pickle
Tomato
Pickle
Medium Patty
Medium Patty
Top Bun
Pita Bread with Steak
Black Beans
Guacamole
Loco Mystery Sauce
Cheese
Jalapeños
Large Cup
Nutty Butter Cups
Chocolate Syrup
Regular Blend
Whipped Cream
Chocolate Chips
Cherry
Bottom Bun
Pickle
Onion Ring
Well-Done Patty
Well-Done Patty
Mushrooms
Awesome Sauce
Top Bun
6 Honey Mustard Chicken Strips (all)
6 Atomic Boneless Wings (all)
2 Awesome Sauce Dips
Italian Sausage in a Chicago Bun
Fajita Veggies
Sauerkraut
Marinara Sauce
3 Tomato Wedges
Drink and Popcorn:

Large Dr. Cherry
Large Red Hot Popcorn
Liner B
Chocolate Cake
Cupcake 1:

Chocolate Frosting
Chocolate Drizzle
Chocolate Chips
Nutty Butter Cup

Cupcake 2:

White Frosting
Creameo Bits
3 Cherries
Holiday (Valentine's Day)
Liner B
Chocolate Cake
Cupcake 1:

Chocolate Frosting
Chocolate Drizzle
Chocolate Chips
Nutty Butter Cup

Cupcake 2:

White Frosting
Creameo Bits
3 Chocolate Strawberries
Medium Cup
Nutty Butter Cups
Chocolate Syrup
Regular Blend
Whipped Cream
Chocolate Chips
Waffle Cone Wedge, Cherry, Waffle Cone Wedge
Regular Radiatori
Garlic Basil
Black Pepper
7 Sausages
6 Tomatoes
Pepperoni Bread
Holiday (Valentine's Day)
Regular Radiatori
Garlic Basil
Black Pepper
7 Sausages
6 Cherry Tomatoes
Pepperoni Bread
Medium Cup
Cookie Dough
Chocolate Syrup
Regular Blend
Chocolate Whipped Cream
Chocolate Chips
3 Waffle Cone Wedges
Cherry
Chocolate Long John with Chocolate Mousse

Cinnamon Sugar
Mini Mallows

Regular Round Donut

Chocolate Icing
Vanilla Drizzle

Chocolate Long John with Boston Cream

Powdered Sugar
Chocolate Chips
Holiday (Maple Mornings)
Chocolate Long John with Chocolate Mousse

Maple Icing
Honey Drizzle
Bacobites

Regular Waffle Donut

Maple Icing
Vanilla Drizzle

Chocolate Long John with Boston Cream

Powdered Sugar
Chocolate Chips
6 Honey Mustard Chicken Strips (All)
6 Thai Chili Boneless Wings (All)
2 Awesome Sauce Dips
6 Sausages (left)
4 Green Peppers (right)
4 Tomatoes (left)
4 Capicola (right)
Regular Bake
8 Slices
Wheat Bread with Shredded Cheddar
Well-Done Grill
Philly Steak
Jalapeños
Philly Steak
Deep-Fried Pickles
Honey Mustard
Fries:

Crinkle Cut Fries
Awesome Sauce
Jalapeños
Holiday (New Year)
Cheddar Swirl Bread with Shredded Cheddar
Philly Steak
Jalapenos
Philly Steak
Deep-Fried Pickles
Honey Mustard
Fries:

Crinkle Cut Fries
Awesome Sauce
Jalapeños
Liner B
Chocolate Cake
Chocolate Frosting
Cupcake 1:

Chocolate Drizzle
Chocolate Chips
Nutty Butter Cup
Nutty Butter Cup

Cupcake 2:

Vanilla Drizzle
Creameo Bits
Cherry
Cherry
Holiday (Valentine's Day)
Liner B
Chocolate Cake
Cupcake 1:

Chocolate Drizzle
Chocolate Chips
Nutty Butter Cup
Nutty Butter Cup

Cupcake 2:

Vanilla Drizzle
Creameo Bits
Chocolate Strawberry
Chocolate Strawberry
Peanut Butter Swirl Crust
Fudge Filling
Fudge Filling
Fudge Filling
Fudge Filling
Chocolate Crumb Topping
White Chocolate Syrup (All Over)
8 Chocolate Mousse Dollops (Inner Ring)
8 Butterscotch Smooches (Outer Ring)
Holiday (Thanksgiving)
Peanut Butter Swirl Crust
Fudge Filling
Fudge Filling
Fudge Filling
Fudge Filling
Chocolate Crumb Topping
White Chocolate Syrup (All Over)
8 Harvest Leaf Cookies (Inner Ring)
8 Chocolate Acorns (Outer Ring)
Pita Bread with Steak
Cheese
Guacamole
Jalapeños
Guacamole
Loco Mystery Sauce
Chips:

Spicy Twists
Pico de Gallo Dip
Holiday (St. Paddy's Day)
Cilantro Lime Soda Shell with Steak
Cheese
Guacamole
Avocado
Guacamole
Chips:

Spicy Twists
Pico de Gallo Dip
Nori with Brown Rice
Flipped
Avocado
Yum Yum Sauce
Bubble Tea:

Almond Tea with Tapioca Pearls
Holiday (BavariaFest)
Nori with Brown Rice
Flipped

Bratwurst
Snow Peas
Carrots

Brezn
Sauerkraut
Yum Yum Sauce
Bubble Tea:

Almond Tea with Tapioca Pearls
Pita Bread with Steak
Cheese
Guacamole
Jalapeños
Guacamole
Loco Mystery Sauce
Chips:

Spicy Twists
Pico de Gallo Dip
Holiday (BavariaFest)
Pretzel Crisp with Bratwurst
Cheese
Spätzle
Jalapeños
Spätzle
Chips:

Spicy Twists
Pico de Gallo Dip
Bacon Waffle
Honey
Bacon Waffle
Honey
3 Butters
Drink:
Holiday (Grōōvstock)
Bacon Waffle
Salted Caramel Drizzle
Bacon Waffle
Honey
3 Butters
Drink:
Thick Crust
Rustic Romana with Papa's Cheese Blend
4 Capicola (right)
6 Sausages (left)
4 Green Peppers (all)
4 Tomatoes (left)
Regular Bake
8 Slices
Holiday (New Year)
Thick Crust
Rustic Romana with Papa's Cheese Blend
4 Cheez Puffs (right)
6 Sausages (left)
4 Green Peppers (all)
4 Tomatoes (left)
Regular Bake
8 Slices
Italian Sausage on a Chicago Bun
Fajita Veggies
Sauerkraut
Marinara Sauce
3 Tomatoes
Drink and Popcorn:

Large Dr. Cherry
Large Red Hot Popcorn
Holiday (St. Paddy's Day)
Italian Sausage on a Chicago Bun
Fajita Veggies
Sauerkraut
Irish Parsley Sauce
3 Tomatoes
Drink and Popcorn:

Large Shamrock Splash
Large Paddy Popcorn
Fudge Cookie with Peanuts
Peanut Butter Cookie with Butterzinger Bits
Fudge Cookie with Toffee Chunks
Chocolate Mousse
Shaved Chocolate
Cookie Dough Bits
3 Waffle Cones
Holiday (Baseball Season)
Fudge Cookie with Peanuts
Peanut Butter Cookie with Sunflower Seeds
Fudge Cookie with Toffee Chunks
Peanut Butter Fluff
Shaved Chocolate
Cookie Dough Bits
3 Waffle Cones
Bacon Waffle
Honey
Bacon Waffle
Honey
3 Butters
Drink:
Holiday (Pirate Bash)
Bacon Waffle
Honey
Bacon Waffle
Honey
Black Pearl Crisps
3 Butters
Drink:
6 Honey Mustard Chicken Strips (Right)
3 Thai Chili Boneless Wings (Left)
3 French Fries (Left)
2 Awesome Sauce Dips
Holiday (OnionFest)
6 Honey Mustard Chicken Strips (Right)
3 Wild Onion Boneless Wings (Left)
3 Cocktail Onions (Left)
2 Awesome Sauce Dips
Regular Round Donut

Cinnamon Sugar
Chocolate Drizzle

Chocolate Long John with Chocolate Mousse

Chocolate Icing
Vanilla Drizzle
Mini Mallows

Chocolate Long John

Powdered Sugar
Chocolate Chips
Holiday (Maple Mornings)
Regular Round Donut

Cinnamon Sugar
Chocolate Drizzle

Chocolate Long John with Chocolate Mousse

Maple Icing
Honey Drizzle
Bacobites

Chocolate Waffle Donut

Powdered Sugar
Chocolate Chips
Nori with Brown Rice
Flipped
Avocado
Yum Yum Sauce
Bubble Tea:

Almond Tea with Tapioca Pearls
Holiday (Portallini Feast)
Nori with Brown Rice
Flipped

Spinach Ricotta
Snow Peas
Carrots

Capicola
Parmesan Cheese
Yum Yum Sauce
Bubble Tea:

Almond Tea with Tapioca Pearls
Regular Radiatori
Garlic Basil
Black Pepper
7 Sausages
6 Tomatoes
Pepperoni Bread
Holiday (Mardi Gras)
Regular Radiatori
Garlic Basil
Black Pepper
7 Sausages
6 Gator Bites
Pepperoni Bread
Large Cup
3 shots of Hot Chocolate Milk
3 shots of French Roast
Salted Caramel Syrup
Cinnamon Sugar
Cannoli:

Chocolate Cannoli Shell
Chocolate Mousse
Cocoa Powder
Holiday (Grōōvstock)
Large Cup
3 shots of Hot Golden Milk
3 shots of French Roast
Salted Caramel Syrup
Cinnamon Sugar
Cannoli:

Chocolate Cannoli Shell
Chocolate Mousse
Cocoa Powder
Sesame Bun
Pickles
Jalapeños
Chicken Patty with Pretzel Crust Breading
Honey Mustard Sauce
Onion Straws
Pickles
Medium Slush

Black Cherry Slush
Cream Soda Slush
Holiday (BavariaFest)
Pretzel Bun
Sauerkraut
Jalapeños
Chicken Patty with Pretzel Crust Breading
Honey Mustard Sauce
Onion Straws
Bratwurst
Medium Slush

Black Cherry Slush
Cream Soda Slush
Ranks required to unlock him
Unlockables
Stickers
| Sticker Number | Name | Achievement | Sticker Earned |
| --- | --- | --- | --- |
| 4 | Winter Wonderland | Reach Winter | |
| 75 | Santa's Helper | Serve a 20 customers during Christmas wearing a Christmas Hat and Fur Parka | |
| 16 | Holiday Pies | Unlock all Christmas toppings | |
| Sticker Number | Name | Achievement | Sticker Earned |
| --- | --- | --- | --- |
| 20 | Bronze Beginning | Earn 5 Bronze Customer Awards | |
| 38 | New Threads | Change your worker's shirt, pants, hat, jacket, and shoes | |
| 35 | Updated Wardrobe | Buy any 8 Clothing items from the Shop | |
| Sticker Number | Name | Achievement | Sticker Earned |
| --- | --- | --- | --- |
| 35 | Updated Wardrobe | Buy any 8 Clothing items from the Shop | |
| 31 | Piggy Bank | Don't spend any money in the Shop for 7 days | |
| 19 | Preferential Treatment | Have Whiff's order ready when he arrives and serve immediately | |
| Sticker Number | Name | Achievement | Sticker Earned |
| --- | --- | --- | --- |
| 8 | Musical Morning | Unlock all Groovstock toppings | |
| 70 | Honey Zak | Add Honey to Hacky Zak's order | |
| 37 | Upgrade Master | Buy all of the Upgrades in the Shop | |
| Sticker Number | Name | Achievement | Sticker Earned |
| --- | --- | --- | --- |
| 32 | One-Stop Shopping | Buy any 50 items from the Shop | |
| 78 | Santa's Helper | Serve 20 customers during Christmas wearing a Christmas Hat and Fur Parka | |
| 29 | Award-Winning Pizza | Get 5 Blue Ribbons from Jojo the Food Critic | |
| Sticker Number | Name | Achievement | Sticker Earned |
| --- | --- | --- | --- |
| 37 | Upgrade Master | Buy all of the Upgrades in the Shop | |
| 16 | Easter Basket | Unlock all Easter toppings | |
| 28 | Perfect! | Get a Perfect Score on 30 orders | |
| Sticker Number | Name | Achievement | Sticker Earned |
| --- | --- | --- | --- |
| 70 | Go Nuts | Add Pistachios to Hugo's sundae | |
| 38 | New Threads | Change your worker's shirt, pants, hat, and shoes | |
| 59 | Ninjapolitan | Serve a Neapolitan Special to Joy | |
| Sticker Number | Name | Achievement | Sticker Earned |
| --- | --- | --- | --- |
| 71 | Go Nuts | Add Pistachios to Hugo's sundae | |
| 38 | New Threads | Change your worker's shirt, pants, hat, and shoes | |
| 60 | Ninjapolitan | Serve a Neapolitan Special to Joy | |
| Sticker Number | Name | Achievement | Sticker Earned |
| --- | --- | --- | --- |
| 53 | Mixable Master | Unlock all of the Grill Mixables | |
| 6 | Patriotic | Unlock all Starlight Jubilee toppings | |
| 83 | Dance Party | Use lots of musical furniture so 3 or more customers are dancing in the lobby | |
| Sticker Number | Name | Achievement | Sticker Earned |
| --- | --- | --- | --- |
| 68 | Hugo en Fuego | Add Atomic Sauce to Hugo's order | |
| 90 | Special Delivery | Serve 50 delivery orders to customers | |
| 57 | Wing Warmup | Serve 10 orders with Wings | |
| Sticker Number | Name | Achievement | Sticker Earned |
| --- | --- | --- | --- |
| 52 | Cookbook Mastery | Master 20 Special Recipes by earning 5 Stars on each | |
| 59 | Powder Pointer | Serve a Powder Point Special to Rudy | |
| 49 | Successful Specials | Earn 3 Special Stars when serving Today's Special | |
| Sticker Number | Name | Achievement | Sticker Earned |
| --- | --- | --- | --- |
| 53 | Bread Basket | Unlock all of the Standard Breads | |
| 75 | Gorgonzoe | Use Gorgonzola Cheese on Zoe's sandwich | |
| 54 | Cheese Please | Unlock all of the Standard Cheeses | |
| Sticker Number | Name | Achievement | Sticker Earned |
| --- | --- | --- | --- |
| 53 | Pie Professional | Unlock all of the Crust flavors | |
| 23 | Restaurant Regulars | Earn 15 Gold Customer Awards | |
| 1 | Spring Has Sprung | Reach Spring | |
| Sticker Number | Name | Achievement | Sticker Earned |
| --- | --- | --- | --- |
| 8 | Patriotic | Unlock all Starlight BBQ toppings | |
| 18 | Hot and Ready | Have Quinn's order ready when she arrives and serve immediately | |
| 50 | Recipe Master | Master a Special Recipe by earning 5 Special Stars | |
| Sticker Number | Name | Achievement | Sticker Earned |
| --- | --- | --- | --- |
| 57 | Side Orders | Unlock all of the Breads | |
| 70 | More Cheese Please | Replace Sasha's bread with Cheesy Bread | |
| 32 | One-Stop Shopping | Buy any 50 items from the Shop | |
| Sticker Number | Name | Achievement | Sticker Earned |
| --- | --- | --- | --- |
| 59 | Drink Decorator | Unlock all of the Standard Shakers | |
| 36 | New Coat of Paint | Buy any 4 Flooring or Wallpaper from the Shop | |
| 38 | New Threads | Change your worker's shirt, pants, hat, belt, jacket, and shoes | |
| Sticker Number | Name | Achievement | Sticker Earned |
| --- | --- | --- | --- |
| 6 | Folk Festival | Unlock all BavariaFest toppings | |
| 36 | New Coat of Paint | Buy any 4 Flooring or Wallpaper from the Shop | |
| 22 | Silver Medal | Earn 10 Silver Customer Awards | |
Earn all three stickers in any of the above games to unlock this outfit: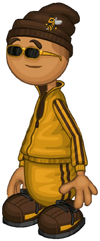 Papa's Next Chefs
Trivia
Order Tickets
Gallery
Prepared Orders
Perfect Orders
Promotional Images
Holiday Pictures
Others
Fan Art