Fire Emblem Warriors: Three Hopes - The Loop
Play Sound
Iggy is a male customer who made his first appearance in Papa's Donuteria.
Flipdeck Info
Hometown: Starlight City
Loves: Comet Con
Hates: Light Pollution
Occupation: Student
Iggy is a straight-A student at the Eclair Academy located just outside of Starlight City. He is obsessed with space exploration and just about anything related to science-fiction. Iggy loves watching reruns of the old TV show, "Meteor Blastor: Zone X". After school, he usually heads over to Gigaloaf Labs to hang out with his buddy, Grampa Fitz. Iggy spends so much time there that his grandfather built Iggy his own mini-lab to keep him busy.
Appearance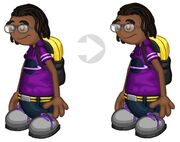 Iggy has dark skin, black dreadlocked hair, and thick eyebrows. He wears rounded-rectangular framed, gray-rimmed eyeglasses, and carries a yellow and black-colored backpack. He wears a purple shirt with a black planet and a light purple ring printed on it and has two white parallel trims along the sleeves. He wears jeans with a yellow belt with a black stripe in the middle, and a pair of gray shoes with purple laces and black soles.
Styles
Style B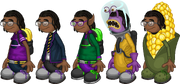 He wears a dark navy blue collared suit with bright purple linings and a white shirt under it. He also wears a yellow and black striped necktie and black pants.
Comet Con Outfit
He wears a forest green long-sleeved shirt with a black planet and a bright green ring printed on it. His shirt has a purple collar and folded sleeve edges, and bright green bottom rings. He wears purple glasses with a green target printed on the right lens, a skin-matching pair of alien-like "ears", and purple pants. He also wears a bright green belt with a black stripe going through it, and black shoes with neon green laces. His backpack is now neon green and black.
Halloween Outfit
In games where he dresses up for Halloween, Iggy wears an alien costume. He wears a yellow bodysuit with a black tube and an oxygen tank connected by more black tubes, a breathing glass helmet, purple skin, yellow lips, and eyes hanging above his head.
Orders
Blueberry Ring Donut

Sky Blue Icing
Sugarplum Drizzle
Cosmic Coconut

Chocolate Round Donut with Chocolate Mousse

Vanilla Icing
Chocolate Chips

Regular Long John with Chocolate Mousse

Chocolate Icing
Creameo Bits
Holiday (Christmas)
Blueberry Tree Donut

Sky Blue Icing
Cosmic Coconut

Chocolate Tree Donut with Chocolate Mousse

Vanilla Icing
Chocolate Chips

Regular Long John with Chocolate Mousse

Festive Swirl Icing
Santa Cookie Drizzle
Creameo Bits
Medium Cup
Fudge Brownie
Vanilla Syrup
Regular Blend
Chocolate Mousse
Coconut Shavings
Pretzel, Pretzel, Creameo
4 Smoky Bacon Chicken Strips
4 BBQ Boneless Wings
8 Green Peppers
2 Kung Pao Dips
4 Bacons (left)
4 Green Peppers (all)
6 Ground Beef (left)
Regular Bake
8 Slices
Three Cheese Bread with Pepperjack Cheese
Well-Done Grill
Sliced Salami
Corned Beef
Shredded Lettuce
Olives
Wild Onion Sauce
Fries:

Crinkle Cut Fries
Awesome Sauce
Jalapeños
Holiday (New Year)
Three Cheese Bread with Gruyere Cheese
Well-Done Grill
Sliced Salami
Corned Beef
Shredded Lettuce
Olives
Parmesan Sauce
Fries:

Crinkle Cut Fries
Awesome Sauce
Jalapeños
Liner A
Blueberry Cake
Cupcake 1:

Violet Frosting
Purple Burple Drizzle
Sourballs
Cherry

Cupcake 2:

Green Frosting
Vanilla Drizzle
Creameo Bits
Marshmallow
Holiday (Comet Con)
Liner A
Cosmo Cake
Cupcake 1:

Violet Frosting
Purple Burple Drizzle
Sourballs
UFO Wafer

Cupcake 2:

Green Frosting
Hyper Green Drizzle
Creameo Bits
UFO Wafer
Liner D
Vanilla Cake
Cupcake 1:

Chocolate Frosting
Vanilla Drizzle
Creameo Bits
Cherry

Cupcake 2:

Chocolate Frosting
Strawberry Drizzle
Chocolate Chips
Cherry
Holiday (Sugarplex Film Fest)
Liner D
Root Beer Float Cake
Cupcake 1:

Chocolate Frosting
Vanilla Drizzle
Creameo Bits
Blot, Cherry, Blot

Cupcake 2:

Chocolate Frosting
Dr. Cherry Drizzle
Raisin Duds
Blot, Cherry, Blot
Creameo Crust
Sugarplum Filling
Sugarplum Filling
Kiwi Filling
Kiwi Filling
Polka Dot Crust
Blackberry Bark (All Over)
9 Kiwi Slices (Outer Ring and Center)
9 Cherries (Outer Ring and Center)
Holiday (Comet Con)
Creameo Crust
Sugarplum Filling
Sugarplum Filling
Starfruit Filling
Starfruit Filling
Crater Crust
Blackberry Bark (All Over)
9 Planet Cookies (Outer Ring and Center)
Soft Taco with Steak
Hot Sauce
Peppers
White Rice
Jalapeños
Cheese
Chips:

Traditional Chips
Salsa Picante
Holiday (New Year)
Lava MunchMelt with Steak
Atomic Sauce
Peppers
White Rice
Diced Habaneros
Fire Tortilla Strips
Chips:

Traditional Chips
Salsa Picante
Nori with Brown Rice
Not Flipped
Bonito Flakes
General Tso Sauce
Bubble Tea:

Taro Tea with Lychee Bubbles
Holiday (Halloween)
Tarantula Soy Paper with Brown Rice
Not Flipped

Tuna
Torigai
Green Onions

Bonito Flakes
General Tso Sauce
Bubble Tea:

Witch's Brew Tea with Lychee Bubbles
3 Chocolate Chip Pancakes
Whipped Cream
Chocolate Chips
Drink:
Holiday (Sugarplex Film Fest)
3 Chocolate Chip Pancakes
Whipped Cream
Raisin Duds
Drink:
Garlic Knot Crust
Creamy Garlic Sauce with Papa's Cheese Blend
4 Bacons (left)
4 Green Peppers (all)
6 Ground Beef (left)
Regular Bake
8 Slices
Holiday (New Year)
Hot Dog Bites Crust
Creamy Garlic Sauce with Papa's Cheese Blend
4 Bacons (left)
4 Green Peppers (all)
6 Ground Beef (left)
Regular Bake
8 Slices
Cheddarwurst on a Regular Bun
Jalapeños
Papa's Ballpark Mustard
Wild Onion Sauce
Salsa
Drink and Popcorn:

Large Purple Burple
Medium Kettle Corn
Holiday (Comet Con)
Cheddarwurst on a Lunar Loaf Bun
Jalapeños
Pulsar Pesto
Space Ration ZX85
Salsa
Drink and Popcorn:

Large Hyper Green
Medium Kettle Corn
Cheddarwurst on a Regular Bun
Jalapeños
Papa's Ballpark Mustard
Wild Onion Sauce
Salsa
Drink and Popcorn:

Large Purple Burple
Medium Kettle Corn
Holiday (Starlight BBQ)
Cheddarwurst on a Smoked Cheddar Bun
Jalapeños
Lone Star Pit Sauce
Pulled Pork
Salsa
Drink and Popcorn:

Large Purple Burple
Medium Jubilee Popcorn
Oatmeal Cookie with Raisins
Oatmeal Cookie with Pretzel Bits
Oatmeal Cookie with Raisins
Mini Mallows
Cherry, Sugarplum, Cherry
Holiday(Halloween)
Oatmeal Cookie with Raisins
Oatmeal Cookie with Scary Sugar Eyes
Oatmeal Cookie with Raisins
Mini Mallows
Shadowberry Derps
Cherry, Sugarplum, Cherry
3 Chocolate Chip Pancakes
Whipped Cream
Chocolate Chips
Drink:
Holiday (Christmas)
3 Chocolate Chip Pancakes
Whipped Cream
Holiday Yum n' Ms
Drink:
4 BBQ Boneless Wings (All)
2 Smoky Bacon Chicken Strips (All)
2 French Fries (All)
8 Green Peppers (All)
3 Kung Pao Dips
Holiday (Lucky Lucky Matsuri)
4 Gochujang Boneless Wings (All)
2 Smoky Bacon Chicken Strips (All)
2 French Fries (All)
8 Green Peppers (All)
3 Kung Pao Dips
Blueberry Ring Donut with Blackberry Jelly

Chocolate Icing
Sugarplum Drizzle

Regular Long John

Blue Nimbus Icing
Cosmic Coconut
Creameo Bits

Chocolate Round Donut with Chocolate Mousse

Vanilla Icing
Neapolitan Drizzle
Holiday (Christmas)
Blueberry Ring Donut with Blackberry Jelly

Chocolate Icing
Sugarplum Drizzle

Regular Tree Donut

Blue Nimbus Icing
Cosmic Coconut
Snowflake Sprinkles

Chocolate Round Donut with Chocolate Mousse

Festive Swirl Icing
Neapolitan Drizzle
Three Cheese Bread with Pepperjack Cheese
Well-Done Grill
Sliced Salami
Corned Beef
Shredded Lettuce
Olives
Wild Onion Sauce
Fries:

Crinkle Cut Fries
Awesome Sauce
Jalapeños
Holiday (New Year)
Three Cheese Bread with Gruyere Cheese
Well-Done Grill
Sliced Salami
Corned Beef
Shredded Lettuce
Olives
Parmesan Sauce
Fries:

Crinkle Cut Fries
Parmesan Sauce
Jalapeños
Creameo Crust
Sugarplum Filling
Sugarplum Filling
Kiwi Filling
Kiwi Filling
Polka Dot Crust
Blackberry Bark (All Over)
9 Kiwi Slices (Outer Ring and Center)
9 Cherries (Outer Ring and Center)
Holiday (Sugarplex Film Fest)
Creameo Crust
Sugarplum Filling
Sugarplum Filling
Kiwi Filling
Kiwi Filling
Film Reel Crust
Blackberry Bark (All Over)
9 Sweetish Fishes (Outer Ring and Center)
9 Cherries (Outer Ring and Center)
Nori with Brown Rice
Not Flipped
Bonito Flakes
General Tso Sauce
Bubble Tea:

Taro Tea with Lychee Bubbles
Holiday (Comet Con)
Meteor Blastor Soy Paper with Brown Rice
Not Flipped

Tamago
Starfruit
Green Onions

Starfruit
Cosmic Coconut
Pulsar Pesto Sauce
Bubble Tea:

Galaxy Grape Tea with Lychee Bubbles
Regular Fettuccine
Creamy Alfredo Sauce
Crushida Pepper
4 Fried Calamari
4 Meatballs
Cheesy Bread
Holiday (Neptune's Feast)
Regular Fettuccine
Venetian Vongole
Bottarga
4 Fried Calamari
4 Meatballs
Cheesy Bread
Medium Cup
1 shot of Cold Soy Milk
3 shots of City Roast

Lavender Powder
Sugarplum Syrup

Ice Cubes
Creameo Cream
Sugarplum Syrup
Toasted Coconut
Cannoli:

Chocolate Cannoli Shell
Moon Mist Cream
Toasted Coconut
Holiday (Halloween)
Medium Cup
1 shot of Cold Soy Milk
3 shots of City Roast

Shadowberry Powder
Sugarplum Syrup

Ice Cubes
Creameo Cream
Witch's Brew Syrup
Toasted Coconut
Cannoli:

Chocolate Cannoli Shell
Moon Mist Cream
Spooky Sprinkles
Brioche Bun
Tartar Sauce
Jalapeños
Cod with Panko Breading
Jalapeños
BBQ Sauce
Red Cabbage Slaw
Large Slush

Purple Burple Slush
Kiwi Slush
Holiday (Comet Con)
Lunar Loaf Bun
Astro Elixir
Starfruit
Cod with Panko Breading
Jalapeños
Hyper Green Sauce
Red Cabbage Slaw
Large Slush

Galaxy Grape Slush
Kiwi Slush
Ranks required to unlock him
Unlockables
Stickers
| Sticker Number | Name | Achievement | Sticker Earned |
| --- | --- | --- | --- |
| 52 | Cookbook Mastery | Master 20 Special Recipes by reaching 5 Stars on each | |
| 32 | One-Stop Shopping | Buy any 50 items from the Shop | |
| 37 | Upgrade Master | Buy all of the Upgrades in the Shop | |
| Sticker Number | Name | Achievement | Sticker Earned |
| --- | --- | --- | --- |
| 27 | Chip Expert | Get a 100% Chip Score on 20 orders | |
| 10 | Holiday Tacos | Unlock all of Christmas toppings | |
| 11 | Spicy New Year | Unlock all of New Year toppings | |
| Sticker Number | Name | Achievement | Sticker Earned |
| --- | --- | --- | --- |
| 71 | Iggy Unagi | Add Unagi to Iggy's sushi | |
| 3 | Winter Wonderland | Reach Winter | |
| 63 | Taylor Tonkatsu | Serve a Tofu BBQ Special to Taylor | |
| Sticker Number | Name | Achievement | Sticker Earned |
| --- | --- | --- | --- |
| 2 | Fall Harvest | Reach Autumn | |
| 68 | Maple Mallow | Add Maple Syrup to Mayor Mallow's order | |
| 55 | Bread Winner | Unlock all of the Breads | |
| Sticker Number | Name | Achievement | Sticker Earned |
| --- | --- | --- | --- |
| 25 | Build Expert | Get a 100% Build Score on 20 orders | |
| 89 | Burnt Pies | Completely overcook and burn 20 pizzas | |
| 84 | Get the Tables! | Fill your lobby with 12 large tables | |
| Sticker Number | Name | Achievement | Sticker Earned |
| --- | --- | --- | --- |
| 83 | Dance Party | Use lots of musical furniture so 3 or more customers are dancing in the lobby | |
| 8 | Conventional | Unlock all Comet Con toppings | |
| 37 | Upgrade Master | Buy all of the Upgrades from the Shop | |
| Sticker Number | Name | Achievement | Sticker Earned |
| --- | --- | --- | --- |
| 53 | Dough Master | Unlock all of the Cookie Doughs | |
| 67 | Film Festival | Serve a Sugarplex Concessions Special to Rita | |
| 68 | Tony Spumoni | Serve a Spumoni Supreme Special to Tony | |
| Sticker Number | Name | Achievement | Sticker Earned |
| --- | --- | --- | --- |
| 54 | Dough Master | Unlock all of the Cookie Doughs | |
| 68 | Film Festival | Serve a Sugarplex Concessions Special to Rita | |
| 69 | Tony Spumoni | Serve a Spumoni Supreme Special to Tony | |
| Sticker Number | Name | Achievement | Sticker Earned |
| --- | --- | --- | --- |
| 56 | Building Materials | Unlock all of the Standard Toppings | |
| 42 | Costumed Closers | Serve all of the Costumed Closers during Halloween | |
| 10 | Thankful | Unlock all Thanksgiving toppings | |
| Sticker Number | Name | Achievement | Sticker Earned |
| --- | --- | --- | --- |
| 54 | Side Sampler | Unlock all of the Standard Sides | |
| 26 | Sauce Expert | Get a 100% Sauce Score on 20 orders | |
| 23 | Restaurant Regulars | Earn 15 Gold Customer Awards | |
| Sticker Number | Name | Achievement | Sticker Earned |
| --- | --- | --- | --- |
| 62 | Crystal's Catch | Serve a Cupid's Catch Special to Crystal | |
| 25 | Dough Expert | Get a 100% Dough Score on 20 orders | |
| 46 | Special Collector | Earn 5 Special Recipes from customers | |
| Sticker Number | Name | Achievement | Sticker Earned |
| --- | --- | --- | --- |
| 4 | Spring Has Sprung | Reach Spring | |
| 53 | Bread Basket | Unlock all of the Standard Breads | |
| 14 | Playing Cupid | Unlock all Valentine's Day toppings | |
| Sticker Number | Name | Achievement | Sticker Earned |
| --- | --- | --- | --- |
| 48 | Complete Cookbook | Earn 40 Special Recipes from customers | |
| 70 | Cookie Scout | Use Creameo Crust and Grape Jelly Cookies on Yippy's pie | |
| 13 | Jam Session | Unlock all Groovstock toppings | |
| Sticker Number | Name | Achievement | Sticker Earned |
| --- | --- | --- | --- |
| 71 | Iggy Unagi | Add Unagi to Iggy's sushi | |
| 3 | Winter Wonderland | Reach Winter | |
| 28 | Perfect! | Get a Perfect Score on 30 orders | |
| Sticker Number | Name | Achievement | Sticker Earned |
| --- | --- | --- | --- |
| 67 | Fernanda Farfalle | Serve a Mushroom Farfalle Special to Fernanda | |
| 62 | Maggie Mac | Serve a Cheesy Mac Special to Maggie | |
| 8 | Seafood Lover | Unlock all Neptune's Feast toppings | |
| Sticker Number | Name | Achievement | Sticker Earned |
| --- | --- | --- | --- |
| 15 | Jam Session | Unlock all Grōōvstock toppings | |
| 33 | Advertiser | Buy any 8 Posters from the Shop | |
| 31 | Piggy Bank | Don't spend any money in the Shop for 7 days | |
| Sticker Number | Name | Achievement | Sticker Earned |
| --- | --- | --- | --- |
| 74 | Eggy Iggy | Add a Fried Egg to Iggy's sandwich | |
| 55 | Sandwich Stacker | Unlock all of the Standard Toppings | |
| 32 | One-Stop Shopping | Buy any 50 items from the Shop | |
Earn all three stickers in any of the above games to unlock this outfit: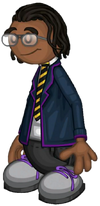 Papa's Next Chefs
Onionfest Crown Classic
Trivia
Order Tickets
Gallery
Prepared Orders
Perfect Orders
Promotional Images
Holiday Pictures
Others
Fan Art