Indigo is a female customer who made her first appearance in both Papa's Hot Doggeria HD and Papa's Hot Doggeria To Go!.
Flipdeck Info
Indigo is an offbeat fashion designer from Tastyville. Each year, Indigo hosts her own personal fashion show to give everyone in town a glimpse of her latest creations. Her youthful clothing comes in many forms ranging from casual streetwear to unconventional couture. Indigo runs her own clothing shop across from Griller Stadium called Bellflower Boutique. She loves to start her week by shopping at The Looming Thread and being inspired by their kaleidoscope of colorful fabrics that drape every corner of the store.
Appearance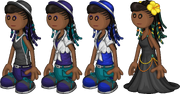 Indigo has dark skin and dark brown hair styled into cornrows with indigo and white dyed streaks. Her hair is also held by teal beaded hairclips. She lacks eyebrows and has an indigo-colored eyeshadow instead. She wears a dark grey, white-trimmed baseball jersey and a sleeveless deep teal undershirt. She also wears indigo pants equipped by an envelope-shaped pocket and a silver riveted belt. Atop her head is a black flat fedora with a white lace.
Indigo's head leans slightly upward and also wears gray sneakers with indigo front and teal laces.
Styles
Style B
Indigo's hair now has teal and light periwinkle dyed streaks secured by some white beads and dons a bright indigo fedora on top of it. She wears an indigo sweatshirt with gray trim underneath a short white blazer, which is slightly torn at the hem, and teal pants.
Orders
Kielbasa on a Chicago Bun
Mayo
Wild Onion Sauce
Mushrooms
Onions
Drink and Popcorn:

Large Purple Burple
Small Kettle Corn
Holiday (Starlight BBQ)
Kielbasa on a Chicago Bun
Mayo
Wild Onion Sauce
Pulled Pork
Onions
Drink and Popcorn:

Large Starlight Sparkler
Small Jubilee Popcorn
Traditional Cookie with Blackberry Bark
Gingerbread Cookie with Raisins
Snickerdoodle Cookie with Blackberry Bark
Whipped Cream
Rock Candy
Blueberry Swizzle - Sugarplum - Blueberry Swizzle
Holiday (New Year)
Traditional Cookie with Blackberry Bark
Gingerbread Cookie with Countdown Candies
Snickerdoodle Cookie with Blackberry Bark
Whipped Cream
Strawberry Syrup
Rock Candy
Blueberry Swizzle, Rainbow Meringue, Blueberry Swizzle
Blueberry Waffle
Blueberry Syrup
Blueberry Waffle
Powdered Sugar
Blueberries
2 Butters
Drink:
Holiday (Pirate Bash)
Blueberry Waffle
Scallywag Syrup
Blueberry Waffle
Powdered Sugar
Blueberries
2 Butters
Drink:

Large Sunken Treasure Tea with Sugar
4 Blazeberry Tofu Skewers (All)
4 Alabama BBQ Chicken Wings (Left)
2 Carrots (Right)
3 Blackberry Remoulade
Holiday (Starlight BBQ)
4 Blazeberry Tofu Skewers (All)
4 Alabama BBQ Chicken Wings (Left)
2 BBQ Ribs (Right)
3 Blackberry Remoulade
Ranks required to unlock her
Unlockables
Stickers
| Sticker Number | Name | Achievement | Sticker Earned |
| --- | --- | --- | --- |
| 83 | Color Coordinated | Dress your chef and server in the exact same outfit but with different colors | |
| 24 | Order Expert | Get a 100% Waiting Score on 20 orders | |
| 51 | Super Special | Master 10 Special Recipes by earning 5 Stars on each | |
| Sticker Number | Name | Achievement | Sticker Earned |
| --- | --- | --- | --- |
| 59 | Ninjapolitan | Serve a Neapolitan special to Joy | |
| 55 | Super Scooper | Unlock all of the Standard Ice Creams | |
| 19 | Ice Cream Express | Have Whippa's order ready when she arrives and serve immediately | |
| Sticker Number | Name | Achievement | Sticker Earned |
| --- | --- | --- | --- |
| 60 | Ninjapolitan | Serve a Neapolitan special to Joy | |
| 56 | Super Scooper | Unlock all of the Standard Ice Creams | |
| 19 | Ice Cream Express | Have Whippa's order ready when she arrives and serve immediately | |
| Sticker Number | Name | Achievement | Sticker Earned |
| --- | --- | --- | --- |
| 57 | Drink Selection | Unlock all of the Standard Drinks | |
| 24 | Order Expert | Get a 100% Waiting Score on 20 orders | |
| 32 | One-Stop Shopping | Buy 50 items from the Shop | |
Onionfest Crown Classic
Trivia
Order Tickets
Gallery
Fan Art