Fire Emblem Warriors: Three Hopes - The Loop
Play Sound
Janana is a female customer who made her first appearance in Papa's Bakeria.
Flipdeck Info
Hometown: Tastyville
Occupation: Music Agent
Loves: Bananas
Hates: Cover Bands
Ever since she was young, Janana has been a connoisseur of popular music. Although she cannot play any instrument herself, Janana has stayed rooted in the music scene by becoming a freelance Music Agent. She first fell into the job during high school, when she worked part time at Hugo's Warped Records. There, Janana managed bookings for her boss, DJ Honey Buster. Since then, she has expanded her client list to include bands such as The Beach Cobblers, Doom Brûlée, and the highly acclaimed, Scarlett and the Shakers.
Appearance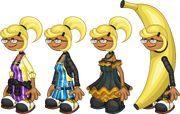 Janana has tanned skin and blonde hair pulled back into a ponytail, which resembles a banana. She wears black-rimmed eyeglasses, a black choker, a yellow blouse underneath purple overalls, and a black plaid sweater tied around her waist. She also wears white and black sneakers with yellow laces.
Styles
Style B
She wears a light yellow shirt underneath a pair of blue overalls held by a black belt with a gray buckle, and a black plaid sweater over both of these items. Her shoes remain the same as her Style A.
Orders
Ladyfingers Crust
Banana Filling
Banana Filling
Banana Filling
Banana Filling
Lattice Top
12 Banana Slices (Outer Ring)
8 Whipped Cream Dollops (Inner Ring)
8 Kumquats (Inner Ring)
Holiday (Halloween)
Ladyfingers Crust
Banana Filling
Banana Filling
Banana Filling
Banana Filling
Spiderweb Crust
12 Banana Slices (Outer Ring)
8 Whipped Cream Dollops (Inner Ring)
8 Candy Corns (Inner Ring)
Soft Taco with Chicken
Ancho Chile Sauce
Cheese
Refried Beans
Onions
Sour Cream
Chips:

Multigrain Chips
Nacho Cheese
Holiday (Starlight BBQ)
Soft Taco with Chicken
Lone Star Pit Sauce
Cheese
Baked Beans
Fried Onion Strings
Sour Cream
Chips:

Multigrain Chips
Nacho Cheese
Ukoniro Soy Paper with Brown Rice
Not Flipped

Wagyu
Green Onions
Cucumber Slices

Ginger Miso Sauce
Bubble Tea:

Piña Colada Tea with Lychee Bubbles
Holiday (Starlight BBQ)
Deli Soy Paper with Brown Rice
Not Flipped

Wagyu
Fried Onion Strings
Cucumber Slices

BBQ Rub
Lone Star Pit Sauce
Bubble Tea:

Piña Colada Tea with Lychee Bubbles
Pancake
3 Bananas
Pancake
3 Bananas
Maple Syrup
Drink:
Holiday (Grōōvstock)
Pancake
3 Bananas
Trail Mix
Pancake
3 Mission Figs
Maple Syrup
Drink:

Small Chai Reverb Tea with Cream
Crispy Crust
Olive Oil
Papa's Cheese Blend
3 Banana Peppers (bottom left)
6 Artichoke Hearts (top)
3 Portobello Mushrooms (bottom right)
Regular Bake
8 Slices
Holiday (Halloween)
Crispy Crust
Purple Pesto
Papa's Cheese Blend
3 Banana Peppers (bottom left)
6 Smoked Oysters (top)
3 Portobello Mushrooms (bottom right)
Regular Bake
8 Slices
Italian Sausage on a Hoagie Bun
Pineapple Relish
Mustard
Wild Onion Sauce
Cheese
Drink and Popcorn:

Large Lemon Mist
Small Chocolate Popcorn
Holiday (Comet Con)
Italian Sausage on a Lunar Loaf Bun
Pineapple Relish
Mustard
Space Ration ZX85
Cheese
Drink and Popcorn:

Large Lemon Mist
Small Pluto Puffs
Italian Sausage on a Hoagie Roll
Pineapple Relish
Mustard
Wild Onion Sauce
Cheese
Drink and Popcorn:

Large Lemon Mist
Small Chocolate Popcorn
Holiday (Grōōvstock)
Italian Sausage on a Campagrain Bun
Pineapple Relish
Mustard
Kale
Cheese
Drink and Popcorn:

Large Ginger Haze
Small Artisanal Truffle Corn
Traditional Cookie with Sugar Crystals
Peanut Butter Cookie with Peanuts
Snickerdoodle Cookie with Toffee Chunks
Whipped Cream
Peanuts
Banana
Waffle Cone, Ladyfinger, Waffle Cone
Holiday (Holi)
Traditional Cookie with Sugar Crystals
Peanut Butter Cookie with Dried Jackfruit
Snickerdoodle Cookie with Toffee Chunks
Whipped Cream
Holi Sugar
Peanuts
Banana
Waffle Cone, Kaju Katli, Waffle Cone
Pancake
3 Bananas
Pancake
3 Bananas
Maple Syrup
Drink:
Holiday (BavariaFest)
Pancake
3 Bananas
Gebrannte Mandeln
Pancake
3 Linzer Augen
Maple Syrup
Drink:
8 Tikka Masala Chicken Wings (All)
8 Adobo Boneless Wings (All)
Artichoke Dip
Holiday (Christmas)
8 Tikka Masala Chicken Wings (All)
8 Cranberry Chili Boneless Wings (All)
Artichoke Dip
Pumpkin French Cruller

Clear Glaze
Banana Drizzle
Regular French Cruller with Blackberry Jelly

Clear Glaze
Banana Drizzle
Caramel Drizzle
Pumpkin Roll with Boston Cream

Apricot Icing
Banana Drizzle
Holiday (Summer Luau)
Pumpkin French Cruller

Clear Glaze
Banana Drizzle
Regular French Cruller with Blackberry Jelly

Clear Glaze
Banana Drizzle
Luau Punch Drizzle
Pumpkin Seashell Donut with Boston Cream

Apricot Icing
Banana Drizzle
Marble Rye Bread with Shredded Cheddar
Regular Grill
Pulled Pork
Sauteed Onions
Mustard
Mushrooms
Shredded Lettuce
Fries:

Curly Fries
Sour Cream
Chives
Holiday (Starlight BBQ)
Texas Toast with Smoked Cheddar
Regular Grill
Pulled Pork
Sauteed Onions
Lone Star Pit Sauce
Mushrooms
Shredded Lettuce
Fries:

Curly Fries
Lone Star Pit Sauce
Burnt Ends
Ladyfingers Crust
Banana Filling
Banana Filling
Banana Filling
Banana Filling
Lattice Top
8 Banana Slices (Outer Ring)
8 Whipped Cream Dollops (Inner Ring)
8 Kumquats (Inner Ring)
Holiday (Halloween)
Ladyfingers Crust
Banana Filling
Banana Filling
Banana Filling
Banana Filling
Spiderweb Crust
8 Banana Slices (Outer Ring)
8 Whipped Cream Dollops (Inner Ring)
8 Candy Corns (Inner Ring)
Al Dente Bowtie
Papa's Marinara Sauce
Grated Mozzarella
5 Chickens
4 Sausages
Crescent Roll
Holiday (Thanksgiving)
Al Dente Harvest Tortellini
Papa's Marinara Sauce
Grated Mozzarella
5 Roasted Turkeys
4 Sausages
Crescent Roll
Small Cup
2 shots of Hot Skim Milk
2 shots of City Roast
Whipped Cream
Cinnamon Sugar
Cannoli:

Pizzelle Shell
Lemon Chiffon
Crushed Pistachios
Holiday (Grōōvstock)
Small Cup
2 shots of Hot Golden Milk
2 shots of City Roast
Whipped Cream
Crimson and Clove
Cannoli:

Far Out Shell
Lemon Chiffon
Crushed Pistachios
Croissant
Banana Peppers
Chicken Breast with Beer Batter
BBQ Sauce
Banana Peppers
Onion Straws
Medium Slush

Sweet Tea Slush
Lemonade Slush
Holiday (Starlight BBQ)
Smoked Cheddar Bun
Banana Peppers
Chicken Breast with Beer Batter
Lone Star Pit Sauce
Baked Beans
Onion Straws
Medium Slush

Sweet Tea Slush
Lemonade Slush
Ranks required to unlock her
Unlockables
Stickers
| Sticker Number | Name | Achievement | Sticker Earned |
| --- | --- | --- | --- |
| 34 | Interior Decorator | Buy any 8 Furniture items from the Shop | |
| 5 | New Year Baking | Unlock all New Year toppings | |
| 78 | Holiday Outfit | Wear a shirt, belt, jacket, pants, and hat to match the current holiday | |
| Sticker Number | Name | Achievement | Sticker Earned |
| --- | --- | --- | --- |
| 50 | Recipe Master | Master a Special Recipe by earning 5 Special Stars | |
| 38 | New Threads | Change your worker's shirt, pants, hat, jacket, and shoes | |
| 86 | Cookie Clickin' | Strike out in Mitch's Mess by clicking 3 different cookies | |
| Sticker Number | Name | Achievement | Sticker Earned |
| --- | --- | --- | --- |
| 68 | The Amberjanana | Serve The Amberjack Special to Janana | |
| 87 | Coupon Clipper | Send 10 Customer Coupons to your customers | |
| 45 | Grand Prize Winner | Earn 5 Prizes or more in each of Foodini's Mini-Games | |
| Sticker Number | Name | Achievement | Sticker Earned |
| --- | --- | --- | --- |
| 50 | Recipe Master | Master a Special Recipe by getting 5 Special Stars | |
| 1 | Summer Vacation | Reach Summer | |
| 33 | Advertiser | Buy any 8 Posters from the Shop | |
| Sticker Number | Name | Achievement | Sticker Earned |
| --- | --- | --- | --- |
| 38 | New Threads | Change your worker's shirt, pants, hat, jacket, and shoes | |
| 80 | Holiday Outfit | Wear a shirt, belt, jacket, pants, and hat to match the current holiday | |
| 24 | Order Expert | Get a 100% Waiting Score on 20 orders | |
| Sticker Number | Name | Achievement | Sticker Earned |
| --- | --- | --- | --- |
| 6 | Summer Fun | Unlock all Summer Luau toppings | |
| 62 | Luau LePete | Serve a Kielypso Dog Special to LePete | |
| 23 | Restaurant Regulars | Earn 15 Gold Customer Awards | |
| Sticker Number | Name | Achievement | Sticker Earned |
| --- | --- | --- | --- |
| 17 | Make 'Em Wait | Serve the first customer last | |
| 35 | Updated Wardrobe | Buy any 8 Clothing items from the Shop | |
| 50 | Recipe Master | Master a Special Recipe by earning 5 Special Stars | |
| Sticker Number | Name | Achievement | Sticker Earned |
| --- | --- | --- | --- |
| 17 | Make 'Em Wait | Serve the first customer last | |
| 35 | Updated Wardrobe | Buy any 8 Clothing items from the Shop | |
| 51 | Recipe Master | Master a Special Recipe by earning 5 Special Stars | |
| Sticker Number | Name | Achievement | Sticker Earned |
| --- | --- | --- | --- |
| 51 | Super Special | Master 10 Special Recipes by earning 5 Stars on each | |
| 89 | Wasteful Worker | Throw away 5 drinks in one day | |
| 87 | Coupon Clipper | Send 10 Customer Coupons to your customers | |
| Sticker Number | Name | Achievement | Sticker Earned |
| --- | --- | --- | --- |
| 73 | Alabama Janana | Add Alabama BBQ Sauce to Janana's order | |
| 51 | Super Special | Master 10 Special Recipes by earning 5 Stars on each | |
| 47 | Recipe Collection | Earn 15 Special Recipes from customers | |
| Sticker Number | Name | Achievement | Sticker Earned |
| --- | --- | --- | --- |
| 14 | Summer Fun | Unlock all Summer Luau toppings | |
| 58 | Donut Decorator | Unlock all of the Standard Drizzles | |
| 40 | Scarlett and the Shakers | Serve everyone in Scarlett and the Shakers | |
| Sticker Number | Name | Achievement | Sticker Earned |
| --- | --- | --- | --- |
| 22 | Silver Medal | Earn 10 Silver Customer Awards | |
| 33 | Advertiser | Buy any 8 Posters from the Shop | |
| 29 | Award Winning Sandwiches | Get 5 Blue Ribbons from Jojo the Food Critic | |
| Sticker Number | Name | Achievement | Sticker Earned |
| --- | --- | --- | --- |
| 84 | Bubble Gum Bonanza | Have 10 different kinds of bubble gum in the lobby at once | |
| 18 | Hot and Ready | Have Quinn's order ready when she arrives and serve immediately | |
| 87 | Coupon Clipper | Send 10 Customer Coupons to your customers | |
| Sticker Number | Name | Achievement | Sticker Earned |
| --- | --- | --- | --- |
| 68 | The Amberjanana | Serve The Amberjack Special to Janana | |
| 63 | Taylor Tonkatsu | Serve a Tofu BBQ Special to Taylor | |
| 82 | Holiday Outfit | Wear a shirt, belt, jacket, pants, and hat to match the current holiday | |
| Sticker Number | Name | Achievement | Sticker Earned |
| --- | --- | --- | --- |
| 69 | Mighty MeatClover | Serve a Mighty Meatlover Special to Clover | |
| 11 | Pasta Harvest | Unlock all Thanksgiving toppings | |
| 42 | Costumed Closers | Serve all of the Costumed Closers during Halloween | |
| Sticker Number | Name | Achievement | Sticker Earned |
| --- | --- | --- | --- |
| 78 | Holiday Spirit | Serve 100 customers while wearing clothing that matches the season | |
| 88 | Extra Espresso | Leave a tumbler of Espresso in every Brew Machine at the end of the day | |
| 44 | Game Show Contestant | Earn a Prize in each of Foodini's Mini-Games | |
| Sticker Number | Name | Achievement | Sticker Earned |
| --- | --- | --- | --- |
| 25 | Frying Expert | Get a 100% Cooking Score on 20 orders | |
| 43 | Game Show Contestant | Earn a Prize in each of Foodini's Mini-Games | |
| 35 | Updated Wardrobe | Buy any 8 Clothing items from the Shop | |
Earn all three stickers in any of the above games to unlock this outfit: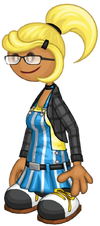 Papa's Next Chefs
OnionFest Crown Classic
Trivia
Order Tickets
Gallery
Prepared Orders
Perfect Orders
Promotional Images
Fan Art