Dead Cells Final DLC - The Loop
Play Sound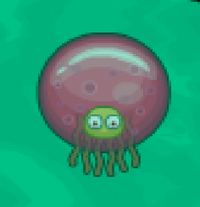 Jellyblurps are underwater creatures that appear in Papa Louie 3: When Sundaes Attack!. The jellyfish-like creatures first appear in Level 2, Gummy Grotto.  
They are the aquatic ancestors of the Jellybacks. When a customer bumps into a Jellyblurp under the water, they will bounce off the Jellyblurp's gelatinous body.  
Just like Jellybacks, they cannot be destroyed by any means, so the player must swim past them as using Swim Boost on one will simply bounce the player back.  
Multiple ones in the water can be an obstacle, such as in The X Zone, as they will bounce the player back into a wall or into a baddie. They are not as useful as the Jellybacks, because you don't need to bounce underwater.
Gallery