GTA: The Criminal Enterprises - The Loop
Play Sound
Kaleb is a male customer who made his first appearance in Papa's Bakeria To Go!.
Appearance
Kaleb has black hair that's blond on the top and brown skin. He wears a striped orange shirt under a maroon jacket, white pants with orange stitches, and orange shoes with gray soles and maroon laces.
Styles
Style B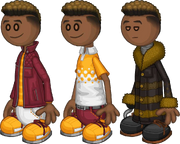 He wears a white V-neck transitioning into an orange top, maroon pants with orange stitches held by a dark gray belt with a light gray buckle, and his Style A shoes.
Style H
During Halloween, he dresses up as the Candyman. He carries a hook on his left hand and wears a black coat with honey mustard yellow stripes, buttons, and fur lining over a gray turtleneck sweater and black shoes with brown laces and soles.
Orders
Gingersnap Crust
Pecan Filling
Pecan Filling
Marshmallow Filling
Marshmallow Filling
Meringue Topping
Citrus Zest (All Over)
8 Grape Jelly Cookies (Outer Ring)
8 Kumquats (Inner Ring)
Holiday (Christmas)
Gingersnap Crust
Pecan Filling
Pecan Filling
Marshmallow Filling
Marshmallow Filling
Meringue Topping
Citrus Zest (All Over)
8 Frosted Wreaths (Outer Ring)
8 Kumquats (Inner Ring)
Ukoniro Soy Paper with White Rice
Not Flipped
Hibachi Sauce
Bubble Tea:

Tangerine Tea with Lychee Bubbles
Holiday (Portallini Feast)
Ukoniro Soy Paper with White Rice
Not Flipped
Capicola
Parmesan Cheese
Hibachi Sauce
Bubble Tea:

Tangerine Tea with Lychee Bubbles
Al Dente Ravioli
Three Cheese Sauce
Italian Seasoning
4 Shrimps
4 Clams
Poppyseed Roll
Holiday (Gondola 500)
Al Dente Ravioli
Hurry Curry
Italian Seasoning
4 Fried Ravioli
4 Clams
Poppyseed Roll
Large Cup
3 shots of French Roast
3 Shots of Hot Skim Milk

Hibiscus Powder
Salted Caramel Syrup

Chocolate Mousse
Citrus Zest
Cinnamon Sugar
Cannoli:

Pizzelle Shell
Chocolate Mousse
Mini Mallows
Holiday (Halloween)
Large Cup
3 shots of French Roast
3 shots of Screamsicle Milk

Shadowberry Powder
Salted Caramel Syrup

Chocolate Mousse
Citrus Zest
Cinnamon Sugar
Cannoli:

Pizzelle Shell
Chocolate Mousse
Mini Mallows
Bagel
Eggplant with Spicy Cajun Batter
Provolone Cheese
Sticky Bourbon Sauce
Red Cabbage Slaw
Small Slush

Cream Soda Slush
Tangerine Slush
Holiday (Valentine's Day)
Bagel
Eggplant with Spicy Cajun Batter
Provolone Cheese
Heartbeet Arrabbiata
Radicchio
Small Slush

Hot Rods Slush
Tangerine Slush
Ranks required to unlock him
Unlockables
Stickers
| Sticker Number | Name | Achievement | Sticker Earned |
| --- | --- | --- | --- |
| 55 | Upper Crust | Unlock all of the Top Crusts, Crumbs, and Meringues | |
| 65 | Try Some Toffee | Serve a Shoofly Pie Special to Prudence | |
| 82 | Holiday Outfit | Wear a shirt, belt, jacket, pants, and hat to match the current holiday. | |
| Sticker Number | Name | Achievement | Sticker Earned |
| --- | --- | --- | --- |
| 68 | The Amberjanana | Serve The Amberjack Special to Janana | |
| 75 | Moe Mango | Add Mango Slices to Moe's sushi | |
| 84 | Bubble Gum Bonanza | Have 10 different kinds of bubble gum in the lobby at once | |
| Sticker Number | Name | Achievement | Sticker Earned |
| --- | --- | --- | --- |
| 78 | Santa's Helper | Serve 20 customers during Christmas wearing a Christmas Hat and Fur Parka | |
| 45 | Rare Reward | Win a Rare Bonus Prize in a Mini-Game by earning a Star Medal | |
| 71 | Nick Gnocchi | Replace Nick's pasta with Gnocchi | |
| Sticker Number | Name | Achievement | Sticker Earned |
| --- | --- | --- | --- |
| 26 | Build Expert | Get a 100% Build Score on 20 orders | |
| 20 | Bronze Beginning | Earn 5 Bronze Customer Awards | |
| 44 | Game Show Contestant | Earn a Prize in each of Foodini's Mini-Games | |
| Sticker Number | Name | Achievement | Sticker Earned |
| --- | --- | --- | --- |
| 54 | Batter Up | Unlock all of the Breading and Batters | |
| 39 | Romano Family | Serve everyone in the Romano Family Quartet | |
| 72 | Captain Coronation | Add Coronation Sauce to Captain Cori's sandwich | |
Earn all three stickers in any of the above games to unlock this outfit:
Papa's Next Chefs
Order Tickets
Gallery
Prepared Orders
Perfect Orders
Holiday Pictures
Promotional Images
Others
Fan Art