GTA: The Criminal Enterprises - The Loop
Play Sound
Kasey O is a female customer who made her first appearance in Papa's Cheeseria To Go!.
Appearance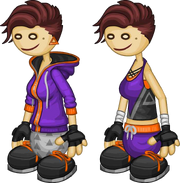 Kasey O has pale skin and burgundy hair. Orange triangle earrings further complement her facial features. She wears a purple jacket with orange lining around the hoodie and zipper. The cuffs of the jacket are also orange. Her pants are light gray with dark gray triangles patterned around the surface. She wears black shoes with orange laces and gray soles. On her hands, she wears black gloves. She also has a beauty mark.
Styles
Style B
She wears a purple and black cropped tank top that has gray stripes and and a triangle over an orange sports bra which is under black crossed bands, purple sweatpants with an orange rim at the top and white lace, and bandages above her gloves.
Orders
Rosemary Focaccia with Havarti Cheese
Regular Grill
Olives
Wild Onion Sauce
Sauteed Onions
Lobster Chunks
Southwest Sauce
Fries:

Curly Fries
Fry Seasoning
Holiday (Holi)
Rosemary Focaccia with Paneer Cheese
Regular Grill
Pakoras
Wild Onion Sauce
Sauteed Onions
Lobster Chunks
Bellulli Chutney
Fries:

Curly Fries
Fry Seasoning
Bellulli Chutney
Chocolate Crust
Purple Yam Filling
Kiwi Filling
Kiwi Filling
Kiwi Filling
Chocolate Meringue Topping
Huckleberry Syrup (All Over)
1 Grape Jelly Cookie (Center)
9 Kumquats (Outer Ring and Center)
Holiday (Sugarplex Film Fest)
Chocolate Crust
Purple Yam Filling
Kiwi Filling
Kiwi Filling
Kiwi Filling
Chocolate Meringue Topping
Huckleberry Syrup (All Over)
1 Sweetish Fish (Center)
9 Kumquats (Outer Ring and Center)
Ukoniro Soy Paper with Black Rice
Not Flipped

Fried Calamari
Crab Stick
Octopus

Mango Slices
Tobiko
Bubble Tea:

Tangerine Tea with Huckleberry Bubbles
Holiday (Lucky Lucky Matsuri)
Ukoniro Soy Paper with Black Rice
Not Flipped

Fried Calamari
Kanpyo
Octopus

Mango Slices
Lucky Dust
Bubble Tea:

Iyokan Tea with Huckleberry Bubbles
Al Dente Bowtie
Beefy Bolognese
Crushida Pepper
2 Fried Calamari
2 Meatballs
Focaccia
Holiday (Lunar New Year)
Al Dente Bowtie
Beefy Bolognese
Sesame Seeds
2 Fried Calamari
2 Potstickers
Focaccia
Medium Cup
Sugarplum Syrup
2 shots of Hot Blueberry Milk
3 shots of Decaf Roast
Moon Mist Cream
Blue Nimbus Syrup
Cannoli:

Classic Cannoli Shell
Moon Mist Cream
Cinnamon Sugar
Holiday (New Year)
Medium Cup
Flavor X Syrup
2 shots of Hot Unicorn Milk
3 shots of Decaf Roast
Moon Mist Cream
Blue Nimbus Syrup
Cannoli:

Dirt Cake Shell
Moon Mist Cream
Cinnamon Sugar
Croissant
Pineapple Ring
Tartar Sauce
Pickled Red Onions
Soft Shell Crab with Tempura Batter
Creamy Cole Slaw
Large Slush

Tangerine Slush
Purple Burple Slush
Holiday (Easter)
Croissant
Pineapple Ring
Wildflower Carbonara
Pickled Carrots
Soft Shell Crab with Tempura Batter
Mixed Microgreens
Large Slush

Tangerine Slush
Purple Burple Slush
Ranks required to unlock her
Unlockables
Stickers
| Sticker Number | Name | Achievement | Sticker Earned |
| --- | --- | --- | --- |
| 58 | Loaded Fries | Unlock all of the Standard Fry Toppings | |
| 22 | Silver Medal | Earn 10 Silver Customer Awards | |
| 36 | New Coat of Paint | Buy any 4 Flooring or Wallpaper from the Shop | |
| Sticker Number | Name | Achievement | Sticker Earned |
| --- | --- | --- | --- |
| 42 | Costumed Closers | Serve all of the Costumed Closers during Halloween | |
| 76 | Spooktacular | Serve 20 customers during Halloween wearing any Halloween clothing | |
| 56 | Pie Pourables | Unlock all of the Standard Pourable Toppings | |
| Sticker Number | Name | Achievement | Sticker Earned |
| --- | --- | --- | --- |
| 48 | Complete Cookbook | Earn 40 Special Recipes from customers | |
| 21 | Repeat Customers | Earn 15 Bronze Customer Awards | |
| 84 | Bubble Gum Bonanza | Have 10 different kinds of bubble gum in the lobby at once | |
| Sticker Number | Name | Achievement | Sticker Earned |
| --- | --- | --- | --- |
| 39 | Romano Family | Serve everyone in the Romano Family Quartet | |
| 15 | Go Green | Unlock all St. Paddy's Day toppings | |
| 57 | Side Orders | Unlock all of the Breads | |
| Sticker Number | Name | Achievement | Sticker Earned |
| --- | --- | --- | --- |
| 46 | Rare Reward | Win a Rare Bonus Prize in a Mini-Game by earning a Star Medal | |
| 85 | Dance Party | Use lots of musical furniture so 3 or more customers are dancing in the lobby | |
| 63 | Teaberry Taylor | Serve a Teaberry Brûlée Special to Taylor | |
| Sticker Number | Name | Achievement | Sticker Earned |
| --- | --- | --- | --- |
| 53 | Deep Fried | Unlock all of the Fryable Foods | |
| 84 | Stubborn Plumber | Try to click 20 red pipes in Rico's Chiliworks | |
| 59 | Mayor Marinara | Serve a Mighty Marinara Special to Mayor Mallow | |
Earn all three stickers in any of the above games to unlock this outfit: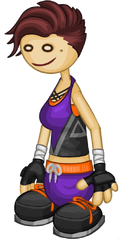 Papa's Next Chefs
Trivia
Order Tickets
Gallery
Prepared Orders
Perfect Orders
Promotional Images
Others
Fan Art