Raise a Floppa - The Loop
Play Sound
Kayla is a female customer who made her first appearance in Papa's Burgeria.
Flipdeck Info
Hometown: Burgerburgh
Loves: Rom-Coms
Hates: Improv
Occupation: Actress
Kayla grew up in the small town of Burgerburgh. After high school, she attended the Whiskview Film Academy to study acting. Upon graduating, Kayla landed her first role in a short Lemon Mist commercial. Things moved quickly from that day forward as she received more commercial work and finally landed the lead role in a new soap opera, Lovebright Hospital. After the fifth and final season of the show, Kayla proudly won a Daytime Windie for her role as Dr. Lovebright.
Appearance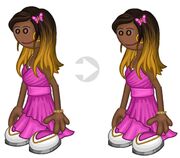 Kayla has long, dark brown loose hair, dark skin, and lilac-colored eyeshadow. She wears a long, sleeveless fuchsia dress and black shoes with white laces and brown soles, and gold bangles and earrings with a pearl beaded in the center of her gold necklace.
As of Papa's Cheeseria, Kayla's hair is more proportionate, and it ombres down into an amber color. Her dress now has layered frills and two-toned scaling. She wears a butterfly clip in her hair and white shoes with a fuchsia front and a light gold lining that surrounds it, and gray soles.
Styles
Style B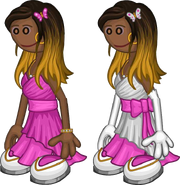 Kayla wears a white dress with a pink ribbon tied across her hips over a fuchsia skirt, white cuffed gloves, and a white butterfly clip with pink dots.
Orders
Top Bun
Onion
Well-Done Patty
Mustard
Lettuce
Tomato
Bottom Bun
Pita Bread with Chicken
Black Beans
Verde Sauce
White Rice
Onions
Large Cup
Strawberries
Rainbow Sherbet Syrup
Chunky Blend
Whipped Cream
Strawberry Topping
Sprinkles
3 Pecan Toasts
Cinnamon
Drink:

Large Orange Juice with Ice
Bottom Bun
Onion
Medium Patty
Mustard
Lettuce
Tomato
Top Bun
4 Parmesan Boneless Wings (left)
4 Teriyaki Shrimps (right)
4 Carrots (all)
Zesty Pesto Dip
Hot Dog on a Hoagie Roll
Ketchup
Mustard
Pineapple Relish
Pickle
Drink and Popcorn:

Large Tangerine Pop
Medium Cinnamon Swirl
Liner A
Strawberry Cake
Cupcake 1:

Pink Frosting
Strawberry Drizzle
Shaved Coconut
Cloudberry, Cherry, Cloudberry

Cupcake 2:

Pink Frosting
Lollipop Bits
Rainbow Sprinkles
3 Cherries
Holiday (Summer Luau)
Liner A
Strawberry Cake
Cupcake 1:

Pink Frosting
Strawberry Drizzle
Shaved Coconut
Gummy Pineapple, Paper Umbrella, Gummy Pineapple

Cupcake 2:

Pink Frosting
Lollipop Bits
Rainbow Sprinkles
Cherry, Paper Umbrella, Cherry
Large Cup
Strawberries
Rainbow Sherbet
Chunky Blend
Whipped Cream
Strawberry Syrup
Rainbow Sprinkles
Pomegranates
Regular Gnocchi
Beefy Bolognese
Parmesan Cheese
6 Shrimps
Focaccia
Holiday (Starlight Jubilee)
Regular Gnocchi
Rocket Ragu
Parmesan Cheese
6 Shrimps
Focaccia
Medium Cup
Strawberries
Huckleberry Syrup
Regular Blend
Strawberry Fluff
Lollipop Bits
Pomegranates
3 Strawberry Wafers
Red Velvet Ring Donut

Red Icing
Vanilla Drizzle

Regular Roll Donut with Blackberry Jelly

Strawberry Icing
Raspberry Bark

Blueberry Long John with Strawberry Jelly

Sky Blue Icing
Strawberry Drizzle
Holiday (Big Top Carnival)
Red Velvet Ring Donut

Red Icing
Vanilla Drizzle

Regular Bearclaw Donut with Blackberry Jelly

Strawberry Icing
Raspberry Bark

Blueberry Long John with Strawberry Jelly

Cotton Candy Icing
Strawberry Drizzle
4 Parmesan Boneless Wings (left)
4 Thai Chili Shrimps (right)
4 Carrots
Zesty Pesto Dip
4 Colby Jack Cheese (left)
4 Chicken (left)
3 Onions (bottom left)
2 Basil Leaves (top left)
Regular Bake
6 Slices
Rosemary Focaccia with Havarti Cheese
Regular Grill
Lobster Chunks
Ranch
Lobster Chunks
Fries:

Sweet Potato Wedges
Chives
Holiday (New Year)
Rosemary Focaccia with Havarti Cheese
Regular Grill
Lobster Chunks
Parmesan Sauce
Mac n' Cheese
Lobster Chunks
Fries:

Sweet Potato Wedges
Chives
Liner A
Strawberry Cake
Cupcake 1:

Pink Frosting
Strawberry Drizzle
Shaved Coconut
2 Strawberry Wafers

Cupcake 2:

Pink Frosting
Lollipop Bits
Rainbow Sprinkles
Cherry
Holiday (Valentine's Day)
Liner A
Raspberry White Chocolate Cake
Cupcake 1:

Pink Frosting
Strawberry Drizzle
Shaved Coconut
Frosted Rose
Strawberry Wafer

Cupcake 2:

Pink Frosting
Watermelon Drizzle
X and O Sprinkles
Chocolate Strawberry
Liner A
Strawberry Cake
Pink Frosting
Cupcake 1:

Strawberry Drizzle
Shaved Coconut
Strawberry Wafer, Cherry, Strawberry Wafer

Cupcake 2:

Lollipop Bits
Rainbow Sprinkles
Cherry
Holiday (Valentine's Day)
Liner A
Raspberry White Chocolate Cake
Pink Frosting
Cupcake 1:

Strawberry Drizzle
Shaved Coconut
Strawberry Wafer, Frosted Rose, Strawberry Wafer

Cupcake 2:

Watermelon Drizzle
X and O Sprinkles
Chocolate Strawberry
Gingersnap Crust
Dragonfruit Filling
Dragonfruit Filling
Strawberry Filling
Strawberry Filling
Lattice Top
Huckleberry Syrup (All Over)
12 Whipped Cream Dollops (Outer Ring)
12 Raspberries (Outer Ring)
Holiday (Valentine's Day)
Gingersnap Crust
Pomegranate Filling
Pomegranate Filling
Strawberry Filling
Strawberry Filling
Lattice Top
Lollipop Drizzle (All Over)
8 Macarons (Inner Ring)
12 Raspberries (Outer Ring)
Pita Bread with Chicken
Black Beans
Verde Sauce
White Rice
Onions
Chips:

Traditional Chips
Pico de Gallo
Holiday (Easter)
Pita Bread with Battered Perch
Black Beans
Verde Sauce
White Rice
Onions
Blue Cheese Crumbles
Chips:

Traditional Chips
Pico de Gallo
Momoiro Soy Paper with Black Rice
Flipped
Prawn
Tempura Crunch
Duck Sauce
Bubble Tea:

Strawberry Tea with Watermelon Bubbles
Holiday (Cherry Blossom Festival)
Shiroi Soy Paper with Black Rice
Flipped
Prawn
Tempura Crunch
Sweet Sakura Sauce
Bubble Tea:

Strawberry Tea with Watermelon Bubbles
Pecan French Toast
Strawberry Syrup
4 Strawberries
Raspberries
Drink:

Large Orange Juice with Ice
Holiday (Valentine's Day)
Pecan French Toast
Cheesecake Crumbles
Strawberry Syrup
4 Strawberries
Raspberries
Drink:

Large Cranberry Juice with Ice
Traditional Crust
Olive Oil
Grated Parmesan Cheese
2 Basil Leaves (top left)
4 Chickens (left)
3 Onions (bottom left)
Regular Bake
6 Slices
Holiday (Valentine's Day)
Tomato Basil Crust
Olive Oil
Grated Parmesan Cheese
2 Ricotta Balls (top left)
4 Chickens (left)
3 Onions (bottom left)
Regular Bake
6 Slices
Hot Dog on a Hoagie Roll
Ketchup
Mustard
Pineapple Relish
Pickle
Drink and Popcorn:

Large Tangerine Pop
Medium Cinnamon Swirl
Holiday (Valentine's Day)
Hot Dog on a Beetbread Bun
Strawberry Vinaigrette
Mustard
Sundried Tomatoes
Pickle
Drink and Popcorn:

Large Razzle Dazzle
Medium Cinnamon Swirl
Gingerbread Cookie with Sugar Crystals

Raspberry Ripple Ice Cream

Traditional Cookie with Pomegranate
Oatmeal Cookie with Raisins

Watermelon Chip Ice Cream

Strawberry Drizzle
Rainbow Sprinkles
3 Macarons
Holiday (Holi)
Gingerbread Cookie with Sugar Crystals

Raspberry Ripple Ice Cream

Traditional Cookie with Holi Sugar
Oatmeal Cookie with Raisins

Watermelon Chip Ice Cream

Kanji Syrup
Holi Sugar
3 Macarons
3 Parmesan Boneless Wings (All)
3 Thai Chili Shrimps (All)
3 Cheese Cubes (All)
Zesty Pesto Dip
Holiday (Big Top Carnival)
3 Parmesan Boneless Wings (All)
3 Thai Chili Shrimps (All)
3 Cheese Cubes (All)
PB&J Dip
Regular Roll

Strawberry Icing
Vanilla Drizzle

Red Velvet Ring Donut with Whipped Cream

Red Rose Icing
Strawberry Drizzle
Raspberry Bark

Blueberry Long John

Blue Nimbus Icing
Raspberry Bark
Holiday (Sugarplex Film Fest)
Regular Roll

Golden Age Icing
Vanilla Drizzle

Red Velvet Ring Donut with Root Beer Float Filling

Golden Age Icing
Butterzinger Drizzle
Raspberry Bark

Blueberry Long John

Blue Nimbus Icing
Raspberry Bark
Rosemary Focaccia with Havarti Cheese
Regular Grill
Lobster Chunks
Ranch
Lobster Chunks
Fries:

Sweet Potato Wedges
Chives
Holiday (New Year)
Rosemary Focaccia with Havarti Cheese
Regular Grill
Lobster Chunks
Parmesan Sauce
Mac n' Cheese
Lobster Chunks
Fries:

Sweet Potato Wedges
Parmesan Sauce
Chives
Gingersnap Crust
Dragonfruit Filling
Dragonfruit Filling
Strawberry Filling
Strawberry Filling
Lattice Top
Huckleberry Syrup (All Over)
8 Whipped Cream Dollops (Outer Ring)
8 Raspberries (Outer Ring)
Holiday (Valentine's Day)
Gingersnap Crust
Pomegranate Filling
Pomegranate Filling
Strawberry Filling
Strawberry Filling
Lattice Top
Lollipop Drizzle (All Over)
8 Macarons (Inner Ring)
8 Raspberries (Outer Ring)
Small Cup
1 shot of Hot Skim Milk
3 shots of City Roast
Blue Nimbus Syrup
Toasted Coconut
Cannoli:

Pineapple Upside-Down Shell
Strawberry Cream
Toasted Coconut
Holiday (Sugarplex Film Fest)
Small Cup
1 shot of Hot Root Beer Float
3 shots of City Roast
Golden Age Syrup
Toasted Coconut
Cannoli:

Shell Noir
Strawberry Cream
Butterzinger Bits
Buttermilk Biscuit
Summer Crisp Lettuce
Cod with Tempura Batter
Red Cabbage Slaw
Pickles
Paprikash Sauce
Medium Slush

Dragonfruit Slush
Watermelon Slush
Holiday (Valentine's Day)
Pink Poppyseed Bun
Summer Crisp Lettuce
Cod with Tempura Batter
Radicchio
Pickles
Nogada Sauce
Medium Slush

Dragonfruit Slush
Watermelon Slush
Ranks required to unlock her
Unlockables
Papa's Next Chefs
Stickers
| Sticker Number | Name | Achievement | Sticker Earned |
| --- | --- | --- | --- |
| 83 | Get the Tables! | Fill your lobby with 12 large tables | |
| 39 | Romano Family | Serve everyone in the Romano Family Quartet | |
| 25 | Build Expert | Get a 100% Build Score on 20 orders | |
| Sticker Number | Name | Achievement | Sticker Earned |
| --- | --- | --- | --- |
| 84 | Sharpshooter | Shoot 30 flying Chilifeathers while playing Hot Shot | |
| 52 | Cookbook Mastery | Master 20 Special Recipes by reaching 5 Stars on each | |
| 3 | Spring has Sprung | Reach Spring | |
| Sticker Number | Name | Achievement | Sticker Earned |
| --- | --- | --- | --- |
| 45 | Grand Prize Winner | Earn 5 Prizes or more in each of Foodini's Mini-Games | |
| 67 | State Swap | Serve a California Roll Special to Utah | |
| 29 | Award-Winning Restaurant | Get 5 Blue Ribbons from Jojo the Food Critic | |
| Sticker Number | Name | Achievement | Sticker Earned |
| --- | --- | --- | --- |
| 56 | Building Materials | Unlock all of the Standard Toppings | |
| 14 | Go Green | Unlock all St. Paddy's Day toppings | |
| 82 | Bubble Gum Bonanza | Have 10 different kinds of bubble gum in the lobby at once | |
| Sticker Number | Name | Achievement | Sticker Earned |
| --- | --- | --- | --- |
| 65 | Mindy Margherita | Serve a Pizza Margherita Special to Mindy | |
| 71 | Capiclover | Add Capicola to Clover's order | |
| 23 | Restaurant Regulars | Earn 15 Gold Customer Awards | |
| Sticker Number | Name | Achievement | Sticker Earned |
| --- | --- | --- | --- |
| 40 | Scarlett and the Shakers | Serve everyone in Scarlett and the Shakers | |
| 4 | Spring has Sprung | Reach Spring | |
| 15 | Go Green | Unlock all St. Paddy's Day toppings | |
| Sticker Number | Name | Achievement | Sticker Earned |
| --- | --- | --- | --- |
| 80 | Holiday Outfit | Wear a shirt, belt, jacket, pants, and hat to match the current holiday | |
| 26 | Build Expert | Get a 100% Build Score on 20 orders | |
| 61 | Nickerbocker | Serve a Knickerbocker Glory Special to Nick | |
| Sticker Number | Name | Achievement | Sticker Earned |
| --- | --- | --- | --- |
| 81 | Holiday Outfit | Wear a shirt, belt, jacket, pants, and hat to match the current holiday | |
| 26 | Build Expert | Get a 100% Build Score on 20 orders | |
| 62 | Nickerbocker | Serve a Knickerbocker Glory Special to Nick | |
| Sticker Number | Name | Achievement | Sticker Earned |
| --- | --- | --- | --- |
| 13 | Playing Cupid | Unlock all Valentine's Day toppings | |
| 29 | Award Winning Pancakes | Get 5 Blue Ribbons from Jojo the Food Critic | |
| 60 | Big Pauly Bunyan | Serve a Blue Bunyan Special to Big Pauly | |
| Sticker Number | Name | Achievement | Sticker Earned |
| --- | --- | --- | --- |
| 16 | Carnival Food | Unlock all Big Top Carnival toppings | |
| 23 | Restaurant Regulars | Earn 15 Gold Customer Awards | |
| 27 | Build Expert | Get a 100% Build Score on 20 orders | |
| Sticker Number | Name | Achievement | Sticker Earned |
| --- | --- | --- | --- |
| 4 | Summer Vacation | Reach Summer | |
| 66 | Cumulus Cooper | Serve a Cumulus Crullers Special to Cooper | |
| 12 | Easter Basket | Unlock all Easter toppings | |
| Sticker Number | Name | Achievement | Sticker Earned |
| --- | --- | --- | --- |
| 15 | Festival of Colors | Unlock all Holi toppings | |
| 46 | Special Collector | Earn 5 Special Recipes from customers | |
| 68 | Marbled Marty | Use Marble Rye and Marble Colby Cheese for Marty's sandwich | |
| Sticker Number | Name | Achievement | Sticker Earned |
| --- | --- | --- | --- |
| 47 | Recipe Collection | Earn 15 Special Recipes from customers | |
| 46 | Special Collector | Earn 5 Special Recipes from customers | |
| 22 | Silver Medal | Earn 10 Silver Customer Awards | |
| Sticker Number | Name | Achievement | Sticker Earned |
| --- | --- | --- | --- |
| 62 | Peggy Hamachi | Serve a Negi Hamachi Special to Peggy | |
| 26 | Rice Expert | Get a 100% Cooking Score on 20 orders | |
| 89 | Melon Mess-Up | Throw away 5 Bubbles Teas with Watermelon Bubbles in one day | |
| Sticker Number | Name | Achievement | Sticker Earned |
| --- | --- | --- | --- |
| 9 | Gondola Goodies | Unlock all Gondola 500 toppings | |
| 22 | Silver Medal | Earn 10 Silver Customer Awards | |
| 30 | Month's Pay | Receive your wages on four Pay Days | |
| Sticker Number | Name | Achievement | Sticker Earned |
| --- | --- | --- | --- |
| 49 | Complete Cookbook | Earn 40 Special Recipes from customers | |
| 30 | Month's Pay | Receive your wages on four Pay Days | |
| 47 | Special Collector | Earn 5 Special Recipes from customers | |
| Sticker Number | Name | Achievement | Sticker Earned |
| --- | --- | --- | --- |
| 13 | Lots of Luck | Unlock all Lucky Lucky Matsuri toppings | |
| 58 | Slush Server | Unlock all of the Standard Slush Flavors | |
| 14 | Springtime Sandwiches | Unlock all Easter toppings | |
Earn all three stickers in any of the above games to unlock this outfit: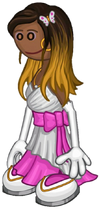 Trivia
Order Tickets
Gallery
Prepared Orders
Perfect Orders
Promotional Images
Holiday Pictures
Others
Fan Art