Kenton is a male customer who made his first appearance in Papa's Mocharia To Go!. He's a fan-made customer selected by fans in Kingsley's Customerpalooza 2020, created by James.
Appearance
Kenton has fair skin and short black hair. He wears a navy-blue button-down shirt with yellow snowflake patterns on the sleeves, cream yellow sleeve ends, and white buttons under a gray vest with black stitches, black pants with gray stitches held by a pale brown belt with a golden buckle, golden sunglasses on his forehead, a pale brown scarf, and a black watch, navy-blue sneakers with pale brown soles, cream yellow vamps, and white laces.
Styles
Style B
He wears a pale brown collared shirt with cream yellow lining, a light blue shirt over it, and a navy-blue jacket with a lighter blue perpendicular line pattern, cream yellow buttons, and a golden handkerchief in the top left pocket. He also wears pale brown pants with pinstripes held by a black belt with a golden chain and gray buckle, a white necklace with a white snowflake in the middle surrounded by black beads, black sunglasses with golden lenses on his forehead, and shoes have black soles.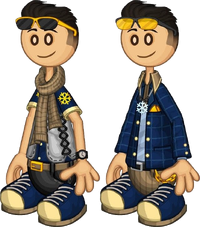 Kingsley's Customerpalooza 2020
On his way to winning the eighth Customerpalooza, Kenton received more votes than:
Lester in round 1 of the Popcorn Division (2,925-2,140)
Travette in the Popcorn Division Semi-Finals (2,512-2,200)
Valentina in the Popcorn Division Finals (2,462-2,189)
Aubrey in the Final Four (3,334-2,262)
Karina in the Grand Finals (2,913-2,413)
Orders
Medium Cup
3 shots of French Roast
2 shots of Hot Chocolate Milk
Chocolate Mousse
Toasted Coconut
Cannoli:

Pizzelle Shell
Chocolate Mousse
Toasted Coconut
Holiday (Sugarplex Film Fest)
Medium Cup
3 shots of French Roast
2 shots of Hot Chocolate Milk
Chocolate Mousse
Butterzinger Bits
Cannoli:

Pizzelle Shell
Dual Licorice Whip
Toasted Coconut
Ranks required to unlock him
Unlockables
Stickers
| Sticker Number | Name | Achievement | Sticker Earned |
| --- | --- | --- | --- |
| 49 | Complete Cookbook | Earn 40 Special Recipes from customers | |
| 22 | Silver Medal | Earn 10 Silver Customer Awards | |
| 36 | New Coat of Paint | Buy any 4 Flooring or Wallpaper from the Shop | |
Earn all three stickers in either game to earn this outfit: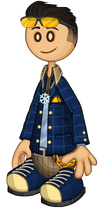 Trivia
Order Tickets
Gallery
Perfect Orders
Others
Promotional Images
Fan Art