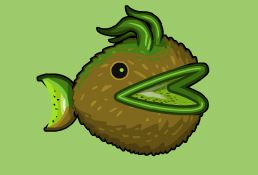 Kiwi Gulpers
are underwater enemies that first appear in
Papa Louie 3: When Sundaes Attack!
in
Lake Chocodunk
.
Appearance
Kiwi Gulpers resemble kiwis, but have black beady eyes, a green kiwi mouth, green tufts on the top, and a fish tail-like kiwi.
Movement
Kiwi Gulpers will aimlessly slowly swim around in tiny circles until they see the player. Once they have spotted the player, they will swim toward the player, trying to attack.
Once they reached a close distance to the player, they will zoom quickly at the player, much like a Swim Boost.
If they succeeded in touching the character, the character will then lose a life. If they fail, they will continue to swim towards the player, and attempting to zoom at them.
They can only be killed by those with the Swim Boost (Utah, Gremmie, Nick).
Trivia
Their smaller counterpart are called Gulpies, and they are a collectible in Wintergreen Way along with the X Zone, though they don't need to be collected in the X Zone. Gulpies will try to run away from you the second they see you, which is the complete opposite of the Kiwi Gulper.
There is a glitch in where you must defeat at least 2 of them to show up in the baddies list.
Gallery
Community content is available under
CC-BY-SA
unless otherwise noted.