This article is about the recipe from Papa's Cook Book. If you are looking for the special from Papa's Pancakeria HD/To Go!, click here.
Lumberjack Toast was the eighth recipe featured in Papa's Cook Book, a feature on the Flipline Studios Blog.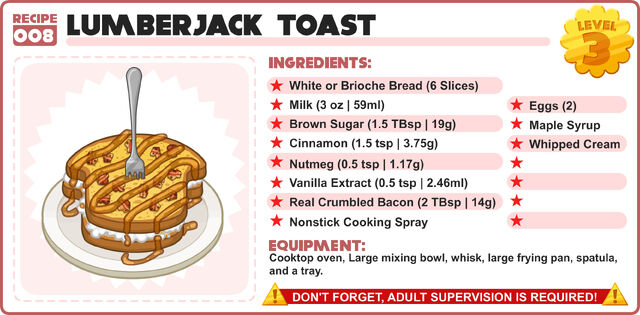 Instructions
1: Make the Batter
Crack the eggs into a large mixing bowl and discard the shell. Whisk the eggs together. Then, mix in the vanilla extract, milk, brown sugar, and nutmeg. On a side note, this recipe calls for Real Crumbled Bacon. If you don't have access to pre-made bacon crumbles, you will have to fry up 2 strips of bacon and crumble them ahead of time.
2: Dunk the Bread
Dunk each slice of bread into the batter so that the bread is fully saturated on both sides.
3: Toast it Up
Spray a frying pan with nonstick cooking spray, and place over medium/high heat. Place as many slices of bread in the pan that will fit comfortably. Cook while nudging the slices around with a spatula to avoid sticking. Once the underside is golden brown, flip the slices over and cook the other side the same way. Do the same for any remaining slices that didn't fit in the pan during the first round. Place all the cooked slices on a tray.
4: Stack and Serve!
Sprinkle cinnamon over the slices of toast. Then, take a slice of toast and put it on a serving plate. Next, spray whip cream on top of it, and cover with a second slice of toast. Sprinkle bacon crumbles over top and cover it all with maple syrup. This recipe makes 3 servings, with each serving consisting of two slices of toast.
Gallery
Community content is available under
CC-BY-SA
unless otherwise noted.