m

m

(Changed protection level for "Maggie" (‎[edit=autoconfirmed] (indefinite) ‎[move=autoconfirmed] (indefinite)))

(No difference)
---
Revision as of 02:37, 11 July 2012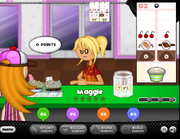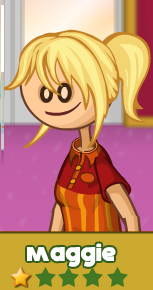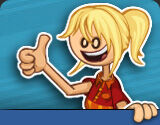 Maggie is a chef of Papa's Taco Mia with her co-worker Mitch. She first appeared in Papa Louie: When Pizzas Attack!
Her burger bread, rare patty, cheese, lettuce, onion, BBQ, top bun.
Her Sundae:Small Banana Sundae Blueberries Whipped Cream Blueberry Syrup Tropical Charms Gummy Onion,Cherry,Gummy Onion.
Her meal: bacon pancake, chocolate chips, bacon pancake, 4 butter. drink: cranberry juice in small cup with ice.
Her Wings:4 Teriyaki Strips(Left),4 Of Celery and 1 Kung Pao dip.
She has a white shirt and purple pants and a black belt and her hair looks like seaweed in Papa's Pizzeria but Papa's Freezeria her pants are black and her hair is like Papa's Taco Mia hair, and since Papa's Taco Mia she wears the Taco Mia! uniform.
Her full name is "Marjorie Jina "Maggie" Stone"
In Papa's Next Chefs Round 1 she won to Rita and won with Marty.
In Papa's Next Chefs Round 2 she won to Vicky and won with Marty.
In Papa's Next Chefs Round 3 she lost to Cecilia and lost with Marty.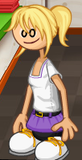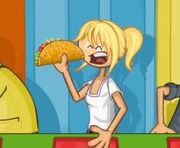 Her favorite food are tacos.
Her Order In Wingeria Is Very Hard.