Mardi Gras is a holiday that is celebrated in three of Papa Louie's restaurant-time management games. Upon reaching this holiday, Olivia makes her first appearance as well.
The "Masquerade" sticker is earned when all of the Mardi Gras exclusive ingredients are unlocked.
Customers bring in fleur-de-lis tridents to celebrate the holiday.
From the Flipline Studios Blog
Hey Everyone,
We are back with a new sneak peek of Papa's Wingeria To Go! This week we wanted to introduce the holiday of Mardi Gras!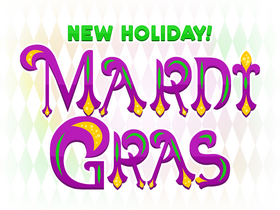 This brand new holiday will be making it's debut in Papa's Wingeria To Go! During this festive holiday, you will be experiencing some truly unique Cajun flavors. Laissez les bons temps rouler! [1]
Customers who favor this holiday
Mardi Gras-Exclusive Ingredients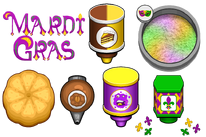 Trivia
Gallery
Cities during Mardi Gras
Poster
Appears in
Picture
Bonus
Points
Theme
Cost
Papa's Wingeria To Go!

Papa's Donuteria To Go!

Papa's Pastaria To Go!

Waiting Bonus
20 points
(Wingeria To Go!, Donuteria To Go!)
(Pastaria To Go!)
$45.00 (Wingeria To Go!, Donuteria To Go!)
Earned in mini-game (Pastaria To Go!)
v • e

Holidays

Valentine's Day • St. Paddy's Day • Easter • OnionFest • Summer Luau • Starlight Jubilee • Baseball Season • Pirate Bash • Halloween • Thanksgiving • Christmas • New Year
Chilifest • Summer Luau • Starlight Jubilee • Neptune's Feast • Gondola 500 • Halloween • Thanksgiving • Christmas • New Year • Valentine's Day • St. Paddy's Day • Romano Wedding
Maple Mornings • Halloween • Thanksgiving • Christmas • New Year • Valentine's Day • St. Paddy's Day • Easter • Big Top Carnival • Summer Luau • Starlight Jubilee • Sky Ninja Returns
Cinco de Mayo • Summer Luau • Starlight BBQ • Portallini Feast • Maple Mornings • Halloween • Thanksgiving • Christmas • New Year • Valentine's Day • St. Paddy's Day • Easter
Valentine's Day • St. Paddy's Day • Easter • Cinco de Mayo • Summer Luau • Starlight Jubilee • Big Top Carnival • Comet Con • Halloween • Thanksgiving • Christmas • New Year
Valentine's Day • St. Paddy's Day • Easter • Cherry Blossom Festival • Summer Luau • Starlight Jubilee • Sugarplex Film Fest • Maple Mornings • Halloween • Thanksgiving • Christmas • New Year
New Year • Valentine's Day • St. Paddy's Day • Easter • Cherry Blossom Festival • Summer Luau • Starlight Jubilee • Comet Con • Grōōvstock • Halloween • Thanksgiving • Christmas
Starlight BBQ • Portallini Feast • Maple Mornings • Halloween • Thanksgiving • Christmas • New Year • Valentine's Day • St. Paddy's Day • Easter • Cherry Blossom Festival • Summer Luau
Cherry Blossom Festival • Cinco de Mayo • Summer Luau • Starlight BBQ • BavariaFest • Maple Mornings • Halloween • Thanksgiving • Christmas • New Year • Valentine's Day • Lucky Lucky Matsuri
Starlight BBQ • BavariaFest • Maple Mornings • Halloween • Thanksgiving • Christmas • New Year • Valentine's Day • St. Paddy's Day • Easter • Big Top Carnival • Summer Luau
Summer Luau • Starlight Jubilee • Sugarplex Film Fest • Grōōvstock • Halloween • Thanksgiving • Christmas • New Year • Valentine's Day • St. Paddy's Day • Easter • Cinco de Mayo
Thanksgiving • Christmas • New Year • Valentine's Day • Lucky Lucky Matsuri • Easter • Cinco de Mayo • Summer Luau • Starlight BBQ • BavariaFest • Maple Mornings • Halloween
Cherry Blossom Festival • Summer Luau • Starlight BBQ • Comet Con • Sugarplex Film Fest • Halloween • Thanksgiving • Christmas • New Year • Valentine's Day • St. Paddy's Day • Easter
Cinco de Mayo • Summer Luau • Starlight BBQ • Grōōvstock • Maple Mornings • Halloween • Thanksgiving • Christmas • New Year • Valentine's Day • St. Paddy's Day • Easter
Holi • Cherry Blossom Festival • OnionFest • Summer Luau • Starlight Jubilee • Baseball Season • Big Top Carnival • Halloween • Thanksgiving • Christmas • New Year • Valentine's Day
Holi • Cherry Blossom Festival • OnionFest • Summer Luau • Starlight Jubilee • Baseball Season • Big Top Carnival • Halloween • Thanksgiving • Christmas • New Year • Valentine's Day
Holi • Easter • Cinco de Mayo • Summer Luau • Starlight Jubilee • Baseball Season • Big Top Carnival • Halloween • Thanksgiving • Christmas • New Year • Valentine's Day
Summer Luau • Starlight Jubilee • BavariaFest • Pirate Bash • Halloween • Thanksgiving • Christmas • New Year • Valentine's Day • St. Paddy's Day • Cherry Blossom Festival • Cinco de Mayo
OnionFest • Summer Luau • Starlight BBQ • BavariaFest • Maple Mornings • Halloween • Thanksgiving • Christmas • New Year • Mardi Gras • Lucky Lucky Matsuri • Big Top Carnival
Maple Mornings • Halloween • Thanksgiving • Christmas • New Year • Mardi Gras • St. Paddy's Day • Easter • Sugarplex Film Fest • Summer Luau • Starlight Jubilee • Sky Ninja Returns
Cinco de Mayo • Summer Luau • Starlight BBQ • Portallini Feast • Pirate Bash • Halloween • Thanksgiving • Christmas • New Year • Valentine's Day • Holi • Easter
New Year • Valentine's Day • St. Paddy's Day • Easter • Big Top Carnival • Summer Luau • Starlight Jubilee • Sugarplex Film Fest • Grōōvstock • Halloween • Thanksgiving • Christmas
Cherry Blossom Festival • Cinco de Mayo • Summer Luau • Starlight BBQ • Portallini Feast • Comet Con • Halloween • Thanksgiving • Christmas • New Year • Valentine's Day • Lucky Lucky Matsuri
Chilifest • Summer Luau • Starlight Jubilee • Neptune's Feast • Gondola 500 • Halloween • Thanksgiving • Christmas • Lunar New Year • Mardi Gras • St. Paddy's Day • Romano Wedding
Halloween • Thanksgiving • Christmas • New Year • Valentine's Day • St. Paddy's Day • Cherry Blossom Festival • Cinco de Mayo • Summer Luau • Starlight Jubilee • Grōōvstock • Sugarplex Film Fest