Raise a Floppa - The Loop
Play Sound
Mesa is a female customer who made her first appearance in Papa's Cheeseria To Go!. She's a fan-made customer selected by fans in Kingsley's Customerpalooza 2019, created by DownTime.
Appearance
Mesa has long curly black hair, black eye shadow, and thin eyebrows. She wears a small golden orange hat with a red bow, a black and red collared shirt with golden orange buttons and black diamonds with a golden orange necklace. She also wears a red Bavarian vest with golden orange buttons and pockets, a black long skirt with a flame pattern of golden orange and red, and golden orange shoes with red laces, black sole, and a red star. She also wears golden orange studded bracelets with black accents.
Styles
Style B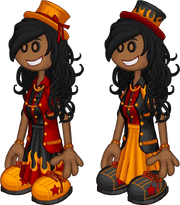 She wears a black hat with an orange flame pattern on the bottom and a red rim, a red shirt with a black collar, orange sleeves, and a black line with orange buttons. She also wears a black sleeveless jacket, orange pencil skirt, and black shoes with orange lines.
Kingsley's Customerpalooza 2019
On her way to winning the seventh Customerpalooza, Mesa received more votes than:
Lily in Round 1 of the Coco Coolada Division (4,147-3,082)
Ode in the Coco Coolada Division Semi-Finals (3,024-2,153)
Maurice in the Coco Coolada Division Finals (2,952-1,837)
Honeymoon in the Final Four (2,938-2,622)
Winston in the Grand Finals (2,406-1,729)
Orders
Multigrain Bread with Marble Colby Cheese
Regular Grill
Sliced Turkey
Bacon
Tomato
Shredded Lettuce
Fries:

French Fries
Cheddar Topping
Ranch
Holiday (Summer Luau)
Hawaiian Roll with Marble Colby Cheese
Regular Grill
Sliced Turkey
Bacon
Pineapple
Calypso Sauce
Shredded Lettuce
Fries:

French Fries
Cheddar Topping
Calypso Sauce
Red Velvet Crust
Peanut Butter Fluff
Pecan Filling
Pecan Filling
Pecan Filling
Streussel Topping
Cherry Syrup (All Over)
8 Chocolate Mousse Dollops (Inner Ring)
1 Cherry (Center)
Holiday (Sugarplex Film Fest)
Red Velvet Crust
Dual Licorice Filling
Pecan Filling
Pecan Filling
Pecan Filling
Streussel Topping
Hot Rods Syrup (All Over)
8 Sweetish Fish (Inner Ring)
1 Cherry (Center)
Ukoniro Soy Paper with White Rice
Not Flipped
Wagyu
Sriracha
Bubble Tea:

Tangerine Tea with Cherry Bubbles
Holiday (Comet Con)
Ukoniro Soy Paper with White Rice
Not Flipped
Wagyu
Sriracha
Bubble Tea:

Tangerine Tea with Cherry Bubbles
Regular Radiatori
Beefy Bolognese
Crushida Pepper
5 Meatballs
Cheesy Bread
Holiday (ChiliFest)
Regular Cellentani
Rico's Chili
Crushida Pepper
5 Chili Peppers
Cheesy Bread
Large Cup
3 shots of Decaf Roast
2 shots of Cold Strawberry Milk
Crushed Ice
Chocolate Mousse
Red Velvet Syrup
Ground Nutmeg
Cannoli:

Classic Cannoli Shell
Creameo Cream
Mini Mallows
Holiday (Cinco de Mayo)
Large Cup
3 shots of Decaf Roast
2 shots of Cold Strawberry Milk
Crushed Ice
Chocolate Mousse
Mamey Syrup
Ground Nutmeg
Cannoli:

Churro
Creameo Cream
Cinco Swirls
Multigrain Bun
BBQ Sauce
Red Cabbage Slaw
Country Steak with Tempura Batter
Red Cabbage Slaw
BBQ Sauce
Pineapple Ring
Medium Slush

Tangerine Slush
Black Cherry Slush
Holiday (Lucky Lucky Matsuri)
Cheung Chau Bun
Gochujang Sauce
Kimchi
Country Steak with Tempura Batter
Red Cabbage Slaw
BBQ Sauce
Pineapple Ring
Medium Slush

Iyokan Slush
Black Cherry Slush
Ranks required to unlock her
Unlockables
Stickers
| Sticker Number | Name | Achievement | Sticker Earned |
| --- | --- | --- | --- |
| 35 | Updated Wardrobe | Buy any 8 Clothing items from the Shop | |
| 49 | Successful Specials | Earn 3 Special Stars when serving Today's Special | |
| 87 | Coupon Clipper | Send 10 Customer Coupons to your customers | |
| Sticker Number | Name | Achievement | Sticker Earned |
| --- | --- | --- | --- |
| 25 | Build Expert | Get a 100% Build Score on 20 orders | |
| 40 | Scarlett and the Shakers | Serve everyone in Scarlett and the Shakers | |
| 3 | Fall Harvest | Reach Autumn | |
| Sticker Number | Name | Achievement | Sticker Earned |
| --- | --- | --- | --- |
| 74 | Momo Mesa | Use Momoiro Soy Paper for Mesa's sushi | |
| 4 | Spring Has Sprung | Reach Spring | |
| 45 | Rare Reward | Win a Rare Bonus Prize in a Mini-Game by earning a Star Medal | |
| Sticker Number | Name | Achievement | Sticker Earned |
| --- | --- | --- | --- |
| 37 | Upgrade Master | Buy all of the Upgrades in the Shop | |
| 59 | Kahunaroni | Serve a Sausage Mozzaroni Special to Kahuna | |
| 35 | Updated Wardrobe | Buy any 8 Clothing items from the Shop | |
| Sticker Number | Name | Achievement | Sticker Earned |
| --- | --- | --- | --- |
| 54 | Best Barista | Unlock all of the Standard Espressos and Dairy | |
| 40 | Scarlett and the Shakers | Serve all the band members of Scarlett and the Shakers | |
| 15 | Jam Session | Unlock all Grōōvstock toppings | |
| Sticker Number | Name | Achievement | Sticker Earned |
| --- | --- | --- | --- |
| 15 | Out of This World | Unlock all Comet Con toppings | |
| 34 | Interior Decorator | Buy any 8 Furniture items from the Shop | |
| 7 | Rise and Shine | Unlock all Maple Mornings toppings | |
Earn all three stickers in any of the above games to unlock this outfit: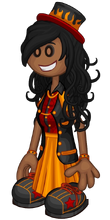 Order Tickets
Gallery
Prepared Orders
Perfect Orders
Promotional Images
Others
Fan Art