Mindy is a female customer who made her first appearance in Papa Louie: When Pizzas Attack!.
Flipdeck Info
Hometown: Tastyville
Occupation: Hairdresser
Loves: Cotton Candy
Hates: Khaki
Mindy is a talented hairdresser from Tastyville. She and her mom, Vicky, run the Cloudberry Beauty Salon across from Papa's Pizzeria. Mindy has been known to practice on herself and has had many hairstyles and colors through the years. Mindy has many clients including Timm who comes in every other month for a very manly perm.
Appearance
Mindy has light skin, sky blue eyeliner, and black hair tied back into a ponytail that is also held by a pale cyan hairband. It also has dyed fuchsia streaks. She wears a fuchsia loose sleeved belly-like shirt with a star of the same color printed on it. She also wears a pair of pale cyan ringed earrings, light cyan pants, and white shoes with fuchsia laces.
Mindy originally had platinum blonde hair until Papa's Freezeria,where she wore a fuchsia sleeveless top, and bracelets of the same color. Starting from Papa's Hot Doggeria, her bracelets were removed.
Clean-Up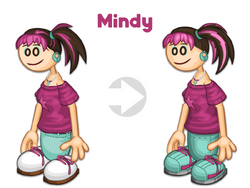 Her hair is redesigned, wherein the streaks in her hair are now rosy pink. Her outfit also got remodeled. Her shoes changed to grayish cyan sneakers with fuchsia side streaks.
Styles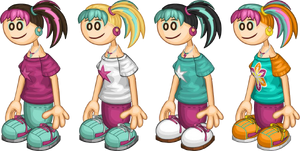 Style B
Her hair has platinum blonde dyed hair with bright teal streaks and is held by a fuchsia hairband. She wears a white shirt with a fuchsia-colored star printed on it, fuchsia earrings, and fuchsia pants.
Style B (Papa Louie 2)
She wears her Style A, but with blue hairdye, a blue shirt with a white star, a pink hairband, earrings, and pants, a white necklace with blue beads and a pink thunderbolt, and white shoes with brown soles and pink laces.
Style H
She has fuchsia, orange, and blue hair tied up with a yellow band. She wears a yellow earring, a blue shirt with a rangoli-shaped orange and fuchsia flower, orange sleeves, fuchsia pants, and oranges shoes with yellow, laces, white soles, and blue and fuchsia lines.
Orders
4 Mushrooms (top right)
6 Anchovies (right)
37.5 minutes (5/8 of meter)
8 Slices
Bottom Bun
Lettuce
Onion
Mayo
Medium Patty
Tomato
Mustard
Top Bun
Soft Taco with Steak
Peppers
Verde Sauce
Tomatoes
Pinto Beans
Mild Sauce
Large Cup
Pineapple
Rainbow Sherbet Syrup
Smooth Blend
Whipped Cream
Sprinkles
Banana, Cherry
Bottom Bun
Mushrooms
Medium Patty
Mushrooms
Onion
Top Bun
6 Spicy Garlic Chicken Wings (all)
6 Carrots (all)
Blue Cheese Dip
Cheddarwurst on a Regular Bun
Chili
Onions
Marinara Sauce
3 Tomato Wedges
Drink and Popcorn:

Medium Purple Burple
Small Cinnamon Swirl
Liner A
Confetti Cake
Cupcake 1:

Pink Frosting
Strawberry Drizzle
Lollipop Bits
Cherry, Cloudberry, Cherry

Cupcake 2:

Violet Frosting
Lollipop Bits
Rock Candy
Cherry, Cloudberry, Cherry
Holiday (Easter)
Liner A
Vanilla Cake
Cupcake 1:

Pink Frosting
Cotton Candy Drizzle
Lollipop Bits
Cherry, Tulip Cookie, Cherry

Cupcake 2:

Violet Frosting
Lollipop Bits
Rock Candy
Cherry, Candy Egg, Cherry
Large Cup
Pineapple
Rainbow Sherbet Syrup
Smooth Blend
Whipped Cream
Sprinkles
Banana, Cherry, Banana
3 Cloudberries
Regular Ravioli
Garlic Basil
Parmesan Cheese
3 Green Peppers
3 Sausages
Poppyseed Roll
Holiday (Neptune's Feast)
Regular Ravioli
Garlic Basil
Parmesan Cheese
3 Anchovies
3 Sausages
Poppyseed Roll
Medium Cup
Marshmallows
Cotton Candy Syrup
Chunky Blend
Whipped Cream
Wildberry Derps
Lollipop Bits
3 Gummy Worms
Cloudberry
Regular Roll Donut with Chocolate Mousse

Chocolate Icing
Banana Drizzle

Blueberry Round Donut with Whipped Cream

Strawberry Icing
Rock Candy

Regular Long John with Blueberry Custard

Sky Blue Icing
Sugarplum Drizzle
Mini Mallows
Holiday (Big Top Carnival)
Regular Bearclaw Donut with Chocolate Mousse

Chocolate Icing
Choco Banana Drizzle

Blueberry Round Donut with Whipped Cream

Cotton Candy Icing
Rainbow Sprinkles

Regular Long John with Blueberry Custard

Sky Blue Icing
Sugarplum Drizzle
Mini Mallows
4 Mushrooms (left)
6 Anchovies (right)
8 Red Peppers
Light Bake
6 Slices
Ciabatta with Shredded Cheddar
Light Grill
Mushrooms
Lobster Chunks
Mushrooms
Balsamic Dressing
Deep-Fried Pickles
Fries:

Curly Fries
Cheddar Topping
Awesome Sauce
Holiday (Easter)
Ciabatta with Sirecz Cheese
Light Grill
Mushrooms
Lobster Chunks
Mushrooms
Hollandaise Sauce
Deep-Fried Pickles
Fries:

Curly Fries
Cheddar Topping
Awesome Sauce
Liner A
Vanilla Cake
Cupcake 1:

Pink Frosting
Strawberry Drizzle
Lollipop Bits
2 Cloudberries

Cupcake 2:

Teal Frosting
Vanilla Drizzle
Rock Candy
Frosted Flower
Holiday (Big Top Carnival)
Liner A
Apple Crumb Cake
Cupcake 1:

Pink Frosting
Strawberry Drizzle
Lollipop Bits
2 Cotton Candy

Cupcake 2:

Teal Frosting
Vanilla Drizzle
Popcorn
Frosted Flower
Liner D
Carrot Cake
Cupcake 1:

Pink Frosting
Strawberry Drizzle
Lollipop Bits
Cloudberry, Cherry, Cloudberry

Cupcake 2:

Violet Frosting
Lollipop Bits
Rock Candy
Cherry, Marshmallow, Cherry
Holiday (Easter)
Liner D
Carrot Cake
Cupcake 1:

Pink Frosting
Cotton Candy Drizzle
Lollipop Bits
Cherry, Tulip Cookie, Cherry

Cupcake 2:

Violet Frosting
Lollipop Bits
Rock Candy
Cherry, Candy Egg, Cherry
Traditional Crust
Strawberry Filling
Cheesecake Filling
Cheesecake Filling
Cheesecake Filling
Crushed Wafers (All Over)
8 Blueberry Pie-Tarts (Outer Ring)
Holiday (Easter)
Traditional Crust
Strawberry Filling
Cheesecake Filling
Cheesecake Filling
Cheesecake Filling
Crushed Wafers (All Over)
8 Lavender Cheeps (Inner Ring)
8 Blueberry Pie-Tarts (Outer Ring)
Soft Taco with Steak
Peppers
Verde Sauce
Tomatoes
Refried Beans
Lettuce
Chips:

Fiesta Chips
Chile Serrano Salsa
Holiday (Easter)
Soft Taco with Battered Perch
Peppers
Blackberry Remoulade
Tomatoes
Lettuce
Blue Cheese Crumbles
Chips:

Fiesta Chips
Chile Serrano Salsa
Momoiro Soy Paper with White Rice
Not Flipped
Sayori
Ponzu
Bubble Tea:

Strawberry Tea with Cotton Candy Bubbles
Holiday (Valentine's Day)
Akai Soy Paper with White Rice
Not Flipped
Sayori
Pomegranate
Ponzu
Bubble Tea:

Raspberry Tea with Cotton Candy Bubbles
2 Blueberry French Toasts
Strawberry Syrup
4 Bananas
Drink:
Holiday (Easter)
2 Blueberry French Toasts
Cotton Candy Drizzle
4 Bananas
Drink:

Large Wildberry Shake with Cream
Traditional Crust
Creamy Garlic Sauce with Grated Parmesan Cheese
3 Red Peppers (top right)
8 Mushrooms (all)
3 Smoked Salmon (bottom left)
Light Bake
6 Slices
Holiday (New Year)
Traditional Crust
Creamy Garlic Sauce with Grated Parmesan Cheese
3 Red Peppers (top right)
8 Pizza Poppers (all)
3 Smoked Salmon (bottom left)
Light Bake
6 Slices
Cheddarwurst on a Regular Bun
Chili
Onions
Marinara Sauce
3 Tomatoes
Drink and Popcorn:

Medium Purple Burple
Small Cinnamon Swirl
Holiday (Easter)
Cheddarwurst on a Paska Bun
Chili
Blue Cheese Crumbles
Marinara Sauce
3 Tomatoes
Drink and Popcorn:

Medium Purple Burple
Large Cotton Puffs
Traditional Cookie with White Chocolate Chips

Raspberry Ripple Ice Cream

Snickerdoodle Cookie with Pomegranate
Oatmeal Cookie with Sugar Cubes
Strawberry Syrup
Rock Candy
Cherry, Sugarplum, Cherry
Holiday (Holi)
Traditional Cookie with White Chocolate Chips

Raspberry Ripple Ice Cream

Snickerdoodle Cookie with Pomegranate
Oatmeal Cookie with Holi Sugar
Kanji Syrup
Holi Sugar
Rock Candy
Cherry, Sugarplum, Cherry
2 Blueberry French Toasts
Strawberry Syrup
4 Bananas
Drink:
Holiday (New Year)
2 Blueberry French Toasts
Flavor X Drizzle
4 Confetti Pie-Tarts
Drink:

Large Sparkling Grape Juice with Ice
3 Spicy Garlic Chicken Wings (All)
6 Red Peppers (All)
Blackberry Remoulade Dip
Holiday (New Year)
3 Spicy Garlic Chicken Wings (All)
6 Pizza Poppers (All)
Blackberry Remoulade Dip
Regular Roll

Strawberry Icing
Banana Drizzle

Blueberry Round Donut with Whipped Cream

Chocolate Icing
Sugarplum Drizzle
Rainbow Sprinkles

Regular Long John

Blue Nimbus Icing
Rock Candy
Holiday (Sugarplex Film Fest)
Regular Roll

Strawberry Icing
Butterzinger Drizzle

Blueberry Letterbox Donut with Whipped Cream

Chocolate Icing
Dual Licorice Drizzle
Baby Blots

Regular Long John

Blue Nimbus Icing
Rock Candy
Ciabatta with Shredded Cheddar
Light Grill
Mushrooms
Lobster Chunks
Mushrooms
Balsamic Dressing
Deep-Fried Pickles
Fries:

Curly Fries
Cheddar Topping
Awesome Sauce
Holiday (Holi)
Naan Bread with Shredded Cheddar
Light Grill
Mushrooms
Pakoras
Mushrooms
Bellulli Chutney
Deep-Fried Pickles
Fries:

Curly Fries
Curry Powder
Awesome Sauce
Traditional Crust
Strawberry Filling
Cheesecake Filling
Cheesecake Filling
Cheesecake Filling
White Chocolate Syrup (All Over)
Crushed Wafers (All Over)
8 Blueberry Pie-Tarts (Outer Ring)
Holiday (Big Top Carnival)
Traditional Crust
Strawberry Filling
Circus Peanut Filling
Circus Peanut Filling
Circus Peanut Filling
Cotton Candy Syrup (All Over)
Crushed Wafers (All Over)
8 Animal Crackers (Outer Ring)
Ranks required to unlock her
Unlockables
Stickers
| Sticker Number | Name | Achievement | Sticker Earned |
| --- | --- | --- | --- |
| 51 | Super Special | Master 10 Special Recipes by earning 5 Stars on each | |
| 9 | Springtime Pies | Unlock all Cherry Blossom Festival toppings | |
| 8 | Easter Basket | Unlock all Easter toppings | |
| Sticker Number | Name | Achievement | Sticker Earned |
| --- | --- | --- | --- |
| 30 | Month's Pay | Receive your wages on four Pay Days | |
| 85 | Stubborn Plumber | Try to click 20 different red pipes in Rico's Chiliworks | |
| 1 | Fall Harvest | Reach Autumn | |
| Sticker Number | Name | Achievement | Sticker Earned |
| --- | --- | --- | --- |
| 27 | Tea Expert | Get a 100% Tea Score on 20 orders | |
| 29 | Award-Winning Restaurant | Get 5 Blue Ribbons from Jojo the Food Critic | |
| 60 | Momo Mallow | Serve a Momo Mango Special to Mayor Mallow | |
| Sticker Number | Name | Achievement | Sticker Earned |
| --- | --- | --- | --- |
| 75 | Cinnamindy | Add Cinnamon to Mindy's order | |
| 57 | Drink Selection | Unlock all of the Standard Drinks | |
| 41 | The Gang's All Here | Serve all of the customers! | |
| Sticker Number | Name | Achievement | Sticker Earned |
| --- | --- | --- | --- |
| 65 | Mindy Margherita | Serve a Pizza Margherita Special to Mindy | |
| 37 | Upgrade Master | Buy all of the Upgrades in the Shop | |
| 90 | Special Delivery | Serve 50 delivery orders to customers | |
| Sticker Number | Name | Achievement | Sticker Earned |
| --- | --- | --- | --- |
| 13 | Happy New Year | Unlock all New Year toppings | |
| 16 | Easter Basket | Unlock all Easter toppings | |
| 19 | Hot Dog Express | Have Whiff's order ready when he arrives and serve immediately | |
| Number | Name | Achievement | Sticker Earned |
| --- | --- | --- | --- |
| 71 | Mindy Mallows | Add Mini Mallows to Mindy's sundae | |
| 35 | Updated Wardrobe | Buy any 8 Clothing items from the Shop | |
| 31 | Piggy Bank | Don't spend any money in the Shop for 7 days | |
| Sticker Number | Name | Achievement | Sticker Earned |
| --- | --- | --- | --- |
| 72 | Mindy Mallows | Add Mini Mallows to Mindy's sundae | |
| 35 | Updated Wardrobe | Buy any 8 Clothing items from the Shop | |
| 31 | Piggy Bank | Don't spend any money in the Shop for 7 days | |
| Sticker Number | Name | Achievement | Sticker Earned |
| --- | --- | --- | --- |
| 75 | Cinnamindy | Add Cinnamon to Mindy's order | |
| 14 | Go Green | Unlock all St. Paddy's Day toppings | |
| 11 | Holiday Hotcakes | Unlock all Christmas toppings | |
| Sticker Number | Name | Achievement | Sticker Earned |
| --- | --- | --- | --- |
| 3 | Winter Wonderland | Reach Winter | |
| 18 | Hot and Ready | Have Quinn's order ready when she arrives and serve immediately | |
| 88 | Coupon Clipper | Send 10 Customer Coupons to your customers | |
| Sticker Number | Name | Achievement | Sticker Earned |
| --- | --- | --- | --- |
| 67 | Super Cinna-Mindy | Serve a Super Cinnabuns Special to Mindy | |
| 57 | Shake It Up | Unlock all of the Standard Shakers | |
| 56 | Donut Glazer | Unlock all of the Standard Icings | |
| Sticker Number | Name | Achievement | Sticker Earned |
| --- | --- | --- | --- |
| 58 | Loaded Fries | Unlock all of the Standard Fry Toppings | |
| 25 | Build Expert | Get a 100% Build Score on 20 orders | |
| 1 | Summer Vacation | Reach Summer | |
| Sticker Number | Name | Achievement | Sticker Earned |
| --- | --- | --- | --- |
| 51 | Super Special | Master 10 Special Recipes by earning 5 Stars on each | |
| 17 | Make 'Em Wait | Serve the first customer last | |
| 49 | Successful Specials | Earn 3 Special Stars when serving Today's Special | |
| Sticker Number | Name | Achievement | Sticker Earned |
| --- | --- | --- | --- |
| 4 | Spring Has Sprung | Reach Spring | |
| 25 | Build Expert | Get a 100% Build Score on 20 orders | |
| 17 | Make 'Em Wait | Serve the first customer last | |
Earn all three stickers in either game to get this outfit: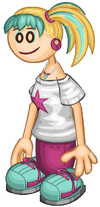 Papa's Next Chefs
OnionFest Crown Classic
| Rescued at | Needs | Special Skill | Weapon | Styles |
| --- | --- | --- | --- | --- |
| Level 2: Lettuce Lane | Ground Pound | None | Hair Dryer Whip (Whip) | |
Trivia
Order Tickets
Gallery
Perfect Orders
Promotional Images
Holiday Pictures
Others
Fan Art