Fire Emblem Warriors: Three Hopes - The Loop
Play Sound
Mr. Bombolony is a male customer who made his first appearance in Papa's Donuteria To Go!.
From the Flipline Studios Blog
Hey Everyone!
This week we wanted to introduce you to our newest customer, Mr. Bombolony! He will be making his grand debut in Papa's Donuteria To Go! [1]
Appearance
Mr. Bombolony has blond curly hair tied up in a ponytail and he has a mustache. He wears a pink buttoned-up shirt with a white collar and pocket on it, green pants, a striped green tie, and white shoes with yellow laces and black soles. He also wears silver-rimmed glasses, a watch, and a black belt.
Style B
He wears a green and pink sweater with white circles, pink triangles, and yellow zig-zag lines. He also wears black pants.
Orders
Red Velvet Round Donut with Boston Cream

Cinnamon Sugar
Neapolitan Drizzle

Regular Round Donut with Strawberry Jelly

Powdered Sugar
Dreamsicle Drizzle
Rainbow Sprinkles

Blueberry Round Donut with Blueberry Custard

Powedered Sugar
Raspberry Bark
Holiday (Christmas)
Red Velvet Round Donut with Boston Cream

Cinnamon Sugar
Santa Cookie Drizzle

Regular Tree Donut with Strawberry Jelly

Festive Swirl Icing
Candy Cane Drizzle
Rainbow Sprinkles

Blueberry Round Donut with Blueberry Custard

Powedered Sugar
Raspberry Bark
Ciabatta with Gorgonzola Cheese
Regular Grill
Sliced Salami
Sliced Ham
Sliced Turkey
Corned Beef
Pulled Pork
Fries:

Curly Fries
Sour Cream
Cheddar Topping
Holiday (Christmas)
Ciabatta with Ginger Spice Cheese
Regular Grill
Sliced Salami
Sliced Ham
Roasted Goose
Corned Beef
Pulled Pork
Fries:

Curly Fries
Sour Cream
Yule Spice
Red Velvet Crust
Kiwi Filling
Rhubarb Filling
Rhubarb Filling
Banana Filling
Meringue Topping
Blueberries (All Over)
8 Kumquats (Outer Ring)
Holiday (Sugarplex Film Fest)
Red Velvet Crust
Kiwi Filling
Rhubarb Filling
Rhubarb Filling
Banana Filling
Meringue Topping
Hot Rods Syrup (All Over)
8 Popcorns (Outer Ring)
Momoiro Soy Paper with Shiso Rice
Not Flipped

Tuna
Yellowtail
Radish Sprouts

Furikake
Yum Yum Sauce
Bubble Tea:

Taro Tea with Watermelon Bubbles
Holiday (Christmas)
Momoiro Soy Paper with Shiso Rice
Not Flipped

Tai
Yellowtail
Radish Sprouts

Merry Masago
Yum Yum Sauce
Bubble Tea:

Peppermint Tea with Watermelon Bubbles
Al Dente Gnocchi
Three Cheese Sauce
5 Prosciuttos
2 Grilled Polentas
2 Fried Calamari
Pepperoni Bread
Holiday (Thanksgiving)
Al Dente Gnocchi
Pumpkin Pomodoro
5 Prosciuttos
2 Roasted Turkeys
2 Fried Calamari
Pepperoni Bread
Medium Cup
3 shots of New England Roast
2 shots of Hot Strawberry Milk
Red Velvet Syrup
Ground Nutmeg
Cinnamon Sugar
Cannoli:

Classic Cannoli Shell
Whipped Cream
Cinnamon Sugar
Holiday (Valentine's Day)
Medium Cup
3 shots of New England Roast
2 shots of Hot Lollipop Milk
Red Velvet Syrup
Ground Nutmeg
Cinnamon Sugar
Cannoli:

Classic Cannoli Shell
Neapolitan Cream
Cinnamon Sugar
Bagel
Radish Sprouts
Pork Chop with Panko Breading
Country Gravy
Bacon
Banana Peppers
Watercress
Large Slush

Watermelon Slush
Kiwi Slush
Holiday (Valentine's Day)
Bagel
Prosciutto
Pork Chop with Panko Breading
Nogada Sauce
Prosciutto
Banana Peppers
Watercress
Large Slush

Hot Rods Slush
Kiwi Slush
Ranks required to unlock him
Unlockables
Stickers
| Sticker Number | Name | Achievement | Sticker Earned |
| --- | --- | --- | --- |
| 63 | Lisa Longberry | Serve a Johnny Longberry Special to Lisa | |
| 85 | Dance Party | Use lots of musical furniture so 3 or more customers are dancing in the lobby | |
| 32 | One-Stop Shopping | Buy any 50 items from the Shop | |
| Sticker Number | Name | Achievement | Sticker Earned |
| --- | --- | --- | --- |
| 65 | Blazin' Bombolony | Serve a Blazin' Beef Special to Mr. Bombolony | |
| 16 | Easter Basket | Unlock all Easter toppings | |
| 52 | Cookbook Mastery | Master 20 Special Recipes by earning 5 Stars on each | |
| Sticker Number | Name | Achievement | Sticker Earned |
| --- | --- | --- | --- |
| 4 | Winter Wonderland | Reach Winter | |
| 89 | Fire Drill | Leave 3 Rhubarb Pies in the oven at the end of the day | |
| 40 | Scarlett and the Shakers | Serve everyone in Scarlett and the Shakers | |
| Sticker Number | Name | Achievement | Sticker Earned |
| --- | --- | --- | --- |
| 62 | Peggy Hamachi | Serve a Negi Hamachi Special to Peggy | |
| 42 | Costumed Closers | Serve all of the Costumed Closers during Halloween | |
| 3 | Winter Wonderland | Reach Winter | |
| Sticker Number | Name | Achievement | Sticker Earned |
| --- | --- | --- | --- |
| 13 | Pasta Prosperity | Unlock all Lunar New Year toppings | |
| 42 | Costumed Closers | Serve all of the Costumed Closers during Halloween | |
| 80 | Wrong Restaurant | Serve Roy while wearing a Pizzeria Polo and Pizzeria Cap | |
| Sticker Number | Name | Achievement | Sticker Earned |
| --- | --- | --- | --- |
| 67 | Mister Mystic | Serve a Mystic Moon Special to Mr. Bombolony | |
| 76 | Blue Boomer | Add Aprajita Powder and Blue Nimbus Syrup to Boomer's latte | |
| 74 | Nutmeg for Greg | Add Ground Nutmeg to Greg's order | |
| Sticker Number | Name | Achievement | Sticker Earned |
| --- | --- | --- | --- |
| 56 | Super Sauces | Unlock all of the Standard Sauces | |
| 80 | Holiday Outfit | Wear a shirt, belt, jacket, pants, hat, and shoes to match the current holiday | |
| 21 | Repeat Customers | Earn 15 Bronze Customer Awards | |
Earn all three stickers in any of the above games to unlock this outfit: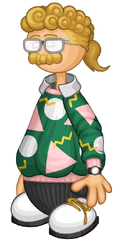 Trivia
Order Tickets
Gallery
Prepared Orders
Perfect Orders
Promotional Images
Others
Fan Art