Raise a Floppa - The Loop
Play Sound
Nick is a male customer who made his first appearance in Papa's Taco Mia!.
Flipdeck Info
Hometown: Tacodale
Loves: Kielbasa
Hates: Dancing
Occupation: None
On his free days, Nick enjoys kayaking and whitewater rafting with his buddy Mitch. Although Nick is a pro on the rapids, out of water he can be rather clumsy. To cut down on the bumps and bruises, Nick started wearing his life-vest and helmet when walking around town. He may get some strange looks, but better safe than sorry!
Appearance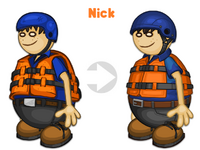 Nick has pale skin, oval-shaped eyes, black hair, and freckled cheeks. He wears a blue shirt under an orange lifevest, brown pants held by a brown belt, and brown shoes with black laces and soles.
Clean-Up
His outfit becomes his Style B. His helmet is rounded. His clothing is more detailed.
Styles
Style A

He wears his Style B outfit, but without his life jacket or helmet.
Style B (Papa Louie 3)
He wears his Style B, but with a white helmet, a turquoise shirt under a yellow life jacket, and white shoes with black soles and blue laces.
Style H
He wears a white and blue striped shirt under a burgundy-colored life-vest, and a boater hat with a burgundy band during Gondola 500 in Papa's Pastaria/To Go!.
Orders
Pita Bread with Pork
Hot Sauce
White Rice
Onions
Tomatoes
French Toast
Chocolate Chips
Maple Syrup
French Toast
4 Butters
Maple Syrup
Drink:

Large Orange Juice with Ice
Bottom Bun
Rare Patty
Pepperjack Cheese
Onion Ring
Pickle
BBQ Sauce
Top Bun
3 Spicy Garlic Shrimps (left)
8 Medium Chicken Wings (right)
Mango Chili Dip
2 Ranch Dips
Kielbasa on a Pretzel Bun
Mustard
Papa's Ballpark Mustard
Onions
Tomato, Sport Pepper, Tomato
Drink and Popcorn:

Medium Purple Burple
Medium Cheddar Corn
Liner C
Carrot Cake
Cupcake 1:

Violet Frosting
Vanilla Drizzle
Marshmallow

Cupcake 2:

White Frosting
Rainbow Sprinkles
Rock Candy
Cherry
Holiday (OnionFest)
Liner C
Carrot Cake
Cupcake 1:

Violet Frosting
Vanilla Drizzle
Gummy Onion, Frosted Onion, Gummy Onion

Cupcake 2:

White Frosting
Sourballs
Rock Candy
Frosted Onion, Sarge Gobstopper, Frosted Onion
Large Cup
Kiwis
Blue Moon Syrup
Regular Blend
Whipped Cream
Blueberry Topping
Coconut Shavings
Tropical Charms
Cloudberry, Waffle Cone Wedge, Cloudberry
Al Dente Radiatori
Creamy Alfredo Sauce
Crushida Pepper
4 Shrimps
5 Sausages
Poppyseed Roll
Holiday (Gondola 500)
Al Dente Mafaldine
Hurry Curry
Garlic Rush
4 Shrimps
5 Sausages
Poppyseed Roll
Medium Cup
Kiwis
Blue Moon Syrup
Regular Blend
Maui Meringue
White Chocolate Topping
Tropical Charms
Cloudberry, Waffle Cone Wedge, Cloudberry
Blueberry Long John with Blueberry Custard

Orange Icing
Blue Moon Drizzle

Regular Round Donut with Blueberry Custard

Vanilla Icing
Sugarplum Drizzle

Blueberry Roll Donut with Blueberry Custard

Powdered Sugar
Blue Moon Drizzle
Mini Mallows
Holiday (Summer Luau)
Blueberry Long John with Maui Meringue

Yellow Icing
Blue Moon Drizzle

Regular Seashell with Blueberry Custard

Vanilla Icing
Sugarplum Drizzle

Blueberry Roll with Maui Meringue

Powdered Sugar
Luau Punch Drizzle
Mini Mallows
3 Spicy Garlic Shrimp (left)
6 Medium Hog Wings (right)
Mango Chili
2 Ranch Dips
4 Asiago Cheeses (top)
8 Sausages
4 Banana Peppers (bottom)
4 Fresh Garlic (bottom)
Light Bake
Square Cut
Pumpernickel with Asiago Cheese
Regular Grill
Pulled Pork
Bacon
Shredded Lettuce
Sauteed Onions
Buffalo Sauce
Fries:

Crinkle Cut Fries
Sour Cream
Bacobites
Holiday (New Year)
Pumpernickel with Gruyere Cheese
Regular Grill
Mac n' Cheese
Pulled Pork
Bacon
Buffalo Sauce
Mac n' Cheese
Fries:

Crinkle Cut Fries
Sour Cream
Bacobites
Liner C
Carrot Cake
Cupcake 1:

Violet Frosting
Vanilla Drizzle
Rock Candy
Gummy Onion

Cupcake 2:

White Frosting
Blue Moon Drizzle
Sourballs
Gummy Onion
Holiday (Summer Luau)
Liner A
Carrot Cake
Cupcake 1:

Violet Frosting
Vanilla Drizzle
Tropical Charms
Gummy Onion
Paper Umbrella

Cupcake 2:

White Frosting
Blue Moon Drizzle
Sourballs
Gummy Onion
Gummy Pineapple
Liner C
Carrot Cake
Cupcake 1:

Violet Frosting
Vanilla Frosting
Rock Candy
Gummy Onion, Cherry, Gummy Onion

Cupcake 2:

White Frosting
Blue Moon Drizzle
Sourballs
Gummy Onion, Cherry, Gummy Onion
Holiday (Summer Luau)
Liner A
Carrot Cake
Cupcake 1:

Violet Frosting
Vanilla Drizzle
Tropical Charms
Gummy Onion, Paper Umbrella, Gummy Onion

Cupcake 2:

White Frosting
Blue Moon Drizzle
Sourballs
Gummy Onion, Gummy Pineapple, Gummy Onion
Graham Cracker Crust
Kiwi Filling
Apple Filling
Apple Filling
Kiwi Filling
Lattice Top
White Chocolate Syrup (All Over)
8 Whipped Cream Dollops (Inner Ring)
8 Kiwi Slices (Outer Ring)
Holiday (Summer Luau)
Graham Cracker Crust
Kiwi Filling
Apple Filling
Apple Filling
Passionfruit Filling
Lattice Top
Luau Punch Drizzle (All Over)
8 Whipped Cream Dollops (Inner Ring)
8 Maui Meringue Dollops (Outer Ring)
Pita Bread with Pork
Hot Sauce
White Rice
Onions
Tomatoes
Chips:

Pepperjack Rounds
Salsa Picante
Holiday (Starlight BBQ)
Cornbread with Pork
Lone Star Pit Sauce
White Rice
Onions
Tomatoes
Fried Onion Strings
Chips:

Pepperjack Rounds
Salsa Picante
Nori with Shiso Rice
Flipped

Shrimp Tempura
Carrots
Snow Peas

Saba
Teriyaki Sauce
Bubble Tea:

Honeydew Tea with Watermelon Bubbles
Holiday (BavariaFest)
Nori with Shiso Rice
Flipped

Shrimp Tempura
Carrots
Snow Peas

Saba
Marzen Mustard
Bubble Tea:

Honeydew Tea with Watermelon Bubbles
Blueberry French Toast
Maple Syrup
Blueberry French Toast
4 Butters
Maple Syrup
Drink:

Large Orange Juice with Ice
Holiday (Summer Luau)
Blueberry French Toast
Passionfruit Drizzle
Blueberry French Toast
4 Butters
Toasted Coconut
Drink:

Large Luau Punch with Ice
Crispy Crust
BBQ Sauce with Provolone Cheese
4 Pulled Porks (Bottom)
8 Sausages (All)
4 Asiago Cheeses (Top)
4 Fresh Garlic (Bottom)
Light Bake
Square Cut
Holiday (Summer Luau)
Crispy Crust
BBQ Sauce with Provolone Cheese
4 Pulled Porks (Bottom)
8 Ahi Tunas (All)
4 Asiago Cheese (Top)
4 Fresh Garlic (Bottom)
Light Bake
Square Cut
Kielbasa on a Pretzel Bun
Mustard
Papa's Ballpark Mustard
Onions
Tomato, Sport Pepper, Tomato
Drink and Popcorn:

Medium Purple Burple
Medium Cheddar Corn
Holiday (Starlight BBQ)
Kielbasa on a Pretzel Bun
Mustard
Lone Star Pit Sauce
Pulled Pork
Tomato, Sport Pepper, Tomato
Drink and Popcorn:

Small Starlight Sparkler
Medium Jubilee Popcorn
Snickerdoodle Cookie with White Chocolate Chips
Traditional Cookie with Dried Kiwi
Snickerdoodle Cookie with Coconut
Whipped Cream
Rock Candy
Waffle Cone, Sugarplum, Waffle Cone
Holiday (OnionFest)
Snickerdoodle Cookie with White Chocolate Chips
Traditional Cookie with Sourballs
Snickerdoodle Cookie with Coconut
Whipped Cream
Rock Candy
Sourballs
Waffle Cone, Gummy Onion, Waffle Cone
Snickerdoodle Cookie with White Chocolate Chips
Traditional Cookie with Dried Kiwi
Snickerdoodle Cookie with Coconut
Whipped Cream
Rock Candy
Waffle Cone, Sugarplum, Waffle Cone
Holiday (Cinco de Mayo)
Snickerdoodle Cookie with White Chocolate Chips
Traditional Cookie with Capirotada Blend
Snickerdoodle Cookie with Coconut
Whipped Cream
Rock Candy
Cinco Swirls
Waffle Cone, Sugarplum, Waffle Cone
4 Peri Peri Hog Wings (Left)
2 Spicy Garlic Shrimps (Right)
2 French Fries (Right)
Ranch Dip
Hummus Dip
Ranch Dip
Holiday (Halloween)
4 Peri Peri Hog Wings (Left)
2 Ecto Shrimps (Right)
2 French Fries (Right)
Ranch Dip
Purple Pesto Dip
Ranch Dip
Blueberry Long John

Apricot Icing
Blue Moon Drizzle

Blueberry Roll with Blueberry Custard

Powdered Sugar
Blue Moon Drizzle
Mini Mallows

Regular Round Donut
Holiday (Summer Luau)
Blueberry Long John

Apricot Icing
Blue Moon Drizzle

Blueberry Roll with Maui Meringue

Powdered Sugar
Luau Punch Drizzle
Mini Mallows

Regular Round Donut

Sunshine Icing
Rock Candy
Nori with Shiso Rice
Flipped

Shrimp Tempura
Carrots
Snow Peas

Saba
Teriyaki Sauce
Bubble Tea:

Honeydew Tea with Watermelon Bubbles
Holiday (Portallini Feast)
Manicotti with Shiso Rice
Flipped

Shrimp Tempura
Carrots
Snow Peas

Saba
Marinara Sauce
Bubble Tea:

Honeydew Tea with Watermelon Bubbles
Medium Cup
2 shots of City Roast
3 shots of Hot Blueberry Milk
Blue Nimbus Syrup
Toasted Coconut
Cannoli:

Pizzelle Shell
Whipped Cream
Crushed Pistachios
Holiday (Christmas)
Medium Cup
2 shots of City Roast
3 shots of Hot Blueberry Milk
Blue Nimbus Syrup
Toasted Coconut
Cannoli:

Gingerbread Shell
Whipped Cream
Crushed Pistachios
Sesame Bun
Summer Crisp Lettuce
Pork Chop with Pretzel Crust Breading
Onion Straws
Paprikash Sauce
Banana Peppers
Medium Slush

Purple Burple Slush
Sour Apple Slush
Holiday (Summer Luau)
Sesame Bun
Summer Crisp Lettuce
Pork Chop with Pretzel Crust Breading
Onion Straws
Mango Chili Sauce
Banana Peppers
Medium Slush

Luau Punch Slush
Sour Apple Slush
Ranks required to unlock him
Unlockables
Stickers
| Sticker Number | Name | Achievement | Sticker Earned |
| --- | --- | --- | --- |
| 1 | Spring Has Sprung | Reach Spring | |
| 7 | Go Green | Unlock all St. Paddy's Day toppings | |
| 32 | One-Stop Shopping | Buy any 50 items from the Shop | |
| Sticker Number | Name | Achievement | Sticker Earned |
| --- | --- | --- | --- |
| 72 | Nacho Nick | Add Nacho Cheese Sauce to Nick's taco | |
| 77 | Holiday Spirit | Serve 100 customers while wearing clothing that matches the season | |
| 64 | Gino Con Refritos | Serve a Pita Con Refritos Special to Gino Romano | |
| Sticker Number | Name | Achievement | Sticker Earned |
| --- | --- | --- | --- |
| 23 | Restaurant Regulars | Earn 15 Gold Customer Awards | |
| 10 | Rise and Shine | Unlock all Maple Mornings toppings | |
| 46 | Rare Reward | Win a Rare Bonus Prize in a Mini-Game by earning a Star Medal | |
| Sticker Number | Name | Achievement | Sticker Earned |
| --- | --- | --- | --- |
| 88 | Burnt Toast | Leave 8 pieces of French Toast on the grill at the end of the day | |
| 43 | Game Show Contestant | Earn a Prize in each of Foodini's Mini-Games | |
| 18 | Hot and Ready | Have Quinn's order ready when she arrives and serve immediately | |
| Sticker Number | Name | Achievement | Sticker Earned |
| --- | --- | --- | --- |
| 58 | Extra Cheese | Unlock all of the Extra Cheese toppings | |
| 47 | Recipe Collection | Earn 15 Special Recipes from customers | |
| 20 | Bronze Beginning | Earn 5 Bronze Customer Awards | |
| Sticker Number | Name | Achievement | Sticker Earned |
| --- | --- | --- | --- |
| 51 | Super Special | Master 10 Special Recipes by earning 5 Stars on each | |
| 24 | Order Expert | Get a 100% Waiting Score on 20 orders | |
| 64 | Pickled Pinch | Serve a Pickled Pup Special to Pinch Hitwell | |
| Sticker Number | Name | Achievement | Sticker Earned |
| --- | --- | --- | --- |
| 61 | Nickerbocker | Serve a Knickerbocker Glory Special to Nick | |
| 30 | Month's Pay | Receive your wages on four Pay Days | |
| 46 | Special Collector | Earn 5 Special Recipes from customers | |
| Sticker Number | Name | Achievement | Sticker Earned |
| --- | --- | --- | --- |
| 62 | Nickerbocker | Serve a Knickerbocker Glory Special to Nick | |
| 30 | Month's Pay | Receive your wages on four Pay Days | |
| 47 | Special Collector | Earn 5 Special Recipes from customers | |
| Sticker Number | Name | Achievement | Sticker Earned |
| --- | --- | --- | --- |
| 47 | Recipe Collection | Earn 15 Special Recipes from customers | |
| 43 | Game Show Contestant | Earn a Prize in each of Foodini's Mini-Games | |
| 49 | Successful Specials | Earn 3 Special Stars when serving Today's Special | |
| Sticker Number | Name | Achievement | Sticker Earned |
| --- | --- | --- | --- |
| 52 | Cookbook Mastery | Master 20 Special Recipes by earning 5 Stars on each | |
| 8 | Old World Wings | Unlock all BavariaFest toppings | |
| 7 | Patriotic | Unlock all Starlight BBQ toppings | |
| Sticker Number | Name | Achievement | Sticker Earned |
| --- | --- | --- | --- |
| 75 | Nutty Nick | Add Pistachios and Crushed Peanuts to Nick's order | |
| 26 | Fryer Expert | Get a 100% Frying Score on 20 orders | |
| 60 | Drizzle Doans | Serve a Drizzle Dones Special to Doan | |
| Sticker Number | Name | Achievement | Sticker Earned |
| --- | --- | --- | --- |
| 74 | Sauer Sue | Add Sauerkraut to Sue's sandwich | |
| 40 | Bandmates | Serve the other members of Scarlett and the Shakers | |
| 57 | Side of Fries | Unlock all of the Fries | |
| Sticker Number | Name | Achievement | Sticker Earned |
| --- | --- | --- | --- |
| 58 | Syrup Sampler | Unlock all of the Standard Syrups and Creams | |
| 85 | Dance Party | Use lots of musical furniture so 3 or more customers are dancing in the lobby | |
| 8 | Easter Basket | Unlock all Easter toppings | |
| Sticker Number | Name | Achievement | Sticker Earned |
| --- | --- | --- | --- |
| 11 | Trick or Treat | Unlock all Halloween toppings | |
| 86 | Get the Tables! | Fill your lobby with 8 large tables | |
| 28 | Perfect! | Get a Perfect Score on 30 orders | |
| Sticker Number | Name | Achievement | Sticker Earned |
| --- | --- | --- | --- |
| 71 | Nick Gnocchi | Replace Nick's pasta with Gnocchi | |
| 52 | Cookbook Mastery | Master 20 Special Recipes by earning 5 Stars on each | |
| 63 | Meal of My Mentor | Serve a Maximo's Meal Special to Deano | |
| Sticker Number | Name | Achievement | Sticker Earned |
| --- | --- | --- | --- |
| 52 | Super Special | Master 10 Special Recipes by earning 5 Stars on each | |
| 37 | Upgrade Master | Buy all of the Upgrades in the Shop | |
| 54 | Best Barista | Unlock all of the Standard Espressos and Dairy | |
| Sticker Number | Name | Achievement | Sticker Earned |
| --- | --- | --- | --- |
| 48 | Complete Cookbook | Earn 40 Special Recipes from customers | |
| 17 | Make 'Em Wait | Serve the first customer last | |
| 61 | Peggy Alla Pizzaiola | Serve a Cotolette Alla Pizzaiola Special to Peggy | |
Earn all three stickers in any of the above games to unlock this outfit: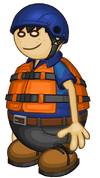 | Rescued at | Needs | Special Skill | Weapon | Styles |
| --- | --- | --- | --- | --- |
| Level 5: Wintergreen Way | | | Canoe Paddle (Melee) | |
Trivia
Order Tickets
Gallery
Prepared Orders
Perfect Orders
Promotional Images
Others
Fan Art