GTA: The Criminal Enterprises - The Loop
Play Sound
Ninjoy is a female character who made her first appearance in Papa's Freezeria. Her secret identity was formally confirmed to be Joy in Papa's Sushiria.
Flipdeck Info
Hometown: Tastyville
Loves: Teriyaki
Hates: Nowtime News
Occupation: Vigilante
Ninjoy is a mysterious masked girl who is a master of stealth and purveyor of sweet ninja skills. Local news claims she is a delinquent outlaw who would steal candy from a baby. However, more and more people are coming forward with accounts of Ninjoy's heroism and good deeds. Bad or good, one thing is certain: Ninjoy never misses a meal. She can almost always be found eating at one of Papa's many restaurants.
Appearance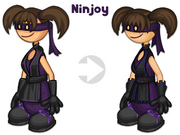 Ninjoy has dark brown hair split into two side ponytails. She has a purple mask over her eyes, a dark purple bodysuit that is covered by a black corset with purple outlines, black gloves, and black shoes with purple laces.
Clean-Up
Her hair got redesigned as well as her clothing, with blue patterns added to it. She has black ponytail bands.
Since Papa's Sushiria, her skin color has gotten lighter to match that of her secret identity.
Styles
Style B

She wears a black and blue bodysuit with her corset and gloves now having a purple trim.
Starting from Papa's Donuteria To Go!, she turns into Joy. She wears a red shirt, blue jeans, brown belt, gray shoes with black soles and red laces, and a blue Pizzeria cap. She has light periwinkle eyeshadow and light brown hair set in pigtails.
She wears a turquoise bodysuit under a black corset with magenta trims, black gloves with magenta trims, a magenta mask, and magenta shoes with black soles, black laces, and turquoise trims.
OnionFest Outfit
She wears an army green bodysuit under a purple corset with gold linings and army green arrows pointing up, purple gloves with gold linings, an army green mask, a golden crown with olive green gems and grass, purple ponytail bands, a white, wool cape, a golden necklace, and black moccasins with green stitches, purple laces, and golden soles.
In games where she dresses up for Halloween, Ninjoy wears an Oni costume. She wears a black helmet with gold stripes and horns, a red mask with black eye holes and long white teeth, a black bodysuit with golden stripes under a red jacket with golden stripes, a red belt with golden stripes, black gloves, red cuffs with golden lining, and black shoes with black soles and red laces.
Style B (Papa Louie 2)
She wears her Style A, but with a white jacket, mask, and shoes.
Style C (Papa Louie 2)
She wears her Style A, but with a dark red bodysuit, mask, hairbands, shoes, jacket lining, and glove lining. She also wears black laces.
Style H (Day of the Dead)
On her head, she wears a black mask, white makeup, an upside down black nose heart, and a multicolored flower below her mouth. On her body, she wears a black bodysuit under a red, orange, blue, and purple striped corset with a white bottom, a black belt with white slash pattern with a diamond at the center, black makeup with white bone details on her arms, and black shoes with black soles and purple laces.
Orders
Small Cup
Creameo Bits
Vanilla Syrup
Regular Blend
Chocolate Whipped Cream
Butterscotch Topping
Nuts
Cookie, Cherry, Creameo
Blueberry Waffle
Blueberry Syrup
Blueberry Waffle
Blueberry Syrup
Blueberry Waffle
Blueberry Syrup
Drink:

Large Cranberry Juice with Ice
Bottom Bun
Mushrooms
Mayo
Well-Done Patty
Well-Done Patty
Swiss Cheese
Mayo
Top Bun
4 Wild Onion Chicken Wings (all)
2 Calypso Shrimps (left)
2 Teriyaki Shrimps (right)
8 Celeries (all)
Kielbasa on a Regular Bun
Ketchup
Mustard
Pineapple Relish
Salsa
3 Sport Peppers
Drink and Popcorn:

Medium Purple Burple
Small Chocolate Popcorn
Liner B
Confetti Cake
Cupcake 1:

Violet Frosting
Vanilla Drizzle
Creameo Bits
Marshmallow

Cupcake 2:

Black Frosting
Lollipop Bits
Rainbow Sprinkles
Cherry
Holiday (Halloween)
Liner B
Confetti Cake
Cupcake 1:

Violet Frosting
Licorice Drizzle
Creameo Bits
Candy Jack-O-Lantern

Cupcake 2:

Black Frosting
Lollipop Bits
Spooky Sprinkles
Candy Corn, Candy Jack-O-Lantern, Candy Corn
Medium Cup
Fudge Brownies
Chocolate Syrup
Regular Blend
Chocolate Whipped Cream
Butterscotch Topping
Chocolate Chips
Nuts
Creameo
Regular Gnocchi
Creamy Alfredo Sauce
Grated Mozzarella
4 Chickens
5 Mushrooms
Crescent Roll
Holiday (Halloween)
Regular Vermicelli
Purple Pesto
Grated Mozzarella
1 Chicken
4 Mushrooms
4 Mussels
Crescent Roll
Large Cup
Fudge Brownies
Chocolate Syrup
Smooth Blend
Chocolate Whipped Cream
Butterscotch Topping
Chocolate Chips
Nuts
Hazelnut Swizzle, Creameo
Chocolate Roll Donut with Chocolate Mousse

Chocolate Icing
Creameo Bits

Regular Ring Donut

Clear Glaze
Chocolate Drizzle

Chocolate Ring Donut

Cinnamon Sugar
Vanilla Drizzle
Creameo Bits
Holiday (Sky Ninja Returns)
Chocolate Roll Donut with Chocolate Mousse

Chocolate Icing
Boba Bubbles

Regular Pon de Ring

Clear Glaze
Chocolate Drizzle

Chocolate Pon de Ring

Cinnamon Sugar
Vanilla Drizzle
Creameo Bits
4 Wild Onion Wings (all)
2 Thai Chili Shrimp (left)
2 Teriyaki Shrimp (right)
8 Celeries (all)
Sourdough Bread with Swiss Cheese
Light Grill
Sauteed Onions
Fajita Peppers
Lobster Chunks
Ranch
Fries:

Waffle Fries
Sour Cream
Bacobites
Holiday (Halloween)
Ecto Bread with Swiss Cheese
Light Grill
Sauteed Onions
Spooky Slaw
Lobster Chunks
Jackmomole
Fries:

Waffle Fries
Sour Cream
Bacobites
Liner B
Zebra Stripe Cake
Cupcake 1:

Violet Frosting
Vanilla Drizzle
Lollipop Bits
Marshmallow

Cupcake 2:

Black Frosting
Creameo Bits
Rainbow Sprinkles
Salted Caramel, Cherry, Salted Caramel
Holiday (Halloween)
Liner B
Tarantula Cake
Cupcake 1:

Violet Frosting
Licorice Drizzle
Lollipop Bits
Candy Jack-O-Lantern

Cupcake 2:

Black Frosting
Creameo Bits
Spooky Sprinkles
Candy Corn, Candy Jack-O-Lantern, Candy Corn
Creameo Crust
Purple Yam Filling
Purple Yam Filling
Purple Yam Filling
Purple Yam Filling
Slit Top Crust
Huckleberry Syrup (All Over)
8 Grape Jelly Cookies (Outer Ring)
9 Raspberries (Inner Ring and Center)
Holiday (Halloween)
Creameo Crust
Shadowberry Filling
Shadowberry Filling
Purple Yam Filling
Purple Yam Filling
Slit Top Crust
Huckleberry Syrup (All Over)
8 Skull Cookies (Outer Ring)
9 Raspberries (Inner Ring and Center)
Azul Ranch Taco with Chicken
Onions
Loco Mystery Sauce
Guacamole
Onions
Loco Mystery Sauce
Chips:

Blue Corn Chips
Guacamole
Holiday (Halloween)
Midnight Crunch Taco with Chicken
Onions
La Catrina Sauce
Jack-o-Mole
Onions
Loco Mystery Sauce
Chips:

Blue Corn Chips
Guacamole
Blueberry Waffle
Blueberry Syrup
Blueberry Waffle
Blueberry Syrup
Blueberry Waffle
Blueberry Syrup
1 Strawberry
Drink:
Holiday (Halloween)
Blueberry Waffle
Shadowberry Derps
Blueberry Waffle
Shadowberry Derps
Blueberry Waffle
Blueberry Syrup
1 Candy Corn
Drink:

Large Witch's Brew with Ice
Italian Sausage on a Chicago Bun
Ketchup
Mustard
Pineapple Relish
Salsa
Sport Pepper
Drink and Popcorn:

Medium Purple Burple
Small Chocolate Popcorn
Holiday (Cinco de Mayo)
Italian Sausage on a Bolillo Bun
Ketchup
Enchilada Sauce
Pineapple Relish
Salsa
3 Sport Peppers
Drink and Popcorn:

Medium Mango de Mayo
Small Cancha Corn
Chocolate Roll

Chocolate Icing
Creameo Bits
Regular Ring Donut with Blackberry Jelly

Apricot Icing
Chocolate Drizzle
Creameo Bits
Chocolate Ring Donut

Cinnamon Sugar
Vanilla Drizzle
Holiday (Sky Ninja Returns)
Chocolate Roll

Chocolate Icing
Boba Bubbles
Regular Pon de Ring Donut with Blackberry Jelly

Apricot Icing
Chocolate Drizzle
Boba Bubbles
Chocolate Ring Donut

Cinnamon Sugar
Matcha Drizzle
Sourdough Bread with Swiss Cheese
Light Grill
Sauteed Onions
Fajita Peppers
Lobster Chunks
Ranch
Fries:

Waffle Fries
Sour Cream
Bacobites
Holiday (Halloween)
Ecto Bread with Swiss Cheese
Light Grill
Sauteed Onions
Spooky Slaw
Lobster Chunks
Jack-o-mole
Fries:

Waffle Fries
Sour Cream
Cauldron Powder
Croissant
Teriyaki Sauce
Cod with Cheez Puff Breading
Pickled Red Onions
Red Cabbage Slaw
Mayo
Medium Slush

Purple Burple Slush
Root Beer Slush
Holiday (Day of the Dead)
Pan de Muerto Bun
La Catrina Sauce
Cod with Cheez Puff Breading
Chicharrones
Red Cabbage Slaw
Mayo
Medium Slush

Purple Burple Slush
Root Beer Slush
Ranks required to unlock her
Unlockables
Stickers
| Sticker Number | Name | Achievement | Sticker Earned |
| --- | --- | --- | --- |
| 75 | Santa's Helper | Serve 20 customers during Christmas wearing a Christmas Hat and Fur Parka | |
| 59 | Cloudy Closer | Serve a Cloud Nine Special to Mayor Mallow | |
| 42 | The Gang's All Here | Serve all of the customers! | |
| Sticker Number | Name | Achievement | Sticker Earned |
| --- | --- | --- | --- |
| 21 | Repeat Customers | Earn 15 Bronze Customer Awards | |
| 7 | Breakfast Tacos | Unlock all Maple Mornings toppings | |
| 87 | Fire Drill | Leave 4 pans of Pork on the stove at the end of the day | |
| Sticker Number | Name | Achievement | Sticker Earned |
| --- | --- | --- | --- |
| 84 | Get the Tables! | Fill your lobby with 12 large tables | |
| 32 | One-Stop Shopping | Buy any 50 items from the Shop | |
| 6 | Patriotic | Unlock all Starlight Jubilee toppings | |
| Sticker Number | Name | Achievement | Sticker Earned |
| --- | --- | --- | --- |
| 62 | Wildberry Wendy | Serve a Wildberry Waffles Special to Wendy | |
| 80 | Holiday Outfit | Wear a shirt, belt, jacket, pants, and hat to match the current holiday | |
| 23 | Restaurant Regulars | Earn 15 Gold Customer Awards | |
Earn all three stickers in any of the above games to unlock this outfit:
| Sticker Number | Name | Achievement | Sticker Earned |
| --- | --- | --- | --- |
| 58 | Donut Decorator | Unlock all of the Standard Drizzles | |
| 90 | Special Delivery | Serve 50 delivery orders to customers | |
| 21 | Repeat Customers | Earn 15 Bronze Customer Awards | |
| Sticker Number | Name | Achievement | Sticker Earned |
| --- | --- | --- | --- |
| 74 | Sauer Sue | Add Sauerkraut to Sue's sandwich | |
| 70 | Seafood Special | Add Lobster Chunks to Drakson's sandwich | |
| 45 | Rare Reward | Win a Rare Bonus Prize in a Mini-Game by earning a Star Medal | |
| Sticker Number | Name | Achievement | Sticker Earned |
| --- | --- | --- | --- |
| 54 | Flavorful Fillings | Unlock all of the Standard Fillings | |
| 32 | One-Stop Shopping | Buy any 50 items from the Shop | |
| 22 | Silver Medal | Earn 10 Silver Customer Awards | |
| Sticker Number | Name | Achievement | Sticker Earned |
| --- | --- | --- | --- |
| 14 | Springtime Sandwiches | Unlock all Easter toppings | |
| 6 | Folk Festival | Unlock all BavariaFest toppings | |
| 32 | One-Stop Shopping | Buy any 50 items from the Shop | |
Earn all three stickers in any of the above games (from Papa's Donuteria To Go! onwards) to unlock this outfit:
OnionFest Crown Classic
| Rescued at | Needs | Special Skill | Weapon | Styles |
| --- | --- | --- | --- | --- |
| Level 7: The Saucelands | None | Wall Jump | Karate (Melee) | |
Trivia
She is the last character to have a virtual Flipdeck card made before the real Flipdeck cards were released.
There is a glitch in Papa's Wingeria/HD where you can't get a perfect on her order. Some players have been able to receive a perfect from her, but it's quite hard. This makes her order the hardest to make.
She does not make an appearance in the games where Joy appears since they're actually the same person.
A medium Purple Burple can be seen in her Flipdeck, which is actually a part of her order in Papa's Hot Doggeria.
She is the only Papa's Freezeria debutant not to appear in Papa Louie 3: When Sundaes Attack!
She and Ivy are also the only Freezeria debutants not to favor Summer Luau nor to live in Calypso Island.
In the platformer games PL2:WBA and PL3:WSA, both she and Timm share similar game elements:

They are both rescued in Level 7.
No special skills are needed to rescue them.
They do not attack with weapons.

She is one of 11 customers to receive a statuette.
In Papa's Bakeria To Go!, she appears on the Papa's Pizzeria float in the parade.
Throughout all the three versions of Papa's Freezeria, Ninjoy orders all the cup sizes:
Order Tickets
Gallery
Prepared Orders
Perfect Orders
Promotional Images
Holiday Pictures
Others
Fan Art